ROGERS PARK — After a Loyola University student went public about being sexually assaulted last year, others are demanding more action from the school to protect survivors.
Hundreds of Loyola students demonstrated on campus Friday to protest the school's handling of recent sexual assault cases. The move comes after senior Madeline Kane said on Instagram she was sexually assaulted at a Loyola fraternity party in January 2020. She said she felt the university didn't do enough to protect her or punish her attacker.
After Kane shared her story, other students began seeking accountability by starting social media accounts sharing stories of sexual abuse and identifying accused offenders — a move that drew admonishment from school leaders.
"I wanted to own my story and support those who aren't comfortable sharing their story," Kane said. "The investigation itself is very humiliating. We do not feel safe reporting to the school."
Loyola spokesperson Anna Rozenich said the school is investigating students' allegations of sexual assault and offers counseling and other services for survivors.
"Loyola is aware of recent allegations of sexual misconduct, we have been in touch with the students involved, and are investigating the allegations," Rozenich said. "Our top priority remains the health, safety and well-being of our students."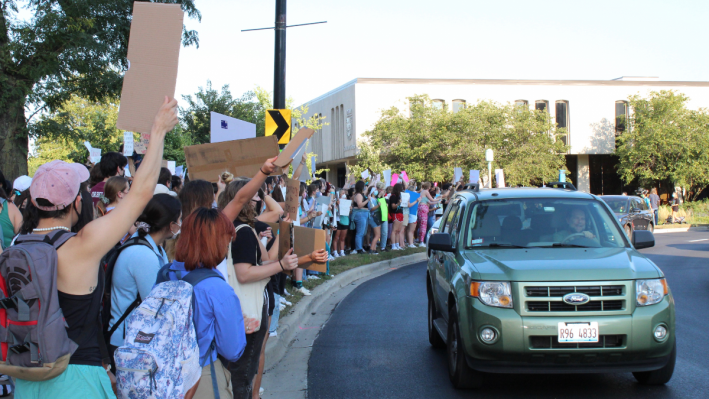 Formal reports of sexual assault, stalking, intimate partner violence and other forms of sexual misconduct and gender discrimination are handled through Loyola's Title IX office. In such investigations, Loyola uses the preponderance of evidence standard in determining culpability, meaning someone could be held accountable if it's more likely than not the allegation is true.
After a four-month investigation into the assault at the fraternity, Kane said her attacker was found not responsible for sexual assault or retaliation. Eight people testified on her behalf, and she submitted text and photo evidence to support her claims, she said.
In a separate incident, Kane said she was drugged at a party last school year. She reported it to Loyola police, but she said, "After my previous experiences, I never even considered" going to Loyola's Title IX office.
"There are more survivors on our campus than anyone can imagine, and many are scared to speak up because these organizations are against them," Kane said on her social media post. "I'm done hiding my experience and being scared because these institutions didn't fight for me."
A student-run Instagram account has shared other stories of sexual assault at Loyola. The account also names those accused of sexual violence. A change.org petition asking Loyola to expel students accused of sexual misconduct has garnered nearly 7,300 signatures.
In an email to students Sept. 14, Loyola officials said posting information about alleged attackers undermines the school's ability to investigate such serious accusations.
"We believe the intent of these postings was to provide a platform for students who may have been impacted by sexual misconduct to come forward and file a report," Jane Neufeld, vice president of student development, wrote in the message. "Unfortunately, these efforts have resulted in public accusations of named Loyola students without a formal investigation or due process.
"Additionally, this has led to the spreading of unsubstantiated information that only undermines our community's trust in established protocols and response to sexual misconduct, which is harmful to the entire University community."
This isn't the first time students have criticized the administration for its handling of sexual violence. In 2016, Loyola students held a protest and told the school to do more to combat sex crimes on campus.
Last year, a student who was expelled from Loyola after a rape investigation was allowed to walk at graduation, the Loyola Phoenix student newspaper reported.
Chanting "enough is enough" and "kick them out," students said they are taking on the problem themselves because of they don't trust the university to take the issue seriously.
"Once I found out what was going on, I knew I had to be involved," said sophomore Sam Morey, who helped organize Friday's protest after learning of the accusations on social media. "We want Loyola to know we support survivors, and we want to know what they're doing to protect survivors."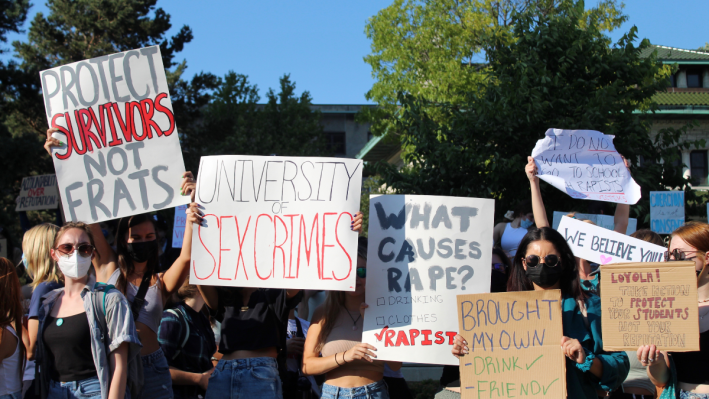 Subscribe to Block Club Chicago, an independent, 501(c)(3), journalist-run newsroom. Every dime we make funds reporting from Chicago's neighborhoods.
Already subscribe? Click here to support Block Club with a tax-deductible donation. 
Listen to "It's All Good: A Block Club Chicago Podcast" here: