AVALON PARK — Brandon Holmes never considered himself a "fish guy."
With a degree in marketing and advertising from Howard University, Holmes said he planned on owning an advertising agency, brainstorming influential ads for companies on TV. 
But when life became difficult and he "found himself on the wrong path," one hobby grounded Holmes: fishing. 
Today, he's the owner of Aquatic Oasis, a shop at 1700 E. 87th St. with a variety of colorful fish, plant life and aquarium supplies.  
Using "every dime in his pocket," Holmes said he opened the South Side shop to provide serenity for his neighbors. 
"In this community, we needed something like this as a respite from the negativity and shootings in the neighborhood," Holmes said. "This business encourages a different mindset of preserving life."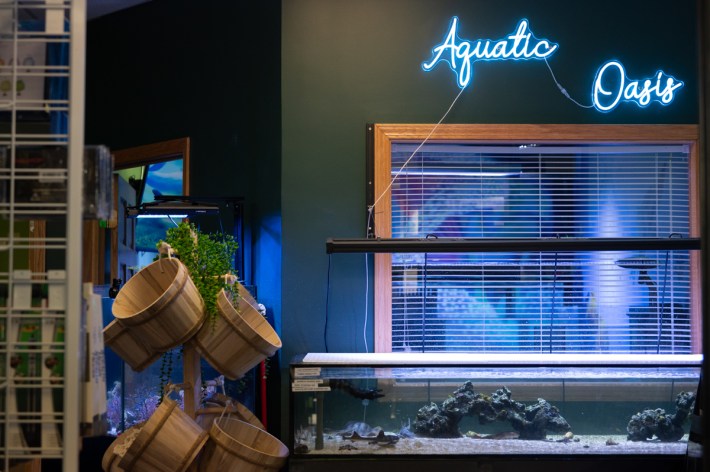 Creating A 'Rest Haven'
When a customer walks into Aquatic Oasis, Holmes said it's like entering a different world.
Soft, ambient music plays over a speaker, and a bright blue spotlight shines on aquariums filled with goldfish, stingrays, and — for the bold at heart — sharks. 
The purpose of every detail, including the sounds of trickling water, is to provide tranquility for every customer, Holmes said.
"This is a peaceful, serene place where you escape stress and turmoil," Holmes said. "I wanted this to be a rest haven for Black guys and young fellas who are on the streets and trying to make it, but their only resources are drugs and robberies, things we don't have to do but choose to do." 
Finding the Right Path
Holmes said he knows a thing or two about escaping. 
A Beverly native, Holmes attended the Chicago High School for Agricultural Sciences before making his way to Howard University in Washington, D.C. 
He dreamed of transforming the world of advertising for Black creatives, he said.
"I thought I'd have a career as an art director and eventually move on to be a creative director for some big advertising agency," Holmes said. "That was the only thing I wanted to do."
But sickness in the family brought him back home to Chicago, Holmes said. His father, a real estate businessman, was diagnosed with cancer. He died in 2009, Holmes said.
"I never really left after he passed away," Holmes said. "I just started doing different businesses and taking on the real estate business my dad passed down. I took care of my mom and worked on building more relationships to see if I could get a career here."
That career included working at some of Chicago's largest advertising firms, like Dentsu McGarreyBowen and FCB Chicago, Holmes said. But nothing stuck. 
"I had very good experiences [at the companies] and everybody said I did good work, but I was never picked up," Holmes said. "I felt like I was never accepted. Nobody ever said 'Brandon, I want to be your partner.' In that field, you need a copywriter — a ying to your yang. I know when to cut my losses and start somewhere else."
So, he hopped around.
There were businesses "here and there," Holmes said. Some were successful, he said. Others failed. Along the way, he fell into the wrong crowd, he said. 
"Living in the city of corruption, sometimes I was on the wrong path," Holmes said. "That led me to find some type of element of good energy during the times I felt I was in turmoil." 
A love for swimming, scuba diving, and aquatic life led him to the water.
"I've been traveling since I was little," Holmes said.  "I was in the ocean. I was in the lake. I love to do anything water-related. So when I got older, I started getting into fishing as a serious hobby for relaxation."
Fishing brought him peace, Holmes said. It became a dream to provide the same feeling to others in his shoes, he said.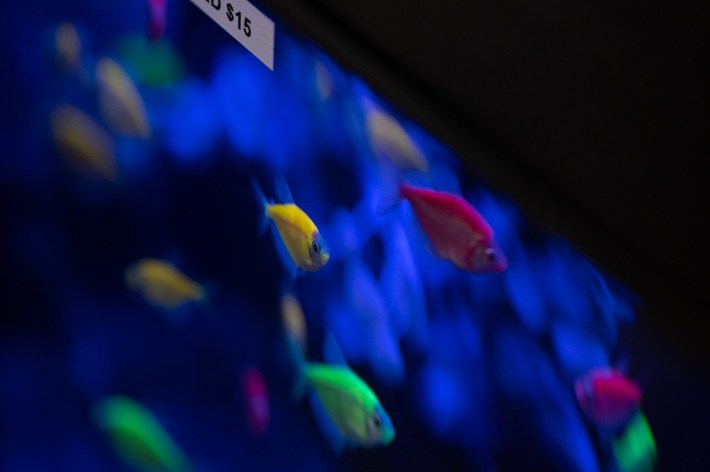 'I Just Felt Like We Needed This Here'
That dream came true after a meal at Thomas Restaurant, a breakfast spot across the street from the storefront that became Aquatic Oasis. 
"I walked out of [Thomas Restaurant], and I saw that this place was for rent," Holmes said. "I called my mom immediately and asked if I should call to see how much they wanted [to rent] the place because I had an idea. My mom told me to call them." 
Holmes purchased the building during the height of the pandemic, he said. 
He dedicated his time to watching YouTube videos and conducting Google searches on how to create healthy living environments for the fish, he said.
"I've walked into pet shops and asked questions," Holmes said. "Being consistent and persistent helped me learn. If you don't want it, you're not going to figure anything out. It's all about research. I used everything I learned in college to study this."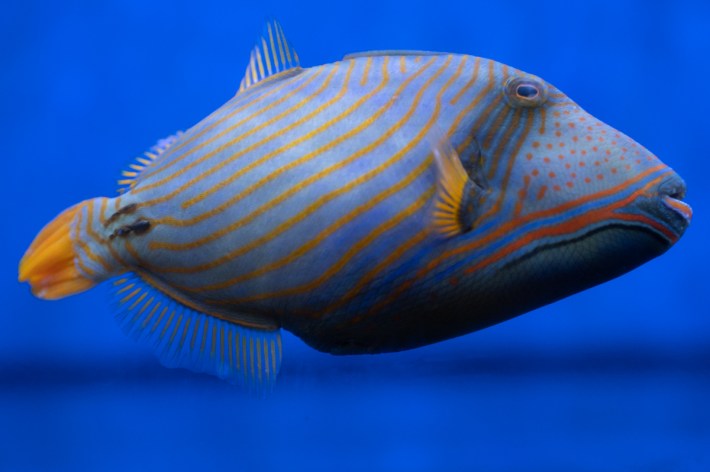 His mother became his partner in the business and supported him financially, he said. Together, they invested $250,000, Holmes said.
But despite the high costs and the long hours studying, Holmes said what kept him determined was what the store would mean to the community.
"I just felt like we needed this here," Holmes said. "When I was out working every day trying to do the monotony of living and getting the bills paid from day to day, coming back home and sitting down to feed my fish was the stillness I needed. This is giving the people that chance. And when is the last time there's been a pet shop on this strip?"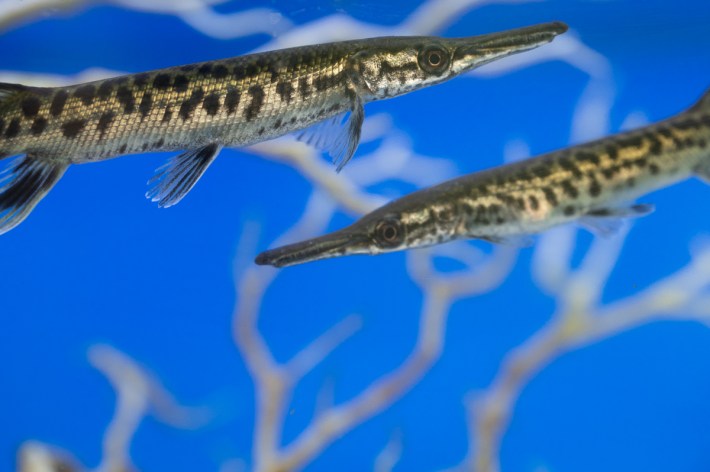 The 'South Side's Shedd Aquarium'
Holmes opened Aquatic Oasis on May 1. 
Some customers rush in to buy a cool new fish for their home. Others bring their children for a short tour of the shop. 
One customer called his shop the South Side's Shedd Aquarium. 
"Every time I hear that it makes me emotional," Holmes said. "Before I opened this business, I posted on my Facebook page that I wanted to bring the Shedd Aquarium to the South Side. Every time I hear that I feel like I'm on my way. I feel like I'm doing what I set out to do." 
Holmes said he hopes he can expand his business to provide a safe place for people across the city. But for now, his plan is to continue to make Aquatic Oasis one of the best shops the South Side has to offer. 
"Building it from the ground has been a struggle and a long process, but I'm here and I'm grateful," Holmes said. "I thank God that I've made it this far, and hopefully I continue to make it further along in this journey." 
Subscribe to Block Club Chicago. Every dime we make funds reporting from Chicago's neighborhoods.
Already subscribe? Click here to support Block Club with a tax-deductible donation. 
Listen to "It's All Good: A Block Club Chicago Podcast" here: