PORTAGE PARK — Tucked on the third floor of the Portage Arts Lofts building at Six Corners, a vibrant and colorful yoga studio is ready to welcome members into its new space.
Wildlight Yoga studio, 4041 N. Milwaukee Ave. #302, moved to its new location at the beginning of the month and reopened for in-person classes one week ago. Wednesday marked the studio's third anniversary as one of the only locally-owned yoga studios on the Far Northwest Side.
The business opened in 2018 up the street at 4140 N. Milwaukee Avenue, said owner and Portage Park resident Kelli Wefenstette. When the pandemic hit, the yoga studio transitioned to online and outdoor classes with the intention of reopening its indoor space in summer.
However, Wefenstette said the building got new owners and needed repairs that manifested during the pandemic, so she decided to search for a new location that was still close to home and her clientele.
It turned out that she didn't need to look very far.
"This is a building I have a whole lot of history with," Wefenstette said of the Portage Arts Loft building, which houses several arts institutions and business incubators.
Before becoming a yoga teacher and business owner, Wefenstette was the executive director of the Six Corners Association, which is housed in the same building, right next to the yoga studio.
With her neighborhood connections and experience working with local business owners in the area, she said settling into the loft building was a perfect fit and will help expand her mission of revitalizing Six Corners through art and boosting the local economy.
"This feels like a really good transition… It seemed like a coming home for us," she said.
The yoga studio, which offers a wide variety of classes, trainings and workshops from eight women teachers, plans to return to its regular schedule in October, both in person and online. For the remainder of the month, Wefenstette said some classes will be offered in the studio, outside and online.
As pandemic regulations keep changing, the owner said she wants to make sure her students have access to classes and workshops on their own terms, as people have different comfort levels.
"Our students who have opted to practice from home have seen incredible growth through their practice, consistency and transformational change by having it accessible every single day so that's not going anywhere," she said.
In-person classes require masks but there is ample space for social distancing to make all feel comfortable, she said. The studio also has several yoga props, a small retail section with items from places she has traveled to, and a sitting area with a plethora of plants, paintings and a view of Milwaukee Avenue.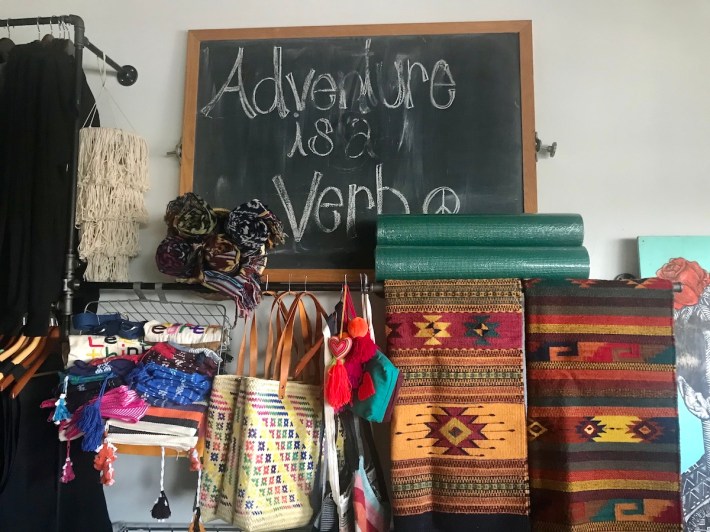 As the Six Corners area sees rapid change and new businesses enter the scene, Wefenstette said the combination of big-scale developments mixed with the vitality of local businesses can positively affect the entire community.
She said she is excited for the Sears redevelopment that was approved by the City Council Tuesday and the Clarendale complex that's currently under construction. They come "not a moment too soon," she said.
"I believe an integrated, sustainable and active community has space for these larger developments while also preserving and enhancing space for local, independent businesses," she said. "These viable communities have both."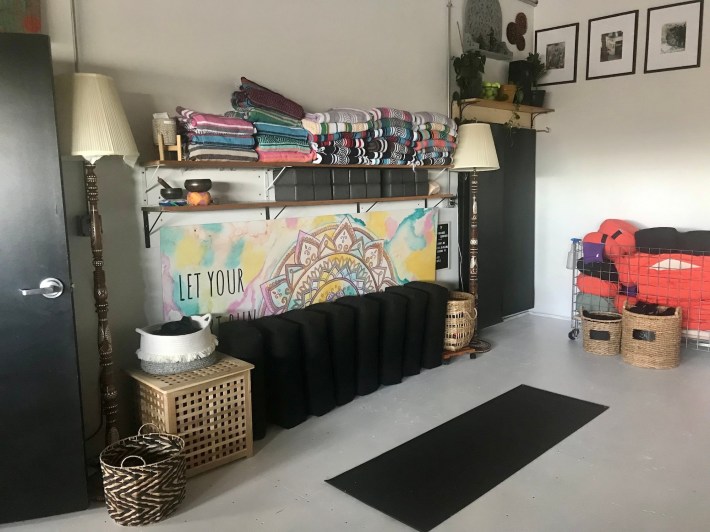 Subscribe to Block Club Chicago. Every dime we make funds reporting from Chicago's neighborhoods.
Already subscribe? Click here to support Block Club with a tax-deductible donation.