UPTOWN — The competition is fierce and the hot dogs are tasty. 
The top five contestants vying for top dog in the first-ever Vienna Beef Hot Dog Stand Challenge gathered at Byron's, 1017 W. Irving Park Rd, on Monday afternoon to mark the halfway point in their 8-week hotdog-eating marathon. 
The Chicagoans shared casual chit chat and polite congratulations — but not any strategies or tips — while enjoying hot dogs from the beloved North Side stand. The elite group of hot dog enthusiasts have risen to the top of the Vienna Beef leaderboard over 3,000 contestants. They are battling to see who can "check in " to the most independent Vienna Beef hot dog stands across Chicago, greater Illinois and several neighboring states. There are 367 in all.
Vienna Beef concocted the competition to boost interest in mom-and-pop hot dog stands that have struggled during the pandemic. The winner will get four VIP tickets to in-demand city events once a month for a year, a shiny trophy (potentially hot dog-shaped) and a $1,000 Vienna Beef gift card. 
RELATED: How Many Hot Dog Stands Can You Visit In 60 Days? Vienna Beef Launches Ultimate Wiener Challenge
Stephanie Esposito's "competitive streak" has driven her to first place in a competition she agrees is objectively ridiculous. In the first four weeks, Esposito visited 278 hot dog stands — 81 more than her second place challenger. 
"My deepest strategy is close and secret. I cannot share it on record or with any of them, because they're my competition," Esposito said. "I have an entire spreadsheet." 
The Chicago Park District employee from the Midway area keeps a color-coded spreadsheet with the names, locations and hours of all 367 hot dog stands she must visit. She's mapped out trips to Wisconsin and Indiana and driven 12-hour days to hole-in-the-wall hot dog stands dotted across the map of rural Illinois. 
Many, many Chicago-style hotdogs later (on a poppy seed bun, no mustard)  — it's been worth it. 
"This is just another competitive-level for me. It's a little mind-consuming, and you become, like, overwhelmed," Esposito said. "But — again I'm very determined and overly competitive."
Contestant Amanda Sepanik started the competition in the top position, until Esposito "came out of nowhere." Esposito hit 30 stands on one day and 40 more the next while Sepanik could only watch —  her sister was in town. 
"My sister came to town for a wedding, and she knocked me off the whole thing for a week," Sepanik said. "We had planned that she was going to come in anyway, just happened to be a terribly timed event with this competition. But it's okay." 
The airline baggage handler from Oak Park was in fourth place Monday, with 181 hot dog stands visited. She estimates she's spent 400-500 miles on the road so far. Contestants support the hot dog stands they visit with their own money (although they don't necessarily have to get a hot dog at each stop). 
Sepanik said she doesn't get tired of eating hot dogs. The whole thing hasn't been easy on her wallet or busy work schedule. She drove through a downpour in Wisconsin to check-in at several locations near Milwaukee, only to find one hot dog stand with a crudely taped note to the door. She peeked over the windows to see the place was dark and closed.
She is planning a second trip to Milwaukee.
"It does get a little tough. But in the end, it's worth it. Now I've gotten obsessed with it, I can't stop now," Sepanik said. "I plan to hit every single place on that list."
Out of all the hot dogs Sepanik has eaten, Byron's might be her favorite. Owner Mike Payne joined the contestants and served up his dogs with its signature twist: Cucumbers, fresh green peppers and lettuce on top of the fabled Chicago-style ingredients.
Payne said sales were down about 60 percent at the height of the pandemic, but the business is beginning to rebound. The contest has helped. 
"It brings people out. They have a reason to go out and go to hot dog stands," Payne said. "They all want feel-good food. And it's helped us get through all this time." 
Long-time Vienna Beef executive Tom McGlade joined the hot dog party to present a private donation to Illinois Restaurant Association Educational Foundation Employee Relief Fund, which supports restaurant workers during the pandemic. McGlade said the Hot Dog Challenge has replaced the advertising Vienna Beef lost from closed Chicago sports stadiums — six times over. 
He hopes the contest could grow to rival Nathan's Hot Dog Eating Contest on Fourth of July. Vienna Beef's local lore and footprint in Chicago is "almost monopolistic," with more hot dog stands in the area than there are Wendy's, Burger Kings and McDonald's combined. 
Esposito and and a contestant who goes by the name Smarty Pants said their favorite hot stands so far include Corky's in Indiana and Papa Chris' Place in Niles.
Smarty Pants, of Park Ridge, is a freelance balloon artist and children's party entertainer. He came dressed in a red bow-tie and oversized yellow sunglasses as he strolled into Byron's in fifth place, with 150 stands so far.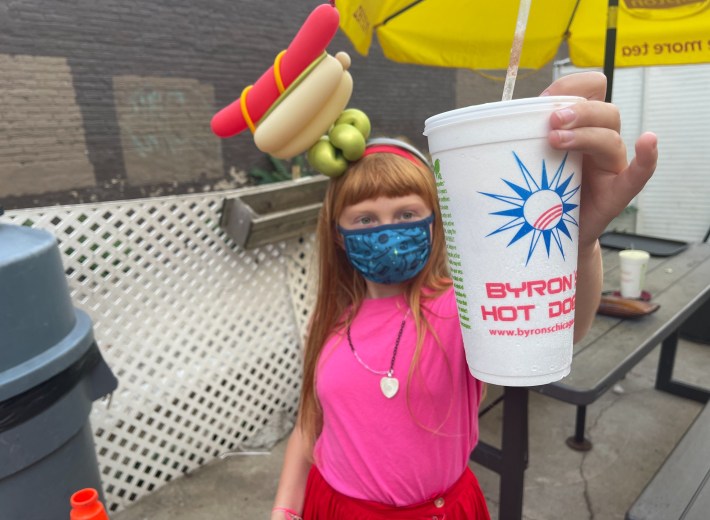 The competition is a bonding exercise with his daughter: Penny Pants. The 12-year-old Roosevelt Elementary School student always opts for a milkshake. 
"She knows I'm not like a regular dad," Smarty Pants said. "We lose track of who the adult is in this relationship quite a lot." 
Penny Pants has enjoyed the long rides with her dad in the car, talking about school, math tests and birthday parties.
"I love the fact that there's a million hotdog stands in Chicago, and they're all run by actual human beings," Smarty Pants said. "There's no hot dog corporation. Ninety percent of the hot dog stands are run by like — a guy. And I just love talking to them." 
Sisters Karen Buralli and Rose La Mont didn't have much time to talk on Monday. They were on a tight timetable to hit three other hot dog stands around Byron's. The lifelong South Siders grew up on Vienna Beef hot dogs, and even dressed up as hot dogs at a festival a few years back.
Buralli, a laboratory supervisor, will not collaborate with La Mont, a University of Chicago finance professional. This is serious competition. Buralli is in second place with 197 hot dog stands, while La Mont trails one behind with 196. 
Competing over hot dogs brings back childhood memories.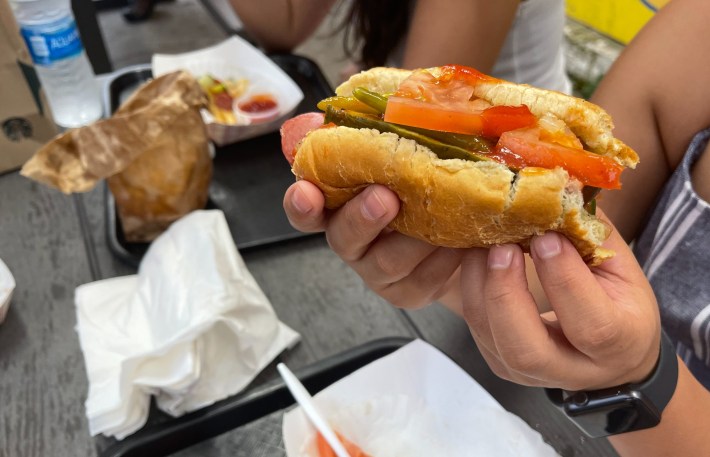 "It was a staple growing up, and it's still staple now. I can eat a hot dog four times a day. I love hot dogs. Love them, love them, love them," Buralli said. "Can you think of a time you were eating a hot dog when you weren't smiling?" 
Buralli checked her watch and hastily gave her goodbyes. There was another hot dog to eat.
Subscribe to Block Club Chicago, an independent, 501(c)(3), journalist-run newsroom. Every dime we make funds reporting from Chicago's neighborhoods.
Already subscribe? Click here to support Block Club with a tax-deductible donation.
Listen to "It's All Good: A Block Club Chicago Podcast" here: