BRONZEVILLE — Frustrated parents, teachers and students marched outside Mayor Lori Lightfoot's home Monday afternoon to demand stricter COVID-19 safety protocols for Chicago Public School students.
Dozens of protesters, most of them participants in the #CPSSickOut campaign, called on Lightfoot and CPS administrators to reinstate COVID-19 protocols that were in place in the spring, which included offering families options for remote learning.
Those concerns dovetail with ongoing clashes between CPS and the Chicago Teachers Union about the safety of in-person learning as the Delta variant spreads, as well as testing, social distancing and vaccines. The two sides also have disagreed about the number of people who have contracted COVID-19 at schools, how many people are quarantining and how those figures are tracked.
As of last week, 71 adults and 89 students in the district have contracted COVID-19, according to the district's dashboard. Nearly 800 people were "close contacts" of someone who'd gotten sick, meaning they may need to quarantine for 14 days, according to district rules.
While some parents say it's not worth the risk, others — like Caitlyn Savado's mother, who herself attends classes during the day — have no choice but to send their children back because they can't afford to keep them home.
Some parents say it's not worth the risk. But others have no choice but to send their children back.
CPS student Caitlyn Savado said her mother attends classes during the day, and can't afford to keep her kids at home.
"It's been chaotic. The safety mitigations we need are clearly not in place. How am I supposed to take this if people aren't going to take this seriously? If we aren't going to have any acknowledgement of the past 18 months, what am I left to do?" said Savado, a freshman at Percy Julian High School in Washington Heights.
Savado's classes have been packed with as many as 30 students in a room, leaving little room to socially distance. The CPS mask mandate is barely enforced, she told Block Club.
She said she tried to get the school's leadership to move lunch periods outside, but was told that staff "wouldn't feel comfortable" with the idea. Savado is attempting to rally her fellow students in hopes of reversing the decision.
"I have four siblings, three of them are unvaccinated. I'm not sure how many of my classmates are vaccinated, because there isn't any data on that. Lightfoot says she cares about Black and Brown kids but we aren't seeing that," said Savado, who gets tested regularly on her own.
Responding to concerns, CPS issued a statement overnight authorizing principals to flip classes to remote learning while a full case investigation is being completed by the district's contact tracing team, ABC7 reported. CPS will also hire 15 additional contact tracers to help their efforts.
The Illinois State Board of Education mandated in-person schooling this fall with limited virtual learning exceptions.
Anastasia Chapital, an organizer who worked on the sick out campaign, also favors a remote learning option for her kids. A single mother, she reluctantly sent her kids back to in-person instruction at Beasley Academic Center and Woodson South Elementary.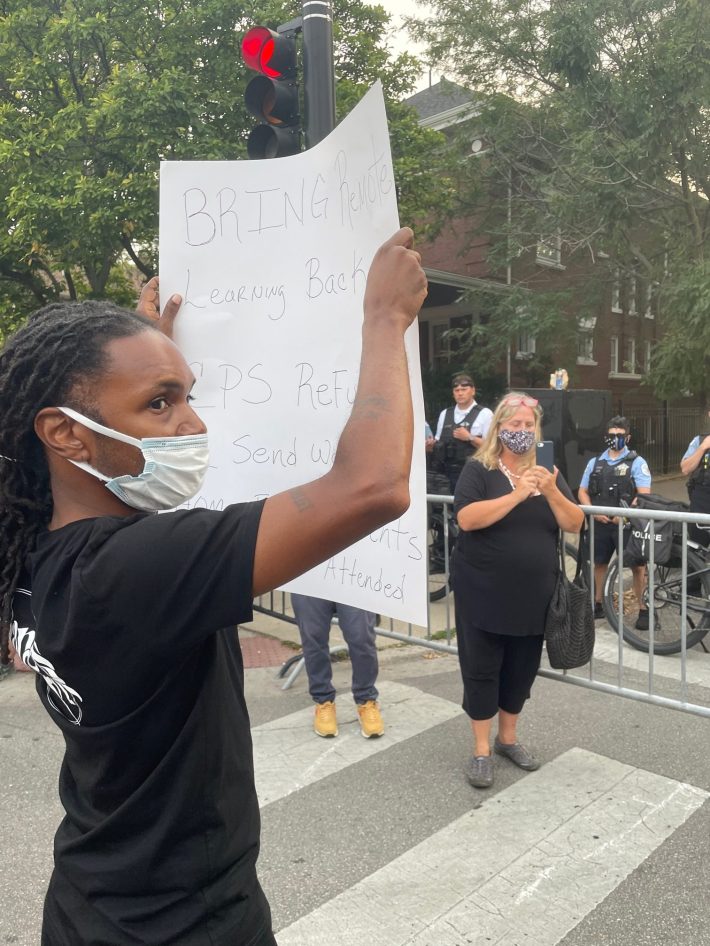 She said she doesn't believe CPS is being transparent when it comes to monitoring potential cases and is wary about people eventually getting sick at her children's schools. The district dashboard says there's been one confirmed case at Beasley; none at Woodson.
CPS leaders have maintained schools are safe enough for in-person instruction, saying that district has yet to identify any instances of in-person transmission and that it "operates on the side of caution" when issuing quarantine orders. Those in close contact with an infected person are notified by the district's contract tracing team.
But CPS and CTU have shared vastly different overviews on COVID-19 spread among teachers, staff and students.
"Why not invest more into it to make the transition smoother for people?" asked Chapital. "It seems like they're cutting their nose to spite their face.
Chapital added that even if she were able to keep her children home, she'd have to worry about legal repercussions as well; Black parents have been arrested for trying to homeschool their children.
Jessica Olson, another CPS parent, shared the same concern. Olson's daughter, who returned to Whitney Young High School two weeks ago, already has a substitute teacher as her regular instructor is in quarantine.
"There hasn't been much communication about COVID from the school at all. We did get a notification last week that if kids were exposed were vaccinated they could come back without having to take a test, because breakthrough infections apparently don't happen," Olson said. "The principal spent an entire period lecturing sophomore girls about their attire instead. That's where their focus is."
Olson is immunocompromised and had been fighting her employer for ADA accommodations that would allow her to work from home, but was denied. She told Block Club she quit her job, and is prepared to pull her daughter out if changes aren't made. While she has the resources to do so, she realizes that she is in the minority.
"Other families don't have that option. They're going to work and putting their health at risk," Olson said. "They need a voice in this conversation."
Subscribe to Block Club Chicago, an independent, 501(c)(3), journalist-run newsroom. Every dime we make funds reporting from Chicago's neighborhoods.
Already subscribe? Click here to support Block Club with a tax-deductible donation.