CHICAGO — Embattled Ald. Jim Gardiner (45th) apologized during a Tuesday City Council meeting as some colleagues asked to censure him over leaked text messages showing the alderman calling women "c-nts" and "dumb b-tches."
Gardiner, who faces an FBI probe and is accused of withholding ward services and retaliating against his critics, claimed he never acted on the "rants" seen in the leaked messages, despite his victims saying he followed through.
Tuesday night, WTTW reported Gardiner is also being investigated for alleged bribery and pay-to-play schemes.
Gardiner interrupted Tuesday's meeting to make a prepared statement regarding the texts, which also showed him call fellow Ald. Tom Tunney a "little b-tch," two female City Hall staffers the same word and a constituent a "c-nt."
"I stand before this body to offer my sincerest apologies for the pain and insult that anyone has endured as a result. I take full responsibility for my offensive words in those messages," Gardiner said. "I want to make it clear that I have never acted on those rants, however they should not have been expressed and it certainly was not my intention to demean anyone."
Fellow freshman Ald. Rossana Rodriguez Sanchez (33rd), who recently called on Gardiner to resign, introduced a resolution calling for the Committee on Rules to hold a hearing concerning Gardiner's actions.
The hearing would determine whether it's appropriate to censure Gardiner under Rule 50 under the City Council's Rules of Order. Rule 50 allows for censure or removal of an alderman "acting or appearing in a lewd or disgraceful manner, or who uses opprobrious, obscene or insulting language to or about any member of the Council, or who does not obey the order of the Chair."
"The City Council must make it abundantly clear that we do not condone this kind of behavior from one of our members," the resolution reads.
A majority of aldermen must approve a censure. Alds. Byron Sigcho Lopez (25th), Maria Hadden (49th), Matt Martin (47th), Carlos Ramirez-Rosa (35th), Michael Rodriguez (22nd) and Andre Vasquez (40th) are listed as co-sponsors of the resolution.
Rodriguez Sanchez said Gardiner's apology was "absolutely not" sufficient and his behavior makes her "uncomfortable" to be around him.
"He said that his actions don't reflect his values. I really don't know how that math works, because I believe that we should behave according to our values," she said. "I am looking forward to seeing what he is going to do in order to repair the harm that he has done and he didn't necessarily refer to how he's going to do that."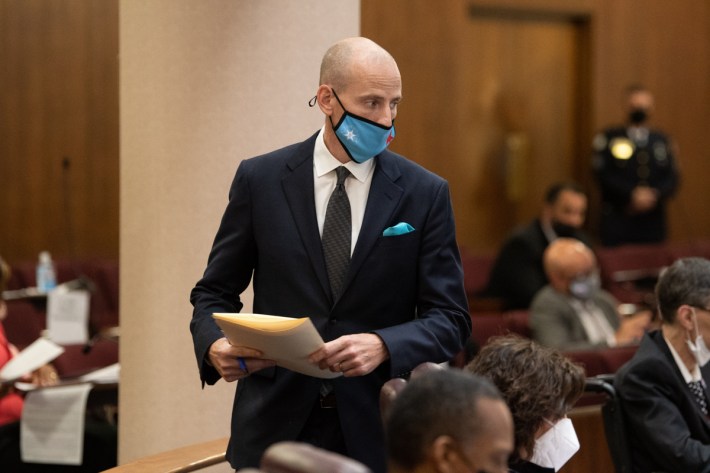 'He absolutely acted on those rants'
Gardiner missed the beginning of Tuesday's meeting, but walked in during public comment just as a ward resident, someone who said he was politically targeted by Gardiner, was calling for his resignation.
A Jefferson Park mom told Block Club the alderman sent two city inspectors to her door after she made a comment about him on a neighborhood moms Facebook page. A bar owner said inspections soared after Gardiner came into his establishment and demanded an apology for criticisms posted online. He also ordered a staffer to pull 20-year-old court records on one of his vocal critics, an incident that is currently being investigated by the  Clerk of the Circuit Court's inspector general, text messages show.
In another exchange, Gardiner told his staff not to help a woman who requested the office help fix a water leak and trim a tree because she supported another candidate in the aldermanic campaign.
A former aide to Gardiner, who leaked many of the messages in question, said the alderman is still failing to own up to his actions.
"He absolutely acted on those rants," the former aide said. "He only cares about maintaining his seat as alderman and the power he can wield with it."
Pete Czosnyka, a frequent critic of the alderman who also says he was targeted for speaking against him, was addressing the City Council when Gardiner arrived late.
Czosnyka successfully fought a $600 fine when the city could not prove his garden, full of native plants and home to monarch butterflies, violated the city's weed ordinance. Czonyka's yard was then damaged by a woman who drove her vehicle into his lawn before crashing into a neighbor's yard. 
The woman told Noreen Czosnyka, Czosnyka's wife, she should tell her husband to "stop following the alderman," Czosnyka said.
"Any apology will be merely an effort to word salad his way out of a bad situation," Czosnyka said of Gardiner's apology. "An apology without accountability is worthless, and the only accountability that is appropriate is Gardiner's immediate resignation."
Czosnyka said Tuesday the city's Inspector General Joe Ferguson interviewed him in January about Gardiner's alleged attacks.
Joanna Klonsky, a political communications consultant who works with Lightfoot, was called a "dumb b-tch" by Gardiner in the leaked texts. Weeks after requesting an in-person meeting with the alderman, she and Anne Emerson, chief of staff for the City Council Committee on Finance who was also called a "b-tch" by the alderman, both sat down with Gardiner following the council meeting.
"Ald. Gardiner did show up to our requested in-person meeting this afternoon in City Hall, Klonsky and Emerson said in a statement. "In that conversation, we communicated to the
alderman our concerns about his apparent habitual use of misogynistic and degrading language. … We acknowledge the alderman's apology and hope to see his commitment to change demonstrated through his future actions."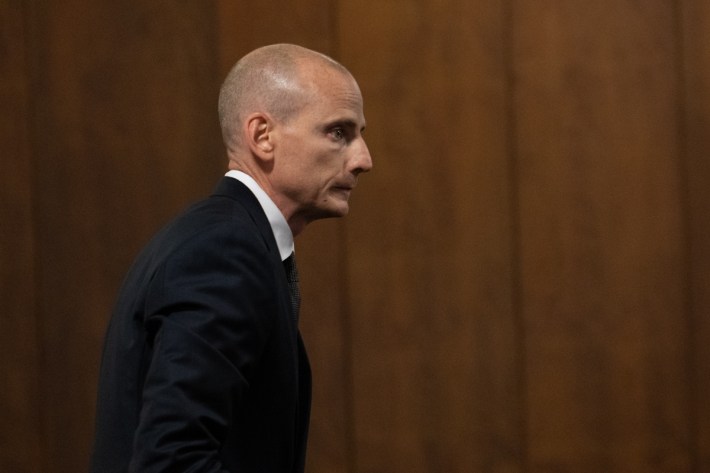 Unanswered questions remain as investigations continue
Tuesday's apology came on the heels of a protest outside Gardiner's Northwest Side ward office, 5425 W. Lawrence Ave., organized by independent political organization United Northwest Side.  The protest featured dozens calling for his resignation, including some who the leaked messages show Gardiner has singled out for retaliation for their previous opposition to the alderman.
Last week, Lightfoot called for the city's Office of the Inspector General to investigate Gardiner and the FBI reportedly launched an investigation into his conduct, as well.
"No one should ever be denied access to city services because of their political opinion, whom they may have supported in an election. That's just not how we do things," Lightfoot said at an unrelated news conference. "We're never gonna support any effort to deny people access to city services. It's fundamental."
On Tuesday, Lightfoot again called for an independent investigation into the alderman's actions, saying she was particularly concerned about allegations that Gardiner used "tools of city government" to sanction businesses with whom he had a disagreement.
She told reporters Gardiner put his colleagues in a "very awkward position" by apologizing on the council floor. The only way for Gardiner to put this matter behind him, Lightfoot said, is for him to address the public and answer questions.
"It's not for me to judge whether it was genuine or not. … I think the better course that still needs to happen is that he needs to stand at a podium like this, say what he has to say and face questions from members of the media I think that's truly the only way to put this matter behind him," Lightfoot said. "It's not for me to give him advice. He certainly hasn't asked for advice , but I think that's the better play. Members of the media, members of the media want to hear what he has to say, but not in a pre-scripted way."
Nearly half of Gardiner's colleagues have signed a letter condemning Gardiner for using sexist, foul language to describe colleagues and constituents in the leaked texts. There has also been a formal complaint filed within the Cook County Democratic Party regarding his actions.
"This has been an embarrassment to many and offensive to others, and again I want to apologize to those referenced in the texts, and to my family, predominantly my beautiful wife and gorgeous daughter," Gardiner said during his apology speech. "I can do better and will strive to prove that through my actions as I continue to serve this great city."
On Tuesday, Gardiner gathered his belongings and left City Council chambers minutes after speaking as the meeting continued. Gardiner ignored a request for comment as he walked out of City Hall.
Subscribe to Block Club Chicago, an independent, 501(c)(3), journalist-run newsroom. Every dime we make funds reporting from Chicago's neighborhoods.
Already subscribe? Click here to support Block Club with a tax-deductible donation. 
RELATED ARTICLES
As Ald. Jim Gardiner Faces FBI Probe, Northwest Side Residents Rally To Demand His Resignation
'Do Not Help Her': After Texts Show Ald. Jim Gardiner Called Constituent A 'C-nt,' Council Members Want Him Punished
Ald. Jim Gardiner Apologizes To Fellow Alderman He Called A 'B-tch' In Leaked Texts
Ald. Jim Gardiner Calls Constituent And Fellow Alderman A 'B-tch,' Rips His Critics In Leaked Text Messages
Police Internal Affairs Investigating Officers After Woman Allegedly Drove Over Neighbor's Lawn Because He Criticized Ald. Jim Gardiner
NW Siders Sue Ald. Gardiner For Blocking Them On Social Media, Saying He's Violating 1st Amendment By Silencing Critics
Screaming Woman Drives Into Jefferson Park Family's Garden — Because They Don't Support Ald. Jim Gardiner, Couple Says
After His Volunteers Tossed Blankets And Food Of Man Who Is Homeless, Ald. Gardiner Says It Was A 'Mistake'
NW Side Alderman Had Staffer Falsely Report Cellphone Stolen — Then Had A Constituent Arrested, Lawsuit Alleges
Candidate In 45th Ward Had Order Of Protection Issued Against Him Last Year By Ex-Girlfriend
Listen to "It's All Good: A Block Club Chicago Podcast" here: