ENGLEWOOD — A few days after Chicago Public Schools reopened for in-person learning, a teacher at Englewood STEM High School stopped Mike Smith in the hallway.
They asked if Smith had "seen the update on Aspen," a platform teachers, students and families use to view grades, attendance and student performance information. Smith had no clue what the teacher meant.
"They explained it to me, and in Aspen, it said certain students shouldn't return to school until a certain day," said Smith, a history teacher. "They asked if this meant that we should have kids who should be quarantined and do we have people who contracted COVID-19. It was my first time hearing of anything."
As it turns out, two people at the school had contracted COVID-19.

The district's tracker shows two confirmed cases of COVID-19 reported Aug. 29-Sept. 4 at the school, 6835 S. Normal Blvd. A total of 160 people were identified as "close contacts," meaning they had prolonged exposure to a COVID-positive person while they were contagious. The district requires those people to quarantine for 14 days if they are unvaccinated. 
Smith said the two people notified the district about their positive tests Aug. 31. Many teachers, students, administrators and parents didn't find out until Sept. 3, Smith said, raising concerns about the district's notification process and whether people were mingling in classrooms, hallways and other school areas for days when they should have been quarantining at home.
CPS officials did not return a request for comment.
In response to a different Block Club story about coronavirus cases in schools, a district spokesperson said the number of people listed as quarantining on the COVID tracker may not be up to date as the district confirms vaccination status. Anyone fully vaccinated isn't required to quarantine after exposure.
It is unclear exactly how many Englewood STEM students are quarantining or staying out of school as a precaution.
"In the community that I work in, people work hard, but they don't have access to doctors and hospitals. They're not vaccinated," Smith said. "If someone gets sick at my school, that could really impact the family in a negative way. They already have so many problems going on besides COVID-19. Something like this can derail a family."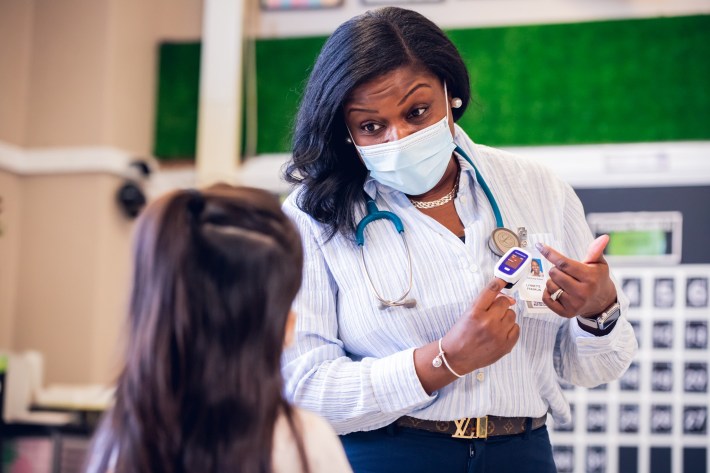 After talking to the teacher about the Aspen notice, Smith went to school administrators. But no one there knew what he was talking about, either, he said.
Then parents started to call. 
"What made things really challenging, especially for other people in the front office, was that CPS notified parents [about the cases] during the middle of the day on Friday and didn't notify our school," Smith said. "We were bombarded with these phone calls about, 'My kid said they should be in quarantine, but they're in school. When did this happen?'"
After some back and forth with the district office, someone told school leaders any student who received a message on Aspen should be at home in quarantine because they were exposed to someone in the school who tested positive for COVID-19, Smith said.
Smith said he asked an administrator at the school why a positive test reported Tuesday wasn't made public knowledge until Friday afternoon.
"They said we weren't able to confirm it," Smith said. "CPS has to tell us that you can now inform people that this happening even though it might already exist. That didn't happen.
"There was so much confusion and so many questions, and it brought real anxiety."
With a pregnant wife and a young daughter at home, Smith said the experience was "concerning." 
"My wife hoses me [down] before I come into the house, but it was nerve-wracking when I found out," Smith said. "I left school and went to get tested right away because I'm like, 'Oh my God, I've been around these kids for the past four days.' My family is super vulnerable." 
Englewood STEM isn't the only school with problems. Hundreds of people at multiple schools have been exposed to COVID-19 in the first two weeks of school, according to district data, including more than 400 at Lane Tech. Washington and Senn high schools and Murray Elementary have had more than 100 people exposed in each building.
The Chicago Teachers Union has criticized the district for its recordkeeping, saying the public data is confusing and doesn't match what's happening in schools.
Insufficient communication from the district to Englewood STEM and the school to the parents disrupted the flow of instruction, Smith said. One day this week, half of his classes showed up in person. Some students are in the classroom while others are remote.
Smith said he is unsure of how the school year will proceed, but he feels pre-screenings, active testing and better contact tracing need to be at the top of the distinct's to-do list.
"They want kids to be in school and engaged, but how can they?" Smith said. "It's just a big mess, and I don't think it had to be this way. It was just a really poor implementation of whatever CPS planned to do."
Subscribe to Block Club Chicago, an independent, 501(c)(3), journalist-run newsroom. Every dime we make funds reporting from Chicago's neighborhoods.
Already subscribe? Click here to support Block Club with a tax-deductible donation. 
Listen to "It's All Good: A Block Club Chicago Podcast" here: