Get more in-depth, daily coverage of Chicago politics at The Daily Line.
CITY HALL — A divided City Council committee voted on Wednesday to advance a proposal from Mayor Lori Lightfoot to ease the path for new cannabis dispensaries to open in the city, sweeping aside critics who said city leaders should wait to see how the state's chaotic licensing rollout shakes out before giving new operators a boost.
Members of the City Council Committee on Zoning, Landmarks and Building Standards piled onto a top Lightfoot deputy Wednesday over an ordinance she pitched in July that would abolish the city's restrictive "cannabis district" system and expand the menu of properties where pot shops would be able to open without permission from aldermen. Officials introduced a last-minute update Wednesday morning that would roll back some of the loosened zoning rules but dramatically shrink the Downtown "exclusion area" where dispensaries are currently banned.
After aldermen spent more than an hour airing concerns and questions over the plan, committee chair Ald. Tom Tunney (44th) pocketed the ordinance in an apparent sign that it lacked enough support to pass. But Tunney resurfaced the ordinance later in the meeting and asked for a vote, saying Ald. Roderick Sawyer (6th) would draft a separate ordinance designed to allay his colleagues' concerns. It then passed 14-4.
Some aldermen balked at the latest update to Lightfoot's ordinance, saying they needed more time to talk to industry advocates before casting a vote to move it forward. Others, like Ald. Anthony Beale (9th), said the city should withhold any favors for the cannabis industry until state lawmakers overhaul the system to further to protect entrepreneurs and growers of color.
"I hope my colleagues wake up, vote 'no,' force Springfield to fix this thing for real and work with us … so we can truly get minorities a piece of this pie," Beale said during the meeting. "If not, we're going to continue to get the crumbs we've always gotten."
Nearly two years after Illinois' cannabis legalization law went into effect, the "social equity" applicants designed to be given a boost under the law are still waiting to set up shop. State regulators were forced this summer to redo multiple license lotteries following a logistical and legal tangle last year, and even those licenses remain on hold while a Cook County judge weighs new legal challenges.
Will Shih, Lightfoot's top policy adviser on cannabis, told aldermen on Wednesday that Lightfoot's ordinance was designed to make it easier for social equity applicants to set up shop in the city.
"In addition to the capital that they've spent just staying afloat, we know that now they're facing additional costs from finding real estate, and they're facing additional costs from zoning processes," Shih said. "One thing we're trying to rectify here for this round of social equity applicants is to make sure that they feel as though they have space and can actually find real estate to open up."
As part of a last-minute compromise designed to get members of the Aldermanic Black Caucus on board with Lightfoot-backed zoning rules for dispensaries in 2019, the City Council voted to bar pot shops from opening in B3 or C1 zones, meaning that owners in most retail districts would have to apply for zoning changes with their local aldermen.   
Related: Pressure intensifies on Lightfoot as Cannabis rules stall and CTU strike looms
But Lightfoot's ordinance would partially reverse that ban, allowing the shops to open in C1 zones — as long as they also secure a special use permit from the Zoning Board of Appeals.
The original ordinance would have also allowed dispensaries in B3 zones, but officials stripped out that bonus amid overwhelming opposition from aldermen. The updated version would also allow shops to open in Downtown DS zones, where officials "heard there's a desire for additional real estate," Shih said.
The newest version of the ordinance would also shrink the city's Downtown cannabis "exclusion zone" to a fraction of its current size, limiting it to a sideways T-shaped area spanning Michigan Avenue between Division and 16th streets and the Grand Avenue corridor between State Street and Navy Pier.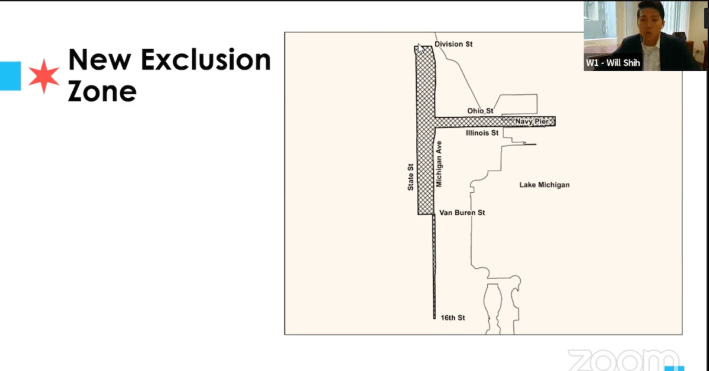 During the meeting's public comment period, cannabis entrepreneur and activist Willie "J.R." Fleming urged the committee to pass the ordinance, pointing to a new provision that would ease the path for independent growers to set up operations. The measure would allow craft growers and infusers to open "by right" in M2 and M3 industrial zoning districts, meaning new operators would not need permission from the City Council or the Zoning Board of Appeals, as long as their sites are more than 660 feet from any homes.
"If you want to have the ability to increase supply, the only way that can happen is if we move this ordinance through," said Fleming, founder of the nonprofit Hemp for Hoods and co-director of the South and West Side Coalition for Change. "This offers us a faster chance to market and a better chance to lower prices due to the shortage of [cannabis] flower."
He was echoed by Edie Moore, executive director of the cannabis advocacy group Chicago NORML, who said she won a social equity license in a recent state lottery. Moore supported the looser rules while lamenting that the latest draft would no longer allow pot shops to open in B3 business zones.
"Anything that doesn't open as much opportunity to the social equity license holders hurts them," Moore said. "Anything that adds more time and more money hurts them…We just don't have any more time. We've just been delayed and delayed and delayed, and anything that delays us is hurtful."
A spokesperson for the Cannabis Equity IL Coalition, which helped craft the state bill that created the new round of dispensary licenses, wrote in a statement Wednesday that the group welcomed the changes but will continue to push for dispensaries to open in B3 zones.
"Expanding zoning to include B3 buildings will eliminate barriers such as re-zoning, which will cost applicants thousands of dollars and months of time," the statement read. "We hope to see the Council expand to allow B3 businesses in the near future, so we can achieve our shared goals."
Aldermen push for more equity rules
Ald. Walter Burnett (27th) supported the ordinance, saying on during Wednesday's meeting that "there's a lot of social equity folks waiting on this thing to happen so they can get into the industry." But he also pressed Shih on whether city leaders could push forward any rules to prevent social equity applicants from selling their licenses to white-owned corporations — a process he saw unfold for two locations in his ward, he said.
"They make these commitments to the community," Burnett said. "And then they flip it, and then the next guy who gets it don't honor any of the commitments."
Multiple other aldermen, including Ald. Raymond Lopez (15th) and Ald. Sophia King (4th), seized on Burnett's protest, saying the city should do more to crack down on minority-owned businesses selling out before they consider unspooling any more regulations.
Shih said the city's options are limited because it has no jurisdiction over state licenses, but he said the ordinance "may prevent folks from selling" their licenses "by making it easier to get through zoning" processes that may otherwise be too costly to handle.
Lopez challenged Shih's claim that the ordinance would allow nearly 120 additional social equity license applicants to open in Chicago, saying many are front companies that "don't belong on that list."
"When there are wolves in sheep's clothing trying to manipulate this, that in my opinion is more dangerous than any potential delay," Lopez said. "And for this committee to be pushing forward…is the wrong message."
Ald. Byron Sigcho-Lopez (25th) said he wanted to see "more language fleshed out" in the ordinance to add "more local oversight and control" of the process. He asked Shih what the "effect" would be if the committee punted the measure into next month.
Shih responded that if the courts allow licensing to move forward in the coming weeks, the city could "be caught unawares and flat-footed" with an overly restrictive business environment when companies start scouting locations.
"My goal this whole time has been to be ahead of the curve and ready for when the second round of licenses are issued," Shih said. "If we defer a month, many license holders looking for locations right now might just say, 'who knows what Chicago is going to do?'"
Sawyer at first expressed hesitation about the ordinance, saying he wanted more time to hear from stakeholders before casting a vote to advance it. But he reappeared later in the meeting saying that he "did make some calls around and talked to some lawyers…and they wanted to get me some language that might be able to address some of these concerns that people had" but would need several days to put the proposal together. Sawyer did not give any more details on the legal language but said he would propose it to the City Council when it was ready. 
Lopez made a motion to hold the ordinance in committee, but the motion failed in a 10-7 vote. Beale, Sigcho-Lopez, Ald. Brian Hopkins (2nd), Ald. David Moore (17th), Ald. Carrie Austin (34th) and Ald. Maria Hadden (49th) joined Lopez in the unsuccessful effort. 
Tunney then called for a vote on the ordinance, saying it would "move the ball further down the field" on the city's cannabis equity efforts but that more legislation would follow. Only Beale, Lopez, Sigcho-Lopez and Moore voted against advancing it. 
The ordinance is set for a final vote by the City Council on Tuesday.
The zoning committee passed all other citywide measures on its agenda Wednesday, including a 65-page list of proposed updates (O2021-3239) to the city's building code and the reappointment of Laura Flores (A2021-136) and Guacolda Reyes (A2021-137) to the Chicago Plan Commission.
The committee also advanced all private zoning applications included in The Daily Line's preview, with the exception of Cloud Property Management's proposal for a 59-unit mixed-use development at 3232 W. Cermak Rd. in the 24th Ward, which was deferred.
Justin Laurence of Block Club Chicago contributed reporting.
Get more in-depth, daily coverage of Chicago politics at The Daily Line.