LOGAN SQUARE — Men in leotards and colorful masks tossed each other onto a wooden ring to the cheers of a 500-plus crowd at the sixth annual Lucha Libre Saturday in Logan Square.
The Mexican-style wrestling event was held at Unity Park, 2636 N. Kimball Ave., for the first time in more than a year, as last year's event was canceled due to the pandemic.
"With Lucha Libre, you'll see a little kid and some hipster-looking dude and a Puerto Rican abuela — all screaming at a luchador," said Eric DeBellis, a member of the park advisory council that organized the event. "It's cool to see them feel the same extremely visceral rage."
Eight wrestlers, known as luchadores, stepped into the ring for a high-stakes battle royale. If they got thrown over the ropes, they were out. The last luchador standing was to be the champion of Logan Square.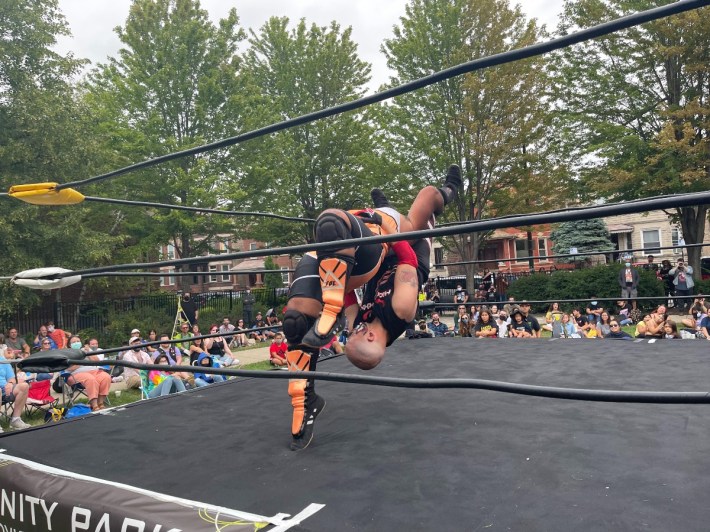 Midwest Wrestling, a traveling company of Chicago wrestlers, puts the show on each year. Combining traditional Mexican-style wrestling with American influences, luchadores perform acrobatic flips and bone-crushing body slams. The wrestlers can be a técnico — the good guy — or a rudo — the bad guy. 
The reality of it all is up for interpretation. 
"There's a little mystery to it," said Midwest Wrestling organizer Ricky Hurt, also known as Wild Windham. "It's kind of like watching a live movie."
Before the show, Hurt found an oversized teddy bear trashed in an alley. He brought the bear into the ring as his partner and fluffy shield. 
The wrestlers also adopted two stray kittens they'd found. They were hanging out in the truck before the show, hiding underneath the wooden ring.
"It takes a very rare breed to do this — a very rare breed, indeed," said Tully "11th Wonder of the World" Bertorelli.
For Tully, the work's all about getting the crowd involved. Tully and his brother, "Bulletproof" Beau Anderson, traded blows during the event as people of all ages jumped up and down and egged them on. 
Tully and Bulletproof flipped over the ropes, setting up a championship matchup between the West Side's Mike Strong and Logan Square's own Kidd FoxXx.
Strong controlled most of the match, attacking Kidd FoxXx with a barrage of piledrivers.
FoxXx danced around the ropes as his hometown crowd grew inhospitable. Strong said he's "not a people's person" — but on Saturday, he had the people chanting his name. 
In his own backyard, FoxXx was in a tough spot. 
"That moment I was trying to catch my breath, I was irate," FoxXx said. "This is my place. Man. This is where I come to be myself." 
Announcer Steve Kenton called the match as the crowd got antsy for Strong to finish off FoxXx.
"Tremendous, vibrating pain!" Kenton announced. "From head to toe!" 
"Get him out!" screamed a kid. 
Kenton said FoxXx and Strong have long been rivals. FoxXx is a daredevil known to take risks, always one move away from turning the match on its head. 
Strong hit FoxXx with another piledriver. Both wrestlers paused and gasped for air. But FoxXx jolted against the ropes and caught Strong with a sneak-attack Superkick. 
Strong went tumbling over the ropes — and the neighborhood Kidd was champion of Logan Square. 
"I'm excited to be their champion," said FoxXx, real name Charles West. "Unless I physically cannot walk again, I will always get up and stand in these ropes."
FoxXx held the championship belt high as kids clamored to take pictures with him. One sympathetic fan handed him a Clif Bar. 
After the crowds left, FoxXx and Strong caught up to recount the match: a few painful miscues and that one climatic moment. 
"What was happening up there, bro?" Strong said to FoxXx. "Like damn, I didn't think you were behind me!" 
Wrestling fans Jodi Williams and Michael Gifford stayed in Unity Park afterward to enjoy dolma on picnic blankets. 
Gifford said Unity Park should consider leaving the ring here, saying it could be a great way for Chicagoans to settle their differences. 
"We were saying just leave the ring up," Gifford said. "Just leave it here." 
Subscribe to Block Club Chicago, an independent, 501(c)(3), journalist-run newsroom. Every dime we make funds reporting from Chicago's neighborhoods.
Already subscribe? Click here to support Block Club with a tax-deductible donation. 
Listen to "It's All Good: A Block Club Chicago Podcast" here: