Jennifer Billock covers Chicago's baking history in her new book, "Historic Chicago Bakeries." In this story, she shares some of the history she uncovered.
ANDERSONVILLE — The bakers meet the first Wednesday of every month, each carrying a fresh-baked item. They stand around a table and the ritual begins: They devour each other's food.
This is the Bakers Dozen, a secret society of leaders from the oldest family-owned bakeries in and around Chicago — and this group is helping beloved bakeries continue to thrive.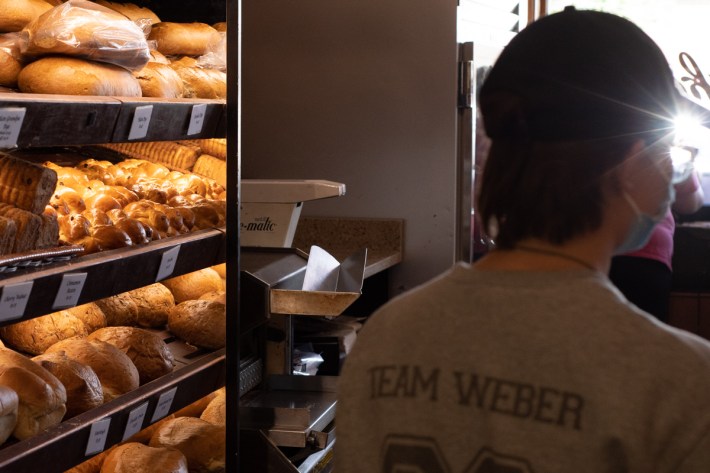 The Bakers Dozen formed in the 1930s, but the exact date is unknown. Erich H. Weber, the founder of Weber's Bakery, was one of the original members along with 12 other colleagues — making it 13 members, a true baker's dozen.
The secret society's membership has changed over the years. Longtime members include Weber's, Dinkel's Bakery, Calumet Bakery, Reuter's Bakery, Bennison's Bakery in Evanston, O&H Danish Bakery in Racine, Jarosch Bakery in Elk Grove Village and others — some of which prefer to be anonymous.
Some of the biggest losses were Gladstone Park Bakery, which closed in 2009; Lovin Oven Cakery in Antioch, after the owner, Ken Slove, died of a heart attack at the start of the pandemic; and Swedish Bakery, which went out of business in 2017.
Each new member has to be approved by unanimous vote.
When the meetings happen every first Wednesday, they're themed around specific items.
"Whoever hosts the meeting typically picks three items to talk about," Jory Downer, owner of Bennison's, said during an interview for "Historic Chicago Bakeries."
The bakery owners typically choose a theme based around an item they aren't satisfied with.
"Let's say his rye bread wasn't coming out," said Weber's owner Mike Weber. "He would say, 'I want you to bring your rye bread and your formula [or recipe].' Then they'd stand around the table, they'd talk about it, they'd taste it, and then he would get ideas to make his better."
Downer said the meetings are pretty organized: The bakers try one another's food in alphabetical order by last name. They put their item on a scale before everyone dives in, and they talk about what the price is for that good.
Once everyone has tried each item and shared thoughts on how to improve it, they all go out to dinner.
That's how the Bakers Dozen worked for generations.
The bakers still taste and discuss their food, of course; but the meetings are evolving with the modern bakery landscape.
"It's changing because things are becoming more pertinent than the quality of your pound cake," Downer said.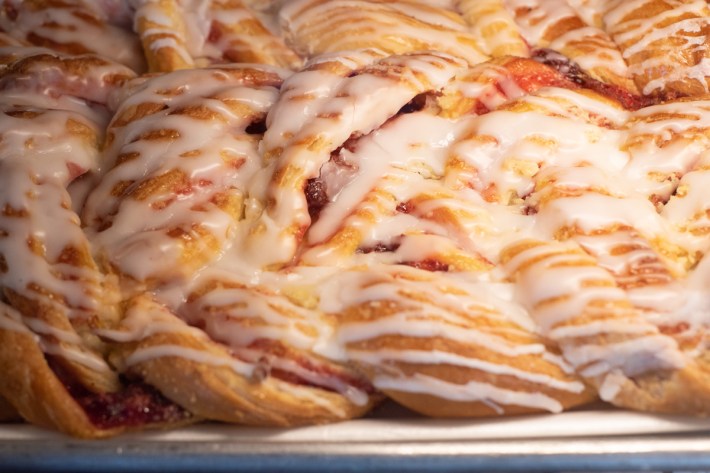 Now, the group members also discuss technology, like ordering systems and credit card machines. They talk about sales protocols and new equipment. And they share ingredient prices, helping each other out.
"I know a lot of our distributors don't like the group because sometimes someone will say, 'Hey, what are you paying for eggs?'" Weber said. "All of a sudden the numbers come back and you realize, 'Wait a minute, I'm getting charged too much by my supplier.' So they may not like it, but they have to keep their pencil sharpened."
The meeting format has shifted a bit, as well, thanks to cellphones.
"Sometimes we may have to skip a meeting, [like] if there's a snowstorm," Weber said. "I've even said the meetings are unimportant because with text messaging and emails, there's a meeting every day. If I'm having a problem with something, I can text 12 people immediately and get their feedback."
As important as the group is for these bakers, it also serves Chicagoans.
Keeping costs low at the bakeries means the baked goods cost less, too. And the group is responsible for ensuring historical bakeries stick around for more generations.
The bakeries don't see themselves as being in competition — they work together and support each other. Weber said their competition is grocery chains that mass produce subpar baked goods.
The longer the Bakers Dozen survives, the longer independent bakeries can survive and Chicagoans can enjoy scratch-made delights.
The Bakers Dozen may even be to thank for an iconic Chicago dessert: the Atomic Cake. Weber thinks the South Side delight was a project from the society's members, though its history is disputed.
Kerry Moore, owner of Calumet Bakery, broke down the recipe for the Chicago Tribune in 2017: "You start with a layer of banana cake topped with a banana filling, with Bavarian cream custard and fresh sliced bananas. Then you put on a layer of yellow cake topped with a strawberry filling, with fresh sliced strawberries in glaze and strawberry cream. Then you put on a layer of chocolate cake with fudge on top. You ice it up, more times than not with whipped cream, but some people like buttercream, and that's it."
Weber's has its own version called the Banana Split Torte, where the top and bottom layers are banana cake and chocolate is in the middle. "We're splitting the banana, so we call it a banana split," Weber said.
The now-closed Liberty Bakery, formerly at 11932 S. Halsted St., advertised at one time that it was the originator of the cake. But other bakeries dispute that, and Weber said no one is certain where the cake came from.
It wouldn't have been the first time the group created a dessert. Decades ago, the members ordered custom-made pans to make a pastry called the New Look. The pans were square with a hole in the middle, and they were used to bake a buttery pecan coffee cake with custard — a treat Chicagoans can still find at Jarosch Bakery. 
Outside the Dozen's meetings, the bakers are all great friends. They vacation together, have holiday parties, buy neighboring condos in Florida. Downer even splits Blackhawks season tickets with another member.
"I don't know of anything that's ever happened to me that's more valuable than that group," Downer said.
Weber agrees.
"Having a group of people that understand your life, your trials, your tribulations, is just so invaluable," he said. "Even when you go to a meeting and you don't get any product ideas, … somebody might say one sentence that causes you to think about how you're doing something."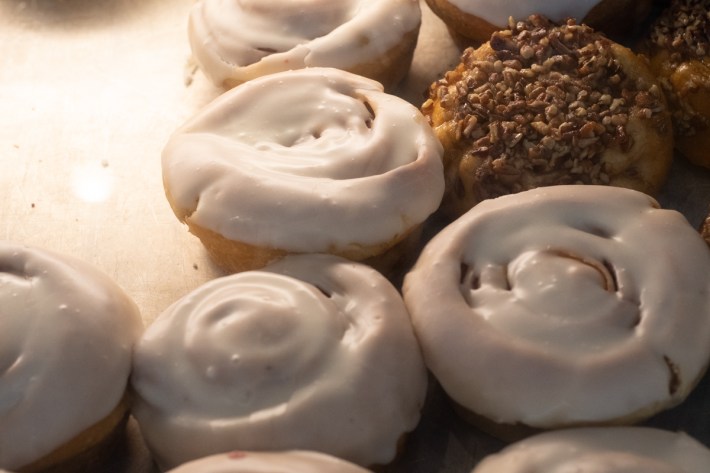 Subscribe to Block Club Chicago, an independent, 501(c)(3), journalist-run newsroom. Every dime we make funds reporting from Chicago's neighborhoods.
Already subscribe? Click here to support Block Club with a tax-deductible donation. 
Listen to "It's All Good: A Block Club Chicago Podcast" here: