BURNSIDE — An Englewood native is turning barbershops into places where children can leave with a new love for books.
Fades, Fros and Books was created by Chez Smith to inspire Black boys to discover the joys of reading. A mini-library is installed at various South Side barbershops to make reading more accessible and appealing to young folks stopping in for a cut.
Smith partnered with three shops to bring books to the hands of youngsters: Urban Professional Grooming, 9103 S. Cottage Grove Ave.; Eighties Lifestyle Shop, 10326 S. Halsted St.; and Penny's Barbershop, 6824 S. Western Ave.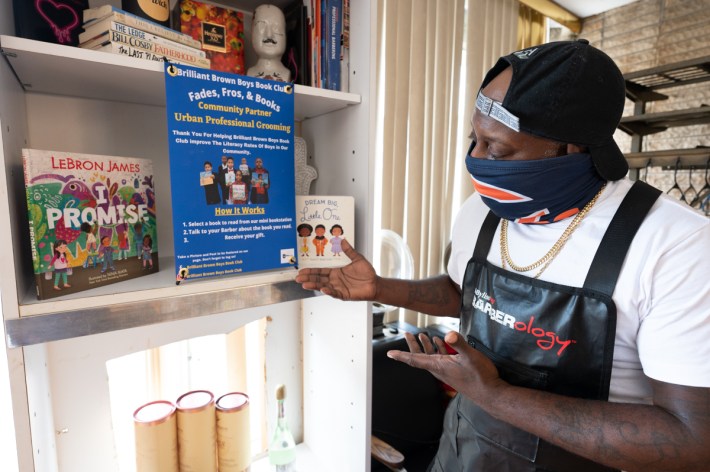 Mario Tate at Urban Professional Grooming starts every haircut with his young clients by asking them about the bright blue sign by the door. 
"My question to clients is always, 'How many of y'all know how to read?'" Tate said. "I usually have groups of kids in here. They raise their hands, and I say 'OK, go check out that blue sign over there, and after you check out that sign, come back and holla at me.'" 
On the blue sign, Tate's clients see boys who look just like them holding up books. They're encouraged to select a book, read it and discuss the story with their barber to receive a secret prize. 
More often than not, the boys reach for Lebron James' "I Promise," Tate said.
"They do their thing and read the book," Tate said. "It's a real dope program to me — putting books in the hands of brilliant Brown boys."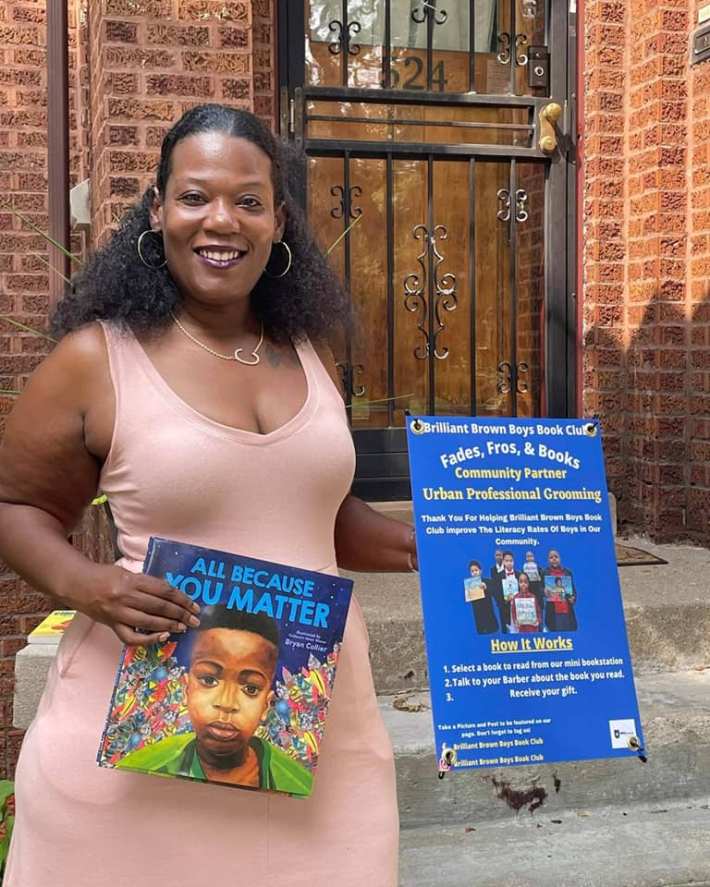 For years, Smith has been the brains behind the Brilliant Brown Boys Book Club, a Chicago-based program for Black boys emphasizing the importance of reading through book discussions. Smith said she created the club after seeing how many young boys at her son's school hated reading.
"I noticed that when it was time for the boys to read, they might act out or they felt some dread," Smith said. "Even my son felt that way. When I told him to get get a book to read for the night, it was like it was a punishment."
Her daughter, on the other hand, would "run to get a book." Smith made it her mission to fix that problem, she said. 
"We don't really push [reading] on boys in the way that we do on girls," Smith said. "We usually push boys to play sports. But literacy is important. And I've been finding a lot of men who can't read or struggle with reading. So I said, 'Let me create something.'"
Smith's son helped finalize the name for the club.
"I didn't think that they knew that they were brilliant, and I wanted the name to be affirming," Smith said. "They're all brilliant, and they're all Black, but, like my son said, they're all these different shades of brown. That's where the Brown boys came in." 
Today, the club is a citywide staple with similar organizations sprouting up in other states. But a recent trip to a barbershop showed Smith there was another avenue to promoting literacy for young learners.
"The barbershop is more than just a place to go and get your hair cut. It's like a brotherhood in the Black community," Smith said. "When the little guys come in, sometimes the older people talk mess. I wanted to give them something that they can do during that time."
Fades, Fros and Books gives little clients a moment to get lost in the joys of reading and look their finest, all while being surrounded by positive influences, Smith said. 
"It means everything to them when they come here and Mario asks them if they looked at the blue sign or they ask them about the book," Smith said. "The next time they come, they might read a book on their own and can't wait to go to the barbershop to tell them about the book they read."
Smith said she chooses books that center on positive Black characters. She tries to stick with books that are written by Black authors, she said.
"We only deal with books that are culturally relevant, and that makes the pickings slim," Smith said. "Now that I hear [the barbers] saying that kids like the Lebron James book, I'll look for books similar to that one."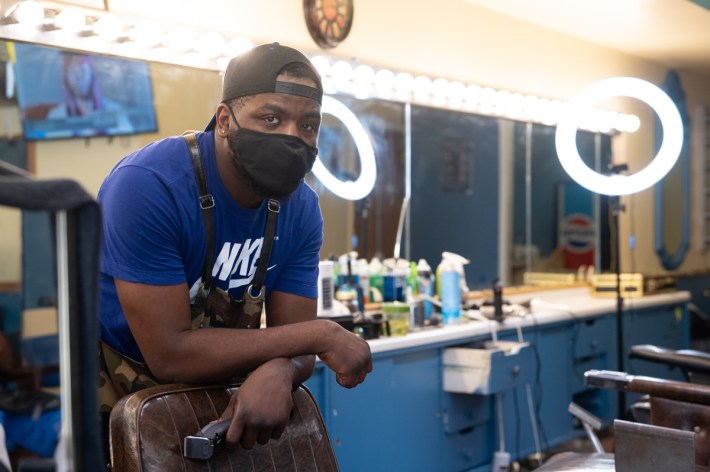 Steven Williams, owner of Urban Professional Grooming, said his dream since day one was to create a space that uplifted the community. 
His work is about more than just making sure customers leave looking and feeling as good as possible — which they do, he said. But it's also about giving back.
"Community awareness has always been a thing that we hold dearly in here," Williams said. "When we opened in 2019, there were so many things we wanted to do because we were excited to open a new business, but being involved in the community was always at the top of that list."
When Smith pitched the idea of adding a small library for young clients, Williams immediately accepted, he said. 
"I hope that this program gives them more knowledge because the knowledge is in the books," Williams said. "I hope to see them grow and do other things outside of just being in the streets or running around. An idle mind is the devil's workplace. If we can keep putting books in their hands, they can get knowledge and they can proceed to do better." 
The only roadblock Smith sometimes faces is finding the books, she said.
But what matters the most is showing the power of reading to young Black boys, Smith said. That feeling can't be replicated or replaced.
"I want kids to know that reading is cool," Smith said. "You can have swag, and you can love books. There are different paths to success, but regardless of whatever career they pick, literacy is going to be the foundation."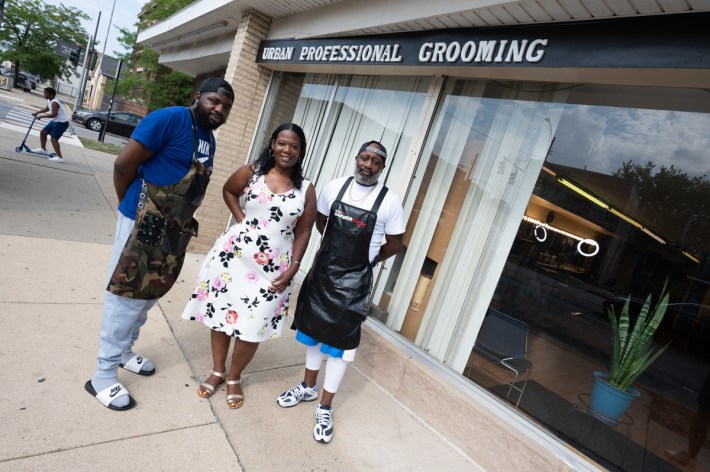 Subscribe to Block Club Chicago, an independent, 501(c)(3), journalist-run newsroom. Every dime we make funds reporting from Chicago's neighborhoods.
Already subscribe? Click here to support Block Club with a tax-deductible donation. 
Listen to "It's All Good: A Block Club Chicago Podcast" here: