SOX PARK — Brady Nelson of Norwood Park loves baseball. The 12-year-old plays second base for his team and doesn't often strike out. In his bedroom, baseball cards are stacked on the floors and ESPN runs on a loop.
And Brady's now learning to love the White Sox.
At Wednesday's game, a 6-3 win over the Pittsburgh Pirates, the Sox recognized three young men and boys — Brady, Josh Fleming and Amadeo Castillo — on Childhood Cancer Awareness Day. Brady has glioblastoma, an aggressive form of brain cancer. 
Brady's treatment scars were covered under his White Sox cap. At the game, it was just about baseball — a chance to interact with players at batting practice, enjoy the game from a suite with his family and announce to the crowd, "Play ball!" 
Brady connected with the team and formed a bond with his favorite player: Eloy Jiménez, the slugger who recently returned from injury. 
"It's kind of motivated me to keep pushing," Brady said. "It's been very cool."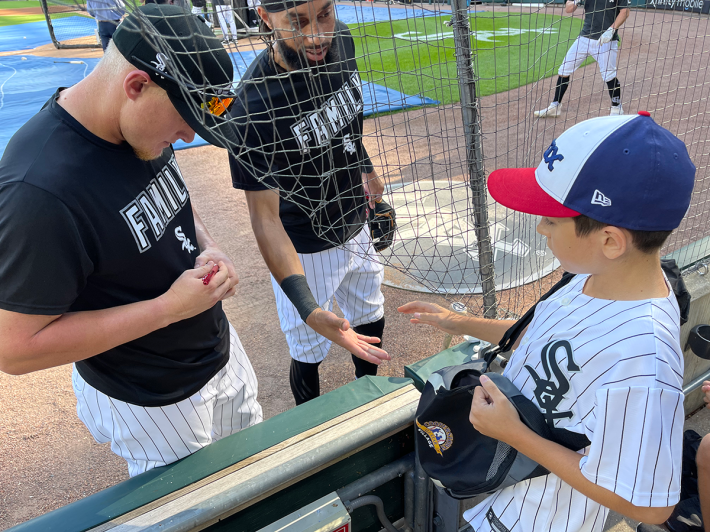 Jiménez sent Brady a video message in April saying the boy is "a warrior" and his "favorite fan." Jiménez promised he'd dedicate his first home run back from tendon repair surgery to Brady. He kept his word, hitting a game-winner against the Kansas City Royals on July 27. 
The two are kindred spirits, and at Wednesday night's game, Jiménez wore his "Brady Strong" wristband to bat. Brady watched from the best seats in the house. 
"It started when Eloy sent the video saying that he's hurt, and it's kind of like the same thing as me," Brady said. "But he's always celebrating and stuff. Always looks very happy." 
At batting practice, Brady stood behind home plate, locked in on the task at hand: getting his baseball covered with autographs. He left the biggest space for Jiménez. 
Other White Sox players stopped by: Andrew Vaughn and Billy Hamilton said what's up first, and then Dylan Cease, Liam Hendriks, Lucas Giolito, Michael Kopech and Craig Kimbrel greeted the 12-year-old. 
"Brady, make sure you say, 'Thank you!'" Eric Nelson reminded his son. 
"Louder, so they can hear you!" chimed in mom Christina Nelson.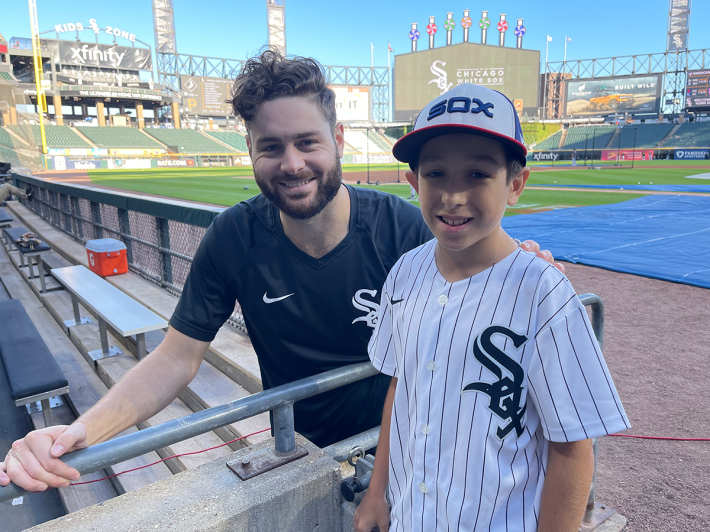 Eric and Christina Nelson grew up in Norwood Park, where they're now raising their three kids.
Their lives changed dramatically in December, when Brady was diagnosed with glioblastoma. A tumor was growing in his brain, and Brady required immediate surgery and an intense regimen of radiation followed by chemotherapy. 
But Brady kept going, reminding his parents he felt "perfectly fine." He'd undergo radiation with his baseball uniform on so his dad could drive him straight to practice afterwards. 
Just like his friend Jiménez, Brady recently got the game-winning hit for his team, Windy City Baseball. 
"He honestly handles it all amazingly," Christina said. "If you try to talk to him about it, 'Oh listen, this is what you're dealing with,' he'll just start talking about baseball." 
The family now lives three months at a time, in between Brady's routine MRI scans. His last scan was clean. Glioblastoma is a cancer commonly known to recur, but it hasn't stopped Brady and his family from enjoying days at the ballpark.
"Life, it just moves so fast, that there's not a lot of time to dwell on it," Eric said. "You just hope that it goes well. And he just lives his life like a 12-year-old." 
Brady got to connect with the White Sox alongside 20-year-old Josh Fleming, a pitcher at Joliet Community College. Fleming is getting his baseball career back on track as he recovers from leukemia. 
The great seats and the chance to meet his favorite players was only an added bonus for Fleming. He came to the game mainly to be "big bro" to Brady and Amadeo, two kids still in the fight against childhood cancer. 
"Just to hang out with them and show them that there is a light at the end of the tunnel. They can get to where I am," Fleming said. "They say I'm inspiring them, but really, they're inspiring me."
Battling cancer has expanded Fleming's perspective on life, given him an understanding that life's obstacles don't have to control you, he said.
Baseball brings that freedom. And Brady's favorite moment from the day was clear. 
"Just saying, 'Play ball,'" he said.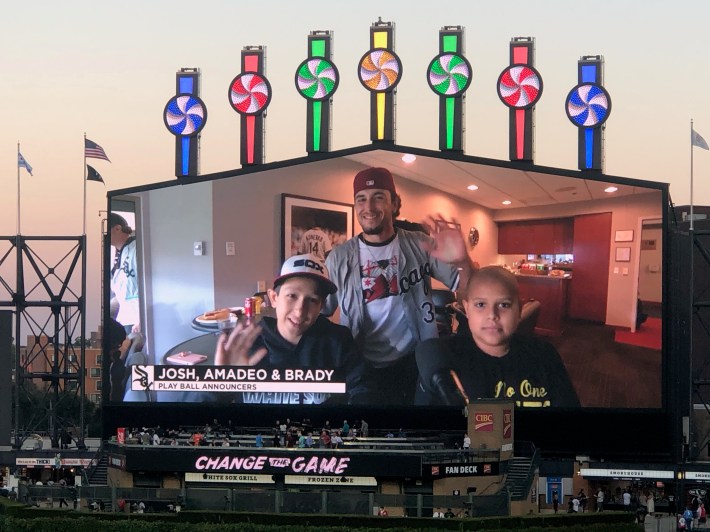 Subscribe to Block Club Chicago, an independent, 501(c)(3), journalist-run newsroom. Every dime we make funds reporting from Chicago's neighborhoods.
Already subscribe? Click here to support Block Club with a tax-deductible donation. 
Listen to "It's All Good: A Block Club Chicago Podcast" here: