HUMBOLDT PARK — A weekend softball match between the Fire Department and the Police Department was for more than just bragging rights.
The Humboldt Park Advisory Council organized the Saturday event as a show of support for first responders in a year that's seen intense scrutiny and marathon hours for police and fire crews.
This summer, the Police Department has regularly canceled days off and mandated 12-hour shifts, increasing burnout as violent crime spikes in the city.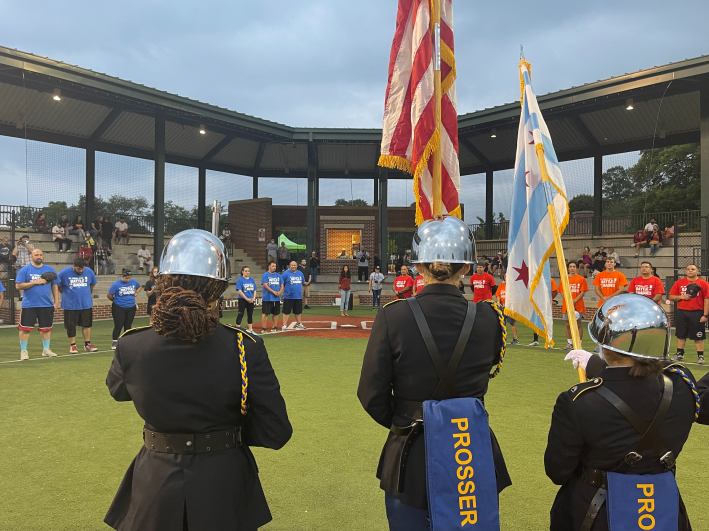 Jacqueline Baez, president of the neighborhood advisory council, said the Battle of the Badges created space for first responders to do something fun and normal in a "more relaxing setting." It also gave community members a chance to get to know police officers and firefighters as people — and as ballplayers, too. 
"We're just here having fun. Settings like this are wonderful to bring the community, police and first responders, overall, together," Baez said. "I believe that sport has the power to do a lot of healing." 
The championship game went down to the wire, with the the blue-clad Chicago Police Department team tying up the game 10-10. The firefighters fought back, winning 11-10. 
Firefighters from all over the city participated, but the police roster was largely composed of cops from the suburbs and friends filling in, according to Baez. The elimination of days off and extended shifts made it challenging for many police officers to play in this year's event.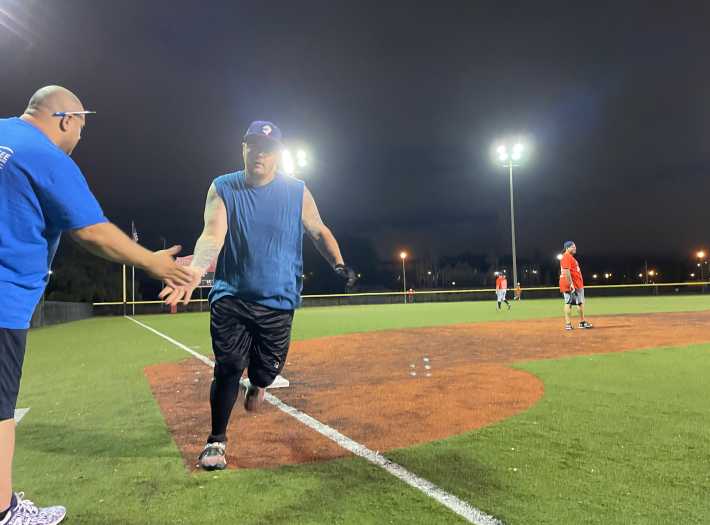 Officer Mike Ruiz, a member of the Police Department's fugitive task force, said it is disappointing that there is limited time for community outreach events like "Battle of the Badges." Many officers had to skip the game at the last minute after being forced to cancel their day off, he said.
"It's hard for them. Because I know they've been trying really hard to establish that community relationship that has been lost," Baez said. "But yet again, they could be taking advantage of events like this. But they can't. No days off, longer shifts. It's a shame."
The police team got a helping hand from Albany Park resident Joshua Pagan, who comes from a police family. It started to rain as Pagan hustled around the bases for an home run to open the game. Pagan, a competitive softball player, said the sport offers support for first responders. 
"They need something to release stress from the streets. Because it's hard. Police and firefighters. It's just stressful," Pagan said. "If there is an outlet for them to be free and not worry about what their job is — this is perfect."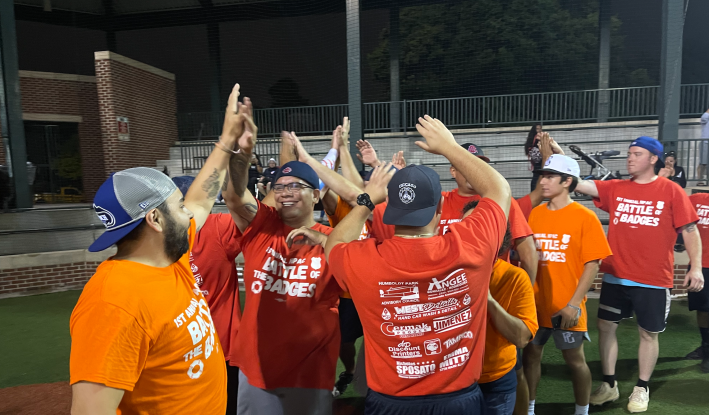 The firefighters came up to bat next. Lieutenant Leonardo Roman, the newly minted softball team manager, shouted the lineup like it was just another day at Truck 32 firehouse in Little Village: "Manny! Louie! Charlie!" Pitcher Charlie Schulz scored the firefighter's first run, returning to the dugout to plenty of high fives.
Roman said the team's approach to baseball is the same as fighting fires.
"We always take care of each other," Roman said. "We all pick up each other. And when you're at a fire, you have to depend on one another to help you out if you're in trouble." 
The relationship between the Police and Fire Departments is strong, players said. Roman described his opponents as "brothers." The score went back and forth as firefighters made pit stops to chit chat with cops after their at-bats. Friends and family of first responders mingled in the stands. Firefighter Emmanuel Vazquez took a break from the game to hang out with his two young daughters.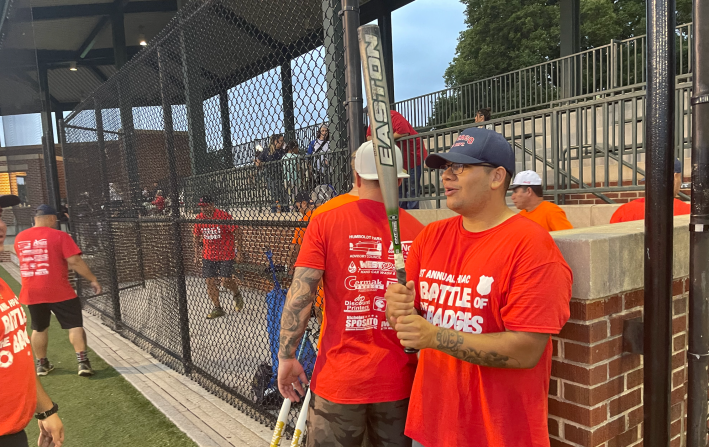 Firefighter Steve Collazo was happy to be playing ball in the Humboldt Park community he's served for 15 years. 
"You should have community relationships. They're going to see us out in the street in our department vehicles. So it's good to see us out here having fun," Collazo said. "None of our first responders are bad people. We're all good people. We serve to protect. CPD, CFD. We're here to do our jobs, to keep everybody safe that we can. And then we all want to go home when it's all said and done, to be with our families."
The firefighters were up by two runs when Pagan stepped up to bat again. The slugger hit another inside-the-park homerun, scoring with a runner on base to dramatically tie the game. 
Mike Ruiz took the mound for the cops in the bottom of the seventh. The bases were loaded when firefighter Damíen Capallo stepped to the plate. The pitch felt good out of Ruiz's hand on a 3-0 count. But umpire John Garcia couldn't help him out — it was just a little bit outside. The firefighters won.
The cops and the firefighters posed for a group picture. Ruiz said he'll have to put up with friendly "shit talking" at work, but he's glad to have played in the game. He hopes it showed cops and firefighters in a different light. 
"As far as the way police are being looked at right now, kind of sucks. Some of that's our own doing. We put ourselves in some certain situations. We have to do a better job of being, I feel, better with public," Ruiz said. "We don't have to be the big tough guys all the time. I think stuff like this [softball] shows that we're not. We're regular people, we do regular things." 
Baez hopes to hold a rematch of the game next year with more community fans, and more local cops available to play. 
"Support our first responders. They are here to protect us," Baez said. "And as a community, we need more events like this."
Subscribe to Block Club Chicago, an independent, 501(c)(3), journalist-run newsroom. Every dime we make funds reporting from Chicago's neighborhoods.
Already subscribe? Click here to support Block Club with a tax-deductible donation.