ENGLEWOOD — Frustrated neighbors pushed back against a proposal this week to bring a gas station to a long-vacant lot in Englewood.
But potential investors questioned: If not a gas station, then what? 
Mohammed Abdallah, who owns several gas stations throughout the city, pitched neighbors at a Wednesday night meeting about building a station at 6700 S. Halsted St.
Abdallah and the Rev. John Harrell, who are business partners, said the station would hire employees from the area and reinvest some profits into the community. Abdallah said he's used money from his 11 gas stations to host back-to-school drives and award a scholarship to a college-bound student.
"I understand the rhetoric and the negative connotation that comes along with gas stations in our communities," said Harrell, who also is president of Black Men United. "That's why it's so important that we understand the power that's in the community. It's imperative to me that we partner with the community residents."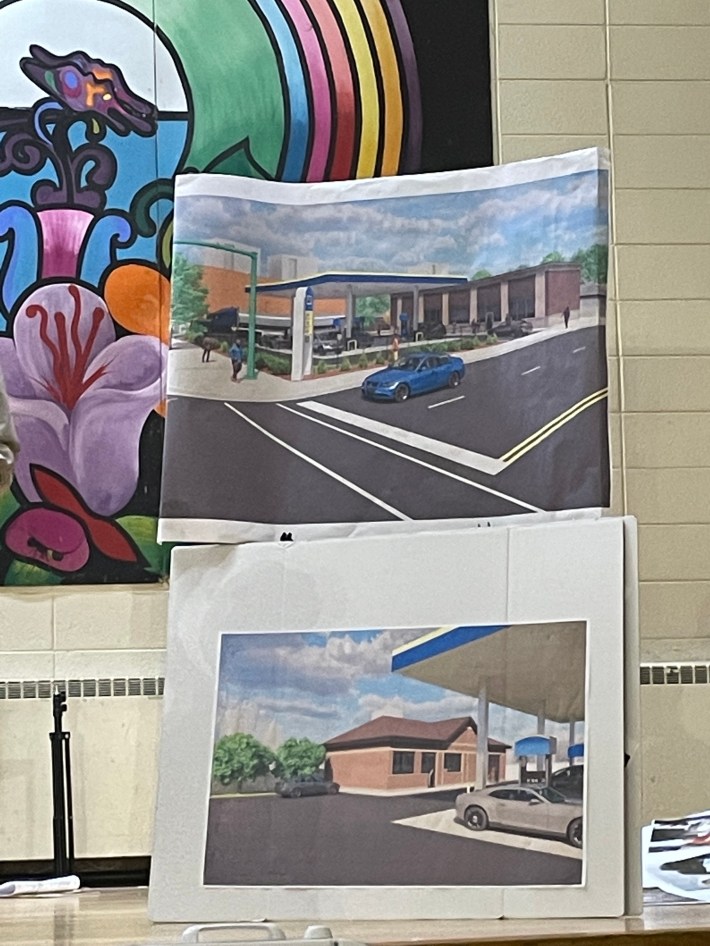 Residents were not happy a gas station was the only idea brought to the table. One neighbor mentioned crime in the area, saying a bullet pierced a window of her home not too far from the proposed station.
Another neighbor said loud music, loitering and excess trash have been rampant problems at local gas stations and questioned how this project would avoid those issues.
A representative from Emaar Properties, a property development and real estate company, said the gas station might be the only feasible option for the land. 
The company has owned the land for more than 20 years, and previous efforts to bring businesses there have gone nowhere, the representative said. Instead, the company has picked up trash and kept the area in good condition in hopes someone would want to transform the property.
Paul Kolpak, an attorney at Kolpak & Grcic, which is assisting in the potential purchase of the land, said he understands a gas station might not always be best for a neighborhood, but a business that works with residents to support the neighborhood is a rare occurrence that is needed. 
"People are nervous, and they're saying, 'We don't like this vacant lot, but we're better off with a vacant lot than something that's coming,'" Kolpak said. "Gas is gas, and you're going to pay $4 a gallon whether you buy it across the street or here in the community. But that's not the issue. Who's going to be here for the community?
"If Mohammed comes up with, say, $20,000 out of his pocket, it's something. For me, that was my purpose. Trying to sell you a Shell, Marathon or Citgo isn't my job."
Ald. Roderick Sawyer (6th), who hosted the meeting and whose ward includes the land, said he doesn't have an opinion on whether the gas station should come to the neighborhood. His priority is that residents get a say, he said. 
"I want to make sure that whatever's [at the lot] is going to be clean, respectful and not a detriment to a community," Sawyer said. "I'm not one of those [people] who think that just because it's a gas station, people are going to get shot. But I want to make sure that the place is run well, secure and benefits the community."
Sawyer said he plans to host more meetings about the lot after Harrell and Abdallah move forward with buying the land. Neighbors can stay updated at 6ward.com. 
"I want to make sure that people engage with what's going on," Sawyer said. "I don't like to make these decisions without getting input from people."
Subscribe to Block Club Chicago, an independent, 501(c)(3), journalist-run newsroom. Every dime we make funds reporting from Chicago's neighborhoods.
Already subscribe? Click here to support Block Club with a tax-deductible donation. 
Listen to "It's All Good: A Block Club Chicago Podcast" here: