CHICAGO — Spotted skunks that do handstands have, somehow, not gotten a lot of attention.
But a researcher from the Field Museum is helping change that in a bid to save the unique creatures.
Adam Ferguson, the Negaunee collections manager of mammals at Chicago's Field Museum, helped research the skunks and contributed to a study published Wednesday in Molecular Phylogenetics and Evolution. The team studying the skunks, including Ferguson, found there are more species of the skunks than previously thought — which could improve understanding of the mammals and bolster efforts to protect them.
Scientists have recognized as many as 14 species of spotted skunks and as few as four over the past century.
The new study concludes there are aren't four species of spotted skunk — there are seven. The findings suggest Plains spotted skunks — whose range includes the Midwest and who are in decline — should be categorized as a separate species rather than a subspecies, Ferguson said.
"If a subspecies is in trouble, there's sometimes less emphasis on protecting it because it's not as distinct an evolutionary lineage as a species," Ferguson said. "We've shown that the Plains spotted skunks are distinct at the species level, which means they've been evolving independently of the other skunks for a long time."
Recognizing the Plains spotted skunk as a distinct species, and designating it as endangered, could help raise awareness of the animal and the need to protect it, researchers said.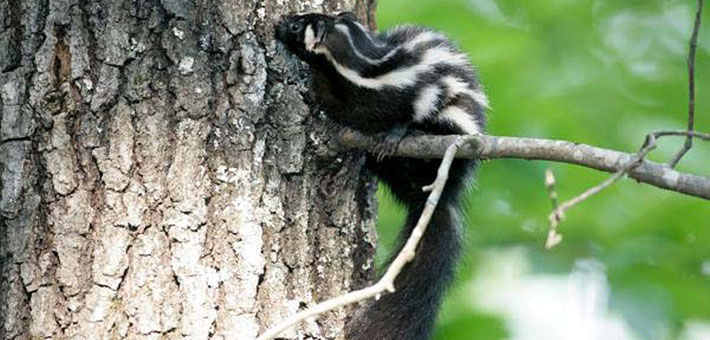 A new classification would give spotted skunks protections under the Endangered Species Act, which has a 99 percent success rate of warding off extinction for animals on the list. Conservationists previously have petitioned for them to be listed as an endangered subspecies.
"Once something has a species name, it's easier to conserve and protect," Ferguson said.
Skunks consume fruit and defecate seeds that help with the dispersal of plants, as well as prey on crop pests and rodents.
Like all skunks, spotted skunks produce a nasty-smelling spray to deter predators. However, spotted skunks also do a flashy handstand on their front legs as an extra warning before they spray.
"Spotted skunks are sometimes called the acrobats of the skunk world," Ferguson said.
There are competing theories for why their numbers have dwindled, but Ferguson and his fellow researchers point to modern agriculture modifying its habitat coupled with large-scale insecticide use that kills skunks' prey.
Spotted skunks can be found throughout North America, but not as much in urban areas as their striped relatives. The Yucatan spotted skunk, another new species described in the study, can only be found in the Yucatan Peninsula.
Subscribe to Block Club Chicago, an independent, 501(c)(3), journalist-run newsroom. Every dime we make funds reporting from Chicago's neighborhoods.
Already subscribe? Click here to support Block Club with a tax-deductible donation. 
Listen to "It's All Good: A Block Club Chicago Podcast" here: