LITTLE VILLAGE — Target representatives unveiled plans for a truck storage area near the controversial warehouse in Little Village — but they didn't share details on their plans and some residents left a community meeting with unanswered questions.
Target representatives on Tuesday night gave an overview of its already opened 1.3-million-square-foot warehouse, facility operations and hiring practices at 3501 S. Pulaski Rd. in Little Village. They also announced plans to build the Target Flow Center, a "state-of-the-art trailer fleet storage" east of the facility to address traffic concerns.
Allen Brown, a senior distribution director at the facility, said the storage site would reduce truck traffic, something neighbors were worried about when the warehouse was brought to the neighborhood. Target will plant hundreds of trees and install lighting and storm drains at the new facility, Brown said, adding that about 20 percent of parking at the site would be equipped for electric vehicles.
The site would reduce diesel traffic by 20 percent, and truck drivers would not go through the area's residential streets, Brown said.
Target representatives would not give Block Club the address for the site, but a source familiar with the plans said the corporation would build the facility at 3305 S. Lawndale Ave. 
Throughout the meeting, Brown said Target is committed to listening to Little Village neighbors. The company is meeting with Ald. Michael Rodriguez (22nd) and local groups every week to talk about its hiring practices, Brown said.
"We have been focused on listening, learning and co-creating with local leaders to better meet the needs of our community," Brown said. 
But during the virtual community meeting, Target representatives disabled the chat and question-and-answer functions, preventing attendees from viewing questions or comments poised by others. Instead of allowing attendees to ask their own questions, a Target representative posed each question to other Target officials.
Asked about why the Target Flow Center is needed, Brown said Target expects growth at the site. 
"As we grow, [the storage space] will allow us to have space for us to have our trailers and still run them away from the neighborhood and more so toward I-55," Brown said.
Edith Tovar, Little Village resident and activist with the Little Village Environmental Justice Organization, said she was frustrated by the meeting.
The meeting prevented attendees from knowing who else was on the call, what questions were asked and what concerns residents had, Tovar said. 
She said she had unanswered questions around the truck storage facility and truck routes, Tovar said.
"This meeting was a complete waste of our time," Tovar said.
The Little Village Environmental Organization previously called for the corporation to cancel its lease with Hilco Redevelopment Partners after its botched implosion of a smokestack covered the neighborhood in a cloud of debris. Target did not cancel the lease.
The group has since called for Target to use an electric fleet at the site to lessen diesel air pollution in the community.
Asked about an electric truck fleet, Brown said the storage facility could have 20 percent of its fleet be electric, but Target does "not have solid plans to implement" an electric fleet.
"It's something our team is continuously looking into," Brown said.
Rodriguez, speaking to Block Club after the meeting, said he was "disappointed" with how the meeting was run.
"The format of the meeting seemed controlled, and we need as much participation as possible, particularly given the history of this site," Rodriguez said. "I don't know how many questions went unanswered."
Rodriguez said Target failed to share details on the truck traffic expected on the site with the storage facility. 
"I felt like they had some good stuff to talk about, like less truck traffic, and that just didn't come out," Rodriguez said.
The massive warehouse has been a point of contention for Little Village residents.
Hilco's redevelopment plan angered residents who feared the distribution center would bring more diesel trucks and increase pollution in the neighborhood. 
Work on the site was shut down after a worker fell to his death and again after an implosion covered the neighborhood in debris amid a respiratory pandemic.
After the botched implosion in April 2020, neighbors and activists called for Target to break its contract with Hilco, the site's developer. Some residents also demanded the city rescind $19.7 million in tax subsidies given to the developer.
In July, Hilco, Target, Rodriguez and other local leaders cut the ribbon on the site during a private meeting. Neighbors and activists protested outside.
Target officials said they planned to hire 2,000 workers for the facility, which will serve as a hub for shipping merchandise to the corporation's retail stores. To date, they have hired more than 700 employees for the site.
The century-old Crawford Power Plant was shut down in 2012 after community-led efforts raised concerns about the impact coal pollution was having on the health of Little Village residents. Hilco bought the 70-acre site in the Little Village Industrial Corridor in 2017.
Read all of Block Club's Crawford coverage here.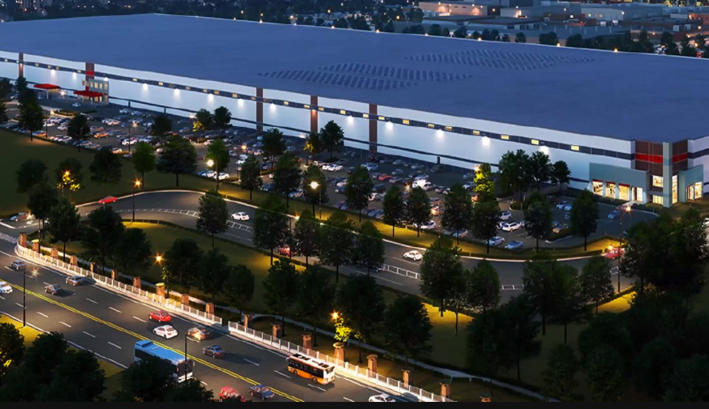 Subscribe to Block Club Chicago, an independent, 501(c)(3), journalist-run newsroom. Every dime we make funds reporting from Chicago's neighborhoods.
Already subscribe? Click here to support Block Club with a tax-deductible donation. 
Listen to "It's All Good: A Block Club Chicago Podcast" here: