SOUTH SHORE — Women 40 and older are reviving their schoolyard skills and playing outside together like they did when they were kids, thanks to a double dutch club founded by two South Siders.
The 40+ Double Dutch Club brings the titular rope jumping, hopscotch, hula hooping, hand games and other outdoor activities every day to parks and parking lots across the South Side and suburbs.
The club incorporates "all the things we did when we were little girls," co-founder and South Shore resident Pamela Robinson said.
"When we jump double dutch, it takes us back in time to a place where we didn't have to worry about kids, jobs, bills, any of those things," Robinson said. "It's a club for women to come out and play outside again."
"Anybody who joins our Facebook group page can come out," Robinson said. An official membership requires purchasing a club t-shirt. Prices start at $30.
South Side sessions include:
Meetups are loosely structured, starting with temperature checks since the pandemic began and 10 minutes of stretching. That's followed by an hour of open play, where women play as they please and listen to old-school music like Frankie Smith's "Double Dutch Bus" or George Kranz's "Din Daa Daa."
For double dutch, "some people — if they can't jump — they can turn" the ropes, Robinson said. "If they can't turn, they can just move their feet to the music."
Open play leads into African hopscotch, an advanced version of hopscotch that's a good cardio workout, Robinson said. Sessions end with a cooldown dance, a group picture and a prayer circle.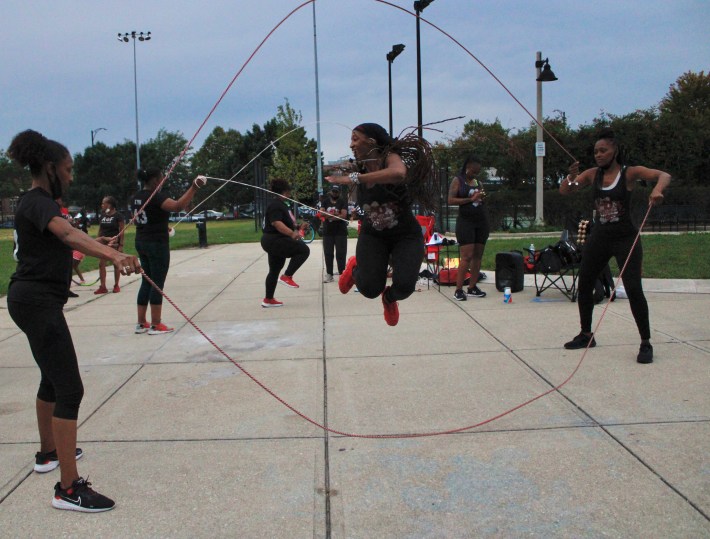 The club traces its roots to Robinson and Catrina Dyer-Taylor's infrequent meetups at Dyer-Taylor's house to jump rope, which started in May 2016.
Seeking to jump more regularly, Robinson posted a call for participants on her Facebook page, which drew several attendees for the first club meeting. The effort gradually grew from a weekly outing to twice a week.
"We started with about 10 or so members," Dyer-Taylor said. "This has become something so much more than double dutch — we laugh together, we play together, we pray together."
Now, meetups take place seven days a week throughout Chicagoland, while the club's Facebook page has nearly 22,000 members from around the world. As a couple dozen women met Tuesday evening in Mandrake Park, sessions simultaneously took place in Schaumburg, St. Louis and suburban Atlanta.
"I just got back from New York and met the ladies of the Fantastic 4 — they're now part of our New York group," Robinson said of the legendary double dutch crew from Manhattan.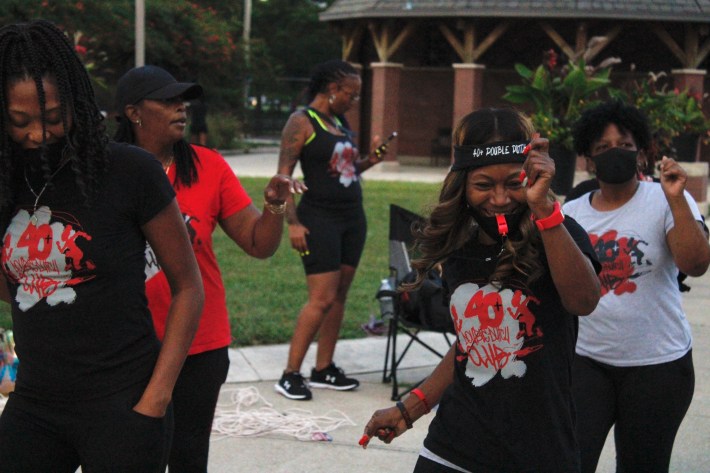 The double dutch club rolls solo, with no official partner organizations, Robinson said. She's found few social gatherings for her women her age that aren't centered around dining, grabbing drinks or otherwise spending money on each hangout, she said.
"It's very hard to find groups or organizations that are solely focused on women over 40," Robinson said. "That's part of the need I think this group has filled for women. We're like the forgotten demographic, because a lot of people don't consider us a target market."
There's little barrier to entry in terms of age, cost and skill for local women, Bronzeville club co-captain Ericka Elmore said.
Women in their 70s and 80s have joined in the Bronzeville meetups, Elmore said, and rope can be purchased for cheap at a hardware or sporting goods store. Some at Tuesday's session jumped rope with ease and flair; others made frequent mistakes and received coaching from their peers without judgment.
Park visitors "see women over here jumping rope and they just assume that we're younger than we are," Elmore said. "We're like kids when we're out here playing."
Joining the club was "a lifesaver" as it warded off pandemic isolation, Bronzeville captain Mary Garrett said. She's attended the meetups since July 2020 and has relished finding a group of likeminded ladies with positive attitudes.
"I'm used to being outside, a social butterfly," Garrett said. "Then when everything was shut down, you couldn't go anywhere and we were still able to meet, that just saved me. I had somewhere to go, I had something to do, and it's exercise."
The club also serves to introduce children to an activity that isn't as popular as it was in the members' youth, Dyer-Taylor said. As the women jumped rope, a few kids joined in the fun or sat off to the sides and watched their loved ones play.
"If we can go into the schools and teach them, or have some type of community center … it would be nice to set up something like that for them," she said. "There's so much going on these days — the danger, not really wanting your kids outside — but if we can provide that in an enclosed place, we can give them peace of mind.
"If we can do that, I feel like we can really build up our community," Dyer-Taylor said.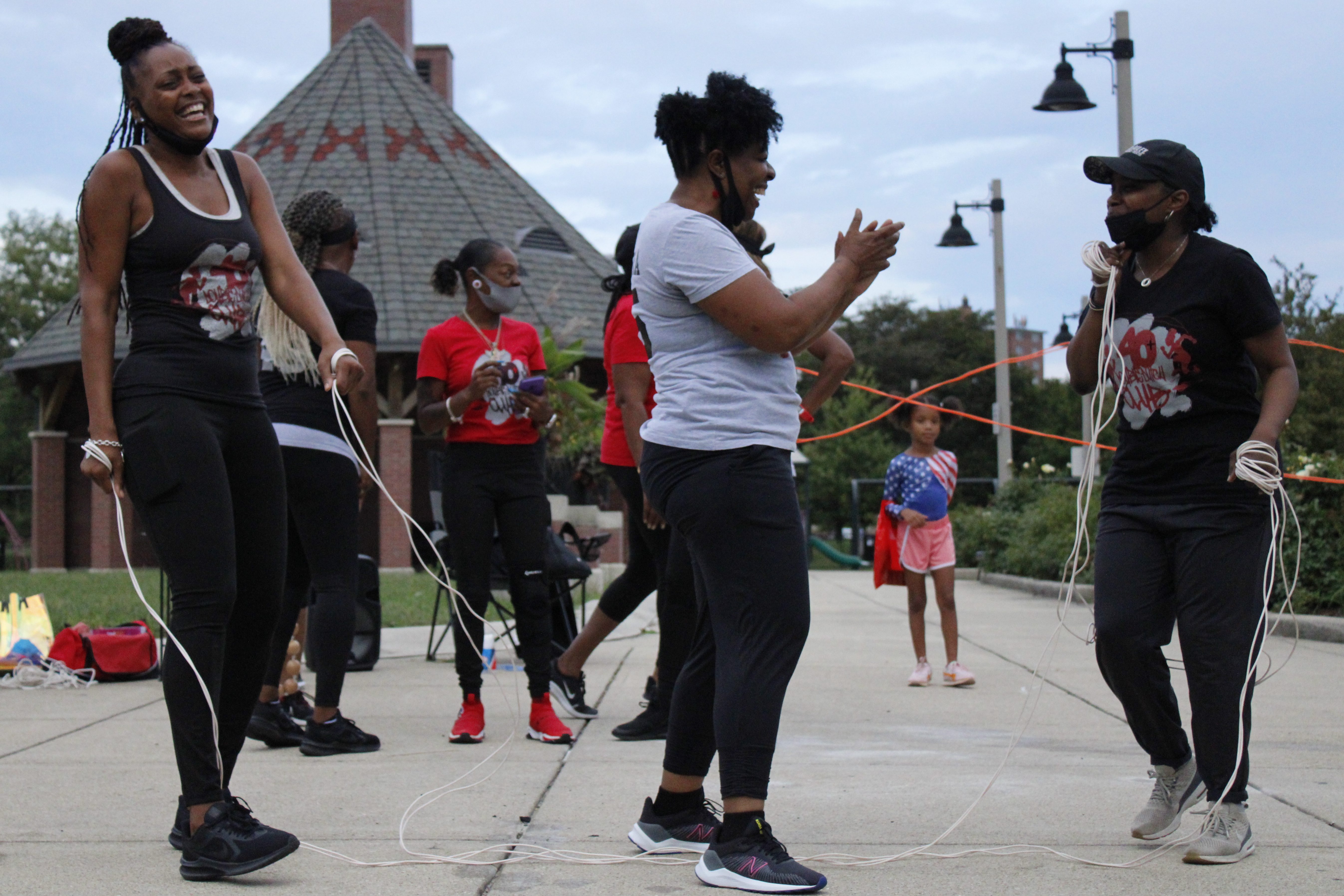 Subscribe to Block Club Chicago. Every dime we make funds reporting from Chicago's neighborhoods.
Already subscribe? Click here to support Block Club with a tax-deductible donation. 
Listen to "It's All Good: A Block Club Chicago Podcast" here: