LINCOLN PARK — Teachers and staff at Lincoln Park High School said they've been working with "very concerning conditions," like unfinished construction and a mysterious liquid that oozes from floor tiles, even as Chicago Public Schools resumed in-person classes Monday.
Science teachers, whose classrooms were still being renovated, had to use folding tables and chairs because their lab tables hadn't been installed yet. Meanwhile, concerns about asbestos remain high as the school is in the middle of doing its abatement work.
"These are an example of the larger issues we've had at the school," said one teacher, who asked to remain anonymous.
The teacher is one of many at Lincoln Park High School, 2001 N. Orchard St., questioning whether the building is safe to be instructing in. But CPS officials have denied employees' concerns and said the work at the school was already finished.
In a letter sent Saturday to Clarence Carson, CPS chief facilities officer, and Chief of Schools Laura LeMone, teachers and staff from the high school raised the alarm about what they called a "clear and present danger for workplace safety" that posed a "threat to staff and students alike."
It was signed by nearly 100 employees and called attention to ongoing renovations at the school, including the science lab renovations, asbestos abatement, air quality testing and copper piping installation.
"As it stands, the renovations and work being conducted poses a situation likely to cause serious harm to students and staff and creates an environment of unsafe working conditions," the letter states.
When classes resumed Monday, much of that renovation work had not been finished, a teacher said.
"The science classrooms are not complete," the teacher said. "They are in a better state than they were on Friday, but there are no lab tables yet."
One classroom was still missing countertops, while another had no electricity, the teacher said.
They also referenced the mysterious liquid that oozes from floor tiles in the freshman building after they've been mopped. Teachers are concerned the substance is asbestos, but district officials deny that.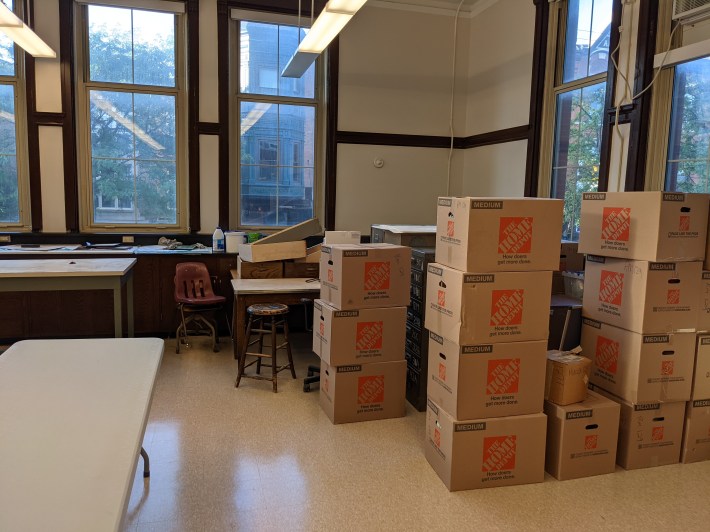 "It's very stressful for the teachers," the teacher said. "A lot of their stuff is still boxed up because they weren't able to set up their classrooms last week. They've had to pivot on a dime to change their lesson plans because they don't have a lab."
CPS spokesperson Emily Bolton said the letter "is not accurate" and "the work has been completed."
When asked for more information about the inaccuracies and completed work at the school, Bolton shared photos of areas within the school. Some of the photos show empty science classrooms without lab tables.
Principal Eric Steinmiller also responded to the letter in an email that was shared with Lincoln Park's local school council and community groups, saying much of the renovation work mentioned in the staffers' letter had been finished.
While Steinmiller did not address the science labs, he wrote the school was undergoing asbestos abatement work. But the work in the main building is already finished and the freshman building will undergo abatement at a later date, he said.
"All recent work was completed successfully as per the project design and in compliance with" state and city health department protocols, Steinmiller wrote.
Steinmiller also shared the school's air quality assessment, which was completed Sunday and showed the building's air quality to be within an acceptable range, he said.
But teachers said they still need clearer answers to ensure the school is safe. And they questioned why this work wasn't completed before they returned for preparation last week.
"There was a whole year where there was no students in the building, so I'm not sure why this wasn't done then," the teacher said. "There was plenty of opportunity to get it done before versus now when all the teachers are back."
Jake Wittich is a Report for America corps member covering Lakeview, Lincoln Park and LGBTQ communities across the city for Block Club Chicago.
Subscribe to Block Club Chicago, an independent, 501(c)(3), journalist-run newsroom. Every dime we make funds reporting from Chicago's neighborhoods.
Already subscribe? Click here to support Block Club with a tax-deductible donation. 
Listen to "It's All Good: A Block Club Chicago Podcast" here: