NORTH LAWNDALE — A vacant swath of land on the West Side will be developed into a community arts and tech center, an affordable housing project and a grocery store with a rooftop bistro.
The $31.4 million plan is part of the latest round of Invest South/West, which is aimed at spurring development in communities of color that have been neglected historically.
The Lawndale Redefined project — planned by GRE Ventures, Imagine Development and 548 Development — was selected from a pool of six teams competing to redevelop vacant land at 3400 W. Ogden Ave. in the neighborhood's historic business district.
"We want our development to be the starting point, the catalyst for future development that is going to happen across the Ogden corridor," said Cornelius Griggs, president and CEO of lead developer GRE Ventures.
The project will be anchored by the Center for Urban Brainstorming and Education. The center, known as the Cube, will be a "multi-functional technology center" offering arts and technology programs and training for Lawndale residents, Griggs said.
The Cube will offer trainings on emerging tech fields like artificial intelligence, 5G, virtual reality, augmented reality, cryptocurrency and blockchain, Griggs said. The developers are partnering with the Chicagoland Chamber of Commerce and City Colleges of Chicago to build programs for the tech center, he said.
"We're providing them with skills, tools and training that they will need to help them prepare for future job opportunities," Griggs said.
The Cube and the adjacent outdoor plaza are designed to host community events, art shows and screenings for residents. The public art plaza, called the Square, will be a "gateway into the development" aimed at drawing people in.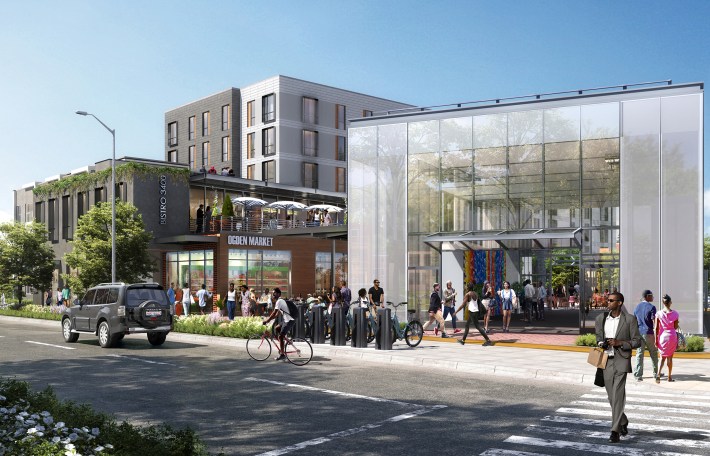 The Square will have a trail of public art.
"It will be a trail that tells the history and tells the story of North Lawndale through art. …Things that occurred in North Lawndale that helped that community become what it is today and where we want to see it in the future," Griggs said.
The development will include a residential tower with 48 rental units of affordable housing as well as 12 market-rate units. The tower will have a mix of floorplans from one to four bedrooms. On top of the residential tower will be a landscaped green roof with a garden overlooking the Ogden corridor and the other features of the Lawndale Redefined development, Griggs said.
The affordable units will also boost the feasibility of the project by bringing in Low-Income Housing Tax Credits to fund the project, Griggs said.
Lawndale Redefined will also build four townhomes for purchase in hopes of attracting additional investors to build more houses in the area, Griggs said.
"We firmly believe it's important for residents of North Lawndale to be able to have the opportunity to purchase their own homes," Griggs said. "That's where wealth is generated, specifically through homeownership. My parents, their biggest asset is their home. That is what we're trying to create."
The project will fill the void in opportunities for leisure and dining by bringing a sit-down restaurant with an outdoor terrace, Griggs said.
"We wanted to bring some liveliness to the area and offer some affordable eating and dining options to the community," he said.
A small grocery store at the development will bring residents healthy, affordable food. Much of Lawndale is considered to be a food desert, an area where there are few places to buy fresh food. Attracting more grocery stores is a key goal of the North Lawndale Quality of Life Plan, a blueprint of strategies for improving local conditions like health, safety and education.
Tentatively called the Ogden Market, the grocery store will be operated by former Bears wide receiver David Terrell.
The developers are planning a series of community meetings to gather resident feedback for their plans. The first meeting is scheduled for Sept. 18 at the 3400 W. Ogden Ave. site.
"There are so many things that this community needs. This development offers a bevy of those things," said Ald. Michael Scott (24th).
The Lawndale Redefined project comes alongside several other investments into the neighborhood, including the Ogden Commons health center.
The city's planning department is also working with two finalists who competed to develop the Ogden lots "to get another two of those in the ground," Scott said. City officials are working to identify other vacant areas along Ogden where the runner-up projects can be built.
One of those projects is the Tapestry, a food hall and affordable housing complex planned by Lawndale Christian Development Corporation and NHP Foundation. The food hall would create opportunities for local food vendors, restaurants and entrepreneurs of color. The project would also include retail storefronts and a co-working space to offer support and technical assistance to local businesses.
The other project that may be built on Ogden is the Proxima Management Hotel. The hotel would include a community plaza and space for retailers and restaurants.
"Pretty soon you'll be able to walk up and down Ogden and get what you need, similar to what it was 45 or 50 years ago. That's what I'm most proud of," Scott said.
Subscribe to Block Club Chicago, an independent, 501(c)(3), journalist-run newsroom. Every dime we make funds reporting from Chicago's neighborhoods.
Already subscribe? Click here to support Block Club with a tax-deductible donation. 
Listen to "It's All Good: A Block Club Chicago Podcast" here: