WEST TOWN — Allison Yates felt detached when she moved to Chicago four years ago — but running and reading books saved her.
Yates, 29, of West Town, came to the city from Indianapolis. She moved to Chicago for work and had little chance to deeply explore the city's neighborhoods. But she'd read books about the city and jog to learn more — and when the pandemic hit, she combined the two into a company, Read & Run Chicago.
Read & Run appears to be the first and only tour group in the city that uses Chicago-focused books to inspire group running routes.
"We pick a book, and then people read the book before the run," Yates said. "On the back end, we create a route that goes through actual places mentioned in the book. The idea is really to bring the book to life, to embody it. You experience what you've read in the book during the run."
Runners sign up for the free runs on Read & Run's EventBrite pages, grab the relevant book from a library or local store and then have about a month to read the book. Yates sends out information before the run that includes the route they'll take, where bathrooms are along the way and where someone can grab a Divvy if they can't finish the run.
When the group meets up, they have a discussion to lend context to the book and provide information about the neighborhood they'll run through.
Then the run begins, with joggers heading to two to four stops. At each stop, Yates talks about why the place is significant in the book and Chicago. Each run finishes at a local business where attendees can have a more in-depth discussion about the book.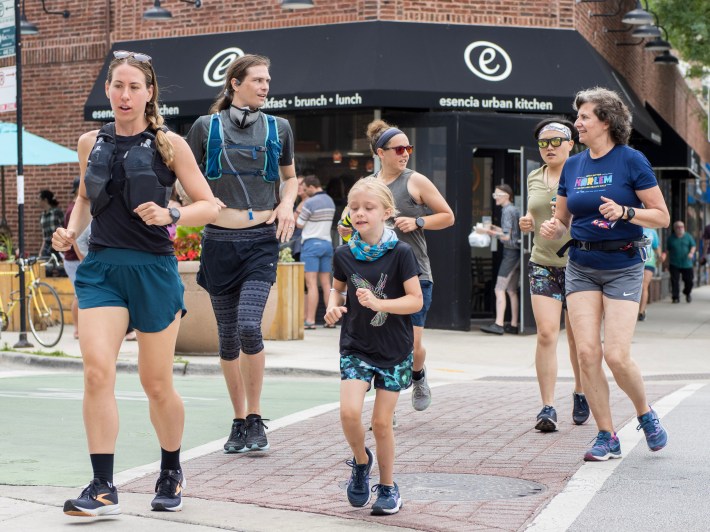 Yates got the idea to start the runs while reading "Battle of Lincoln Park" by Daniel Kay Hertz, the book she launched the business with in May. The book tells the history of Lincoln Park through the lens of gentrification. Stops along that route included activist Henry Gerber's house on Crilly Court and the Old Chicago Water Tower District, then known as Tower Town.
"Reading that book and thinking about what Lincoln Park used to look like is what clicked it to be like, 'I really would want to run through this and see what all these places were,'" Yates said. "It's an area everybody in Chicago knows as this beautiful preserved place where very affluent people live. But most people don't know how it got that way. It's nice to have that context and background."
The runs fall into two categories: mini runs and longer book runs. The mini runs available now are based on Martha Bayne's "Chicago Neighborhood Guidebook," where each neighborhood is represented with a story, essay or poem. Those runs are always 2 miles or shorter.
Longer runs are usually 3-6 miles and always shorter than 8 miles.
You don't have to be a sprinter to keep up — the pace is usually 11-13 minutes per mile, Yates said.
"My goal is to keep a pace that you can have a conversation with someone next to you while running," Yates said. "But if people don't feel comfortable with that but still want to join, they're welcome to bike the route or meet up at the end for the discussion."
The routes are always provided ahead of time, so attendees could even bike at their own pace and meet the group at the end.
But at the core of it, "it's about running because I think that's a really special way to experience something," Yates said. "Reading the books is really important, but you take it a step further when you run through it. You have a mind-body connection in a new space, learning about someone else's experience."
Upcoming runs can be found in Read & Run's newsletter. You can register for the mini run series on EventBrite.
The next longer runs will take their inspiration from "Sin in the Second City" by Karen Abbott on Oct. 17, "Temper" by Layne Fargo on Nov. 21 and "South Side Girls" by Marcia Chatelain on Dec. 12.
Subscribe to Block Club Chicago, an independent, 501(c)(3), journalist-run newsroom. Every dime we make funds reporting from Chicago's neighborhoods.
Already subscribe? Click here to support Block Club with a tax-deductible donation. 
Listen to "It's All Good: A Block Club Chicago Podcast" here: