WICKER PARK — The mood was festive Monday morning at A.N. Pritzker School in Wicker Park as students streamed into the playground for the first day of classes. 
Families stopped to take pictures in front of the school sign and to chat with neighbors and friends. Overall, most parents and grandparents said they were cautious but ready for Chicago Public Schools to fully reopen after 18 months of remote learning.
"[I'm a] little bit nervous about it, a little hesitant, but excited," said Steven Bradley, who dropped off his fourth-grade son. "It seems like they have good structure and procedures in place."
Bradley says he's concerned about the latest surge of COVID-19 in Chicago, but at a level that's "just like a normal parent worry." 
Raphael Davenport dropped off his two sons at Pritzker. He said they're thrilled to be getting back to school, especially after the isolation of remote learning. 
"They were elated to be back. This is the first time that I can actually say I've seen every parent and every student excited to go back. It's usually just like the parents ready to rush them off, but everyone was excited to get back," he said. "It kind of just shows you the human connection that was missing."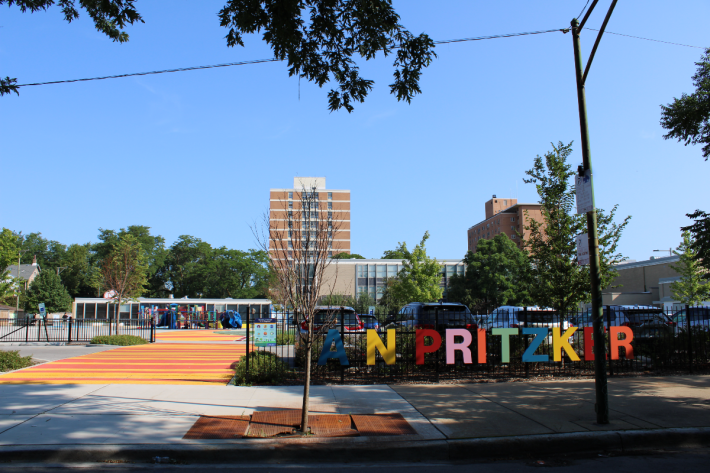 For Bart Ritchey, it was "definitely" time for his kindergartener and third-grader to return to school. 
"At this age level, the majority of the purpose of school is socialization. They can get an education one way or another but they can't get socialization without being in person. I think it was past due to come back," he said.
Ritchey said he's not concerned about his kids being exposed to COVID-19 but understands the need for precautions to protect CPS teachers and staff. 
"I wish they didn't have to wear masks but I understand it, that they need to. It's frustrating that little kids have to wear masks but it is what it is. We've got to protect adults." 
Pritzker parent Alayne McConnell says she does have some anxiety about the return to school, especially for her kindergartener who has never been in a classroom with other students before. 
But after more than a year of remote learning, she said keeping her kids at home was just no longer practical. 
"If we do home school again, I'm like, I can't. 'How do I do it?' I work full-time. I don't know what I would do. So I'm nervous, but what's the other option?" she said. 
Maria Dolores Corona, who has third-, fourth- and fifth-grade students at Pilsen Community Academy, said her children at times struggled to learn remotely at home because of internet outages.
They were "frustrated because they couldn't do their work well," she said. 
Corona expressed concern over the recent surge in coronavirus cases attributed to the Delta variant. She said she talked to her kids about it.
"We are just trying to educate them at home about proper precautions to avoid getting the virus," she said. 
During a Monday news conference, Mayor Lori Lightfoot and Chicago Public Schools Interim CEO Dr. Jose Torres attempted to reassure nervous parents about school safety as the Delta variant continues to spread and kids under 12 are still unable to get vaccinated.
"Our schools are safe," Lightfoot said. "CPS was and remains committed to following the science and placing students' safety as a top priority. We all know the places where it's safest for our students to be — where their minds, bodies and souls are fed — is in our schools in person."
Masking Up
To prepare for the new school year, the district implemented an indoor mask requirement, added HEPA air filters in every classroom and expanded its contact tracing team to notify if COVID-19 cases are reported on their campus. All teachers and support staff are also required to be fully vaccinated by Oct. 15.
Lightfoot stressed the importance of vaccines for parents and kids over the age of 12 as well.
"There's one way we can ensure that COVID doesn't spread: and that is by getting the vaccine," she said. "Parents, if you're not vaccinated, get yourself vaccinated."
Mask enforcement will be key to a safe school year, said Rosemary Preston, a grandmother to a sixth- and third-grader at O'Keeffe School of Excellence in South Shore.
School staffers must be persistent in reminding kids to mask up, Preston said.
"Little kids, you have to continue to remind them," she said. "Even in the third grade, you have to constantly remind kids to 'put your mask up, please.' That's all you have to do — no hollering, no yelling, so they won't get upset."
Preston's grandchildren have had "good practice" wearing their masks properly, as they've made regular visits to the South Side YMCA, 6330 S. Stony Island Ave., where masks are strictly enforced, she said. She feels comfortable with the return to school if O'Keeffe does the same.
"It'll all work out as long as everybody does what they're supposed to do," Preston said. "I hope it goes well for everybody."
Preston's younger granddaughter was "very excited" to return in person and wanted to arrive at school an hour in advance to be with her friends, Preston said.
Difficulties remain
District officials have been criticized by the Chicago Teachers Union for scaling back some safety protocols that were implemented in the last school year when some kids returned to classrooms for hybrid learning. The pod system that limited classes to 15, a daily health screener and temperature checks were all scrapped, Chalkbeat reported.
Social distancing also has been changed from 6 feet to 3 feet — and that isn't possible in some overcrowded schools, the union says.
Torres and Lightfoot said the district is in line with CDC guidance when it comes to classroom sizes and social distancing.
There's also a nationwide bus driver shortage — and Chicago is not immune.
WBEZ reported Sunday that CPS had to notify 2,100 students they would not have a ride to school over the weekend. They even offered parents $1,000 upfront and $500 a month to get kids to classes by themselves, the report says.
Lightfoot said the district just learned about this specific shortage Friday.
"A number of drivers had opted against continuing their employment because of the vaccine mandate," she said. "CPS immediately sprung into action, put plans in place."
She said things would be running more smoothly in a few days.
"Buses are running. Not at the full capacity. Where buses aren't running, CPS has offered financial compensation to parents to make sure they have an opportunity to pay for transportation," she said.
There's also a push to find kids that had previously checked out of online learning throughout the pandemic. Lightfoot and Torres said district officials called families and even knocked on their doors to ensure they knew their children needed to be at school Monday.
"We're not gonna rest until we make sure we get engagement with all the parents," Lightfoot said.
After school Monday, outside Pilsen Community Academy, Maria Velasco said she wasn't too worried about her kids attending school in person because of the mask mandate and she believes school officials are being cautious.
"The children had started counting down the days until school started," Velasco said.
David Velasco, a second-grader, said his favorite part of the school day was getting "homework."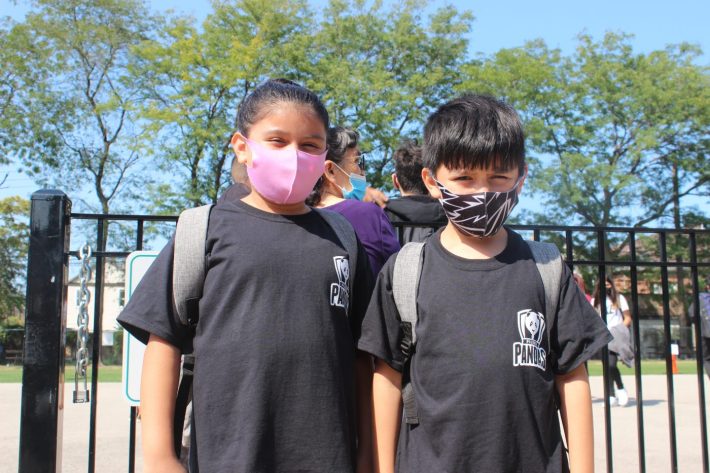 Did you have a child heading back to school Monday? Got questions, comments tips or concerns? Email us at newsroom@blockclubchi.org.
Subscribe to Block Club Chicago. Every dime we make funds reporting from Chicago's neighborhoods.
Already subscribe? Click here to support Block Club with a tax-deductible donation.