BACK OF THE YARDS — When Chakena Perry thinks about Malik Alim, she can't help but think about his smile. 
There are plenty of qualities about Alim — like his determination, loving nature and strength — that Perry said comes to mind when she thinks of him, but his smile stands out.
Perry said she last saw that smile light up a room on June 30 at a board meeting for Chicago Votes, an organization that works to get younger generations to fight for political change. Alim had recently become a director on the Chicago Votes Action Fund board. Perry is board president.
"He came [to the meeting] on a bike, and, even though he was hot and sweaty, he sat down and said, 'I'm happy to be here. Let's get to work,'" Perry said. 
When Alim came into the room, Perry said the dynamic of the meeting changed.
"We have fun with everyone at Chicago Votes, but when Malik came, the fun increased," Perry said. "We can get the work done, get to business and be serious, but there's also this aspect of having fun. That was one of my favorite things about him." 
Alim, 28, died Aug. 20 following a boating accident in Fox Lake, authorities said. He is survived by his family, including his life partner, poet Kristiana Rae Colón, his son Orí Tarik and daughter Jari Sanaa.
His death devastated the hundreds of Chicagoans he touched through his activism and friendship, with social media tributes flooding Twitter and Instagram as those who knew him tried to wrap their heads around the tremendous loss.
In addition to his work with Chicago Votes, Alim was a member of the Black Youth Project 100, the Chicago Community Bond Fund, the #LetUsBreathe Collective, Defund CPD, City Bureau and more. Each organization is focused on community organizing to fight for social justice and equality.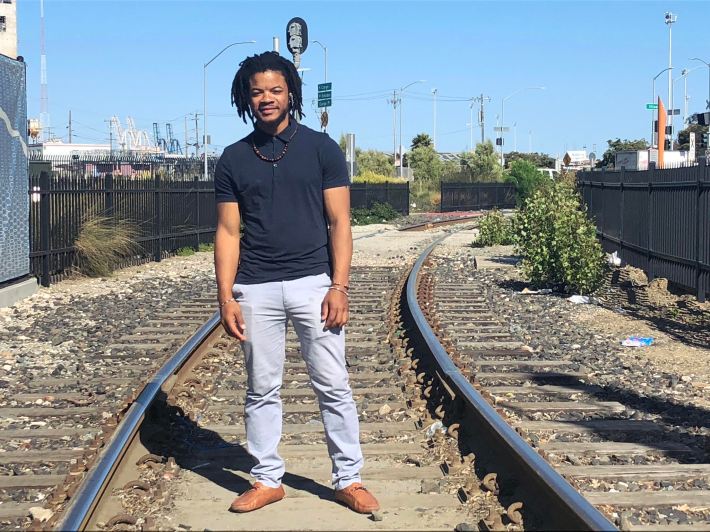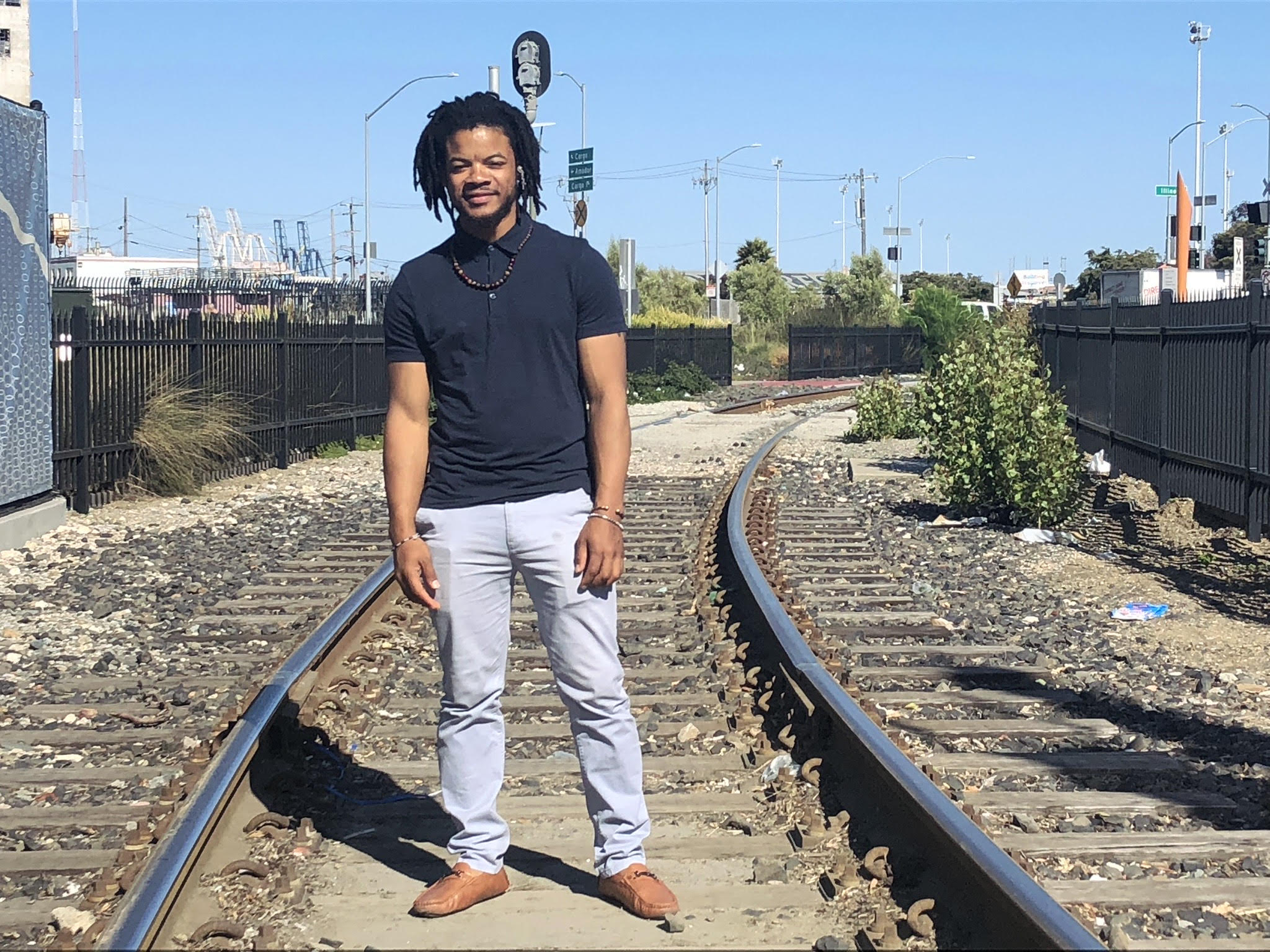 His ability to fight for complex issues like Black liberation, equity and restorative justice while remaining loving and personable was magical, Perry said. But that was just how Alim was. He knew how to "make it feel like he was talking to you and only you, even if he was talking to a group of people."
Alim's community work was instrumental in passing the Pretrial Fairness Act, a law signed in early 2021 that abolished cash bail in Illinois. The legislation ensures that people facing criminal charges but have not been convicted will not serve time in jail if they cannot afford to pay bail. 
"When you have activists and organizers who dedicate their lives to community building and restorative justice, they have a really unique way of meeting people where they are," Perry said. "And he brought that into every leadership position. He had this demanding presence about him, but he was also just very graceful. He made people feel like they were loved and appreciated and heard."
Tanya Watkins, a leader in Southsiders Organized for Unity and Liberation, said she'll never forget his grace. 
Side by side, Watkins said she and Alim fought within their organizations for the Pretrial Fairness Act and the Budget for Black Lives, a campaign to redirect money from county jails to communities to invest in things that keep communities safe outside policing.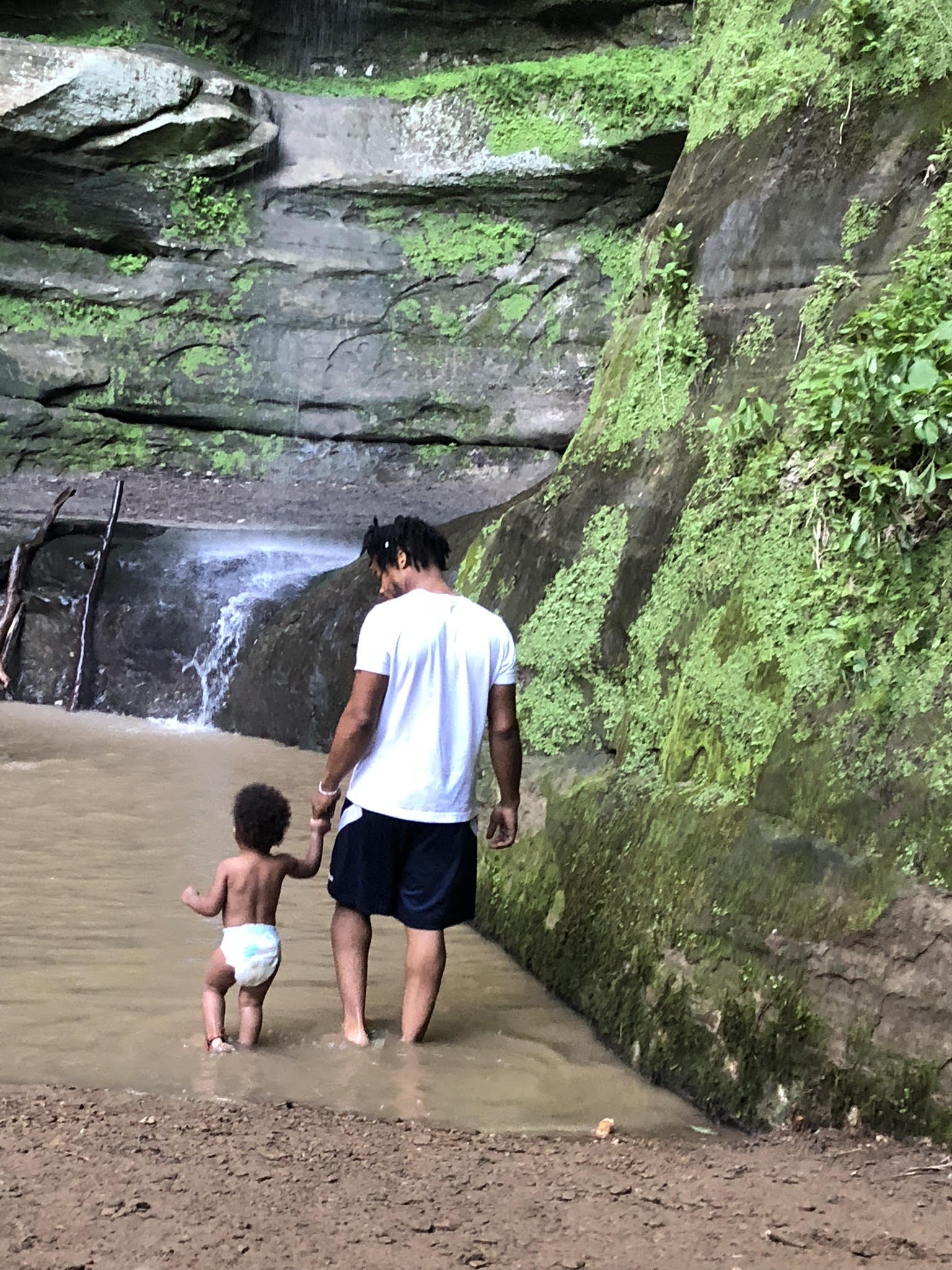 Without his dedication, Watkins said the Pretrial Fairness Act wouldn't have passed. And once it did, she said he was ready to fight for another cause. 
"Immediately after the [Pretrial Fairness Act] passed, he was like, 'We got to keep going. What's the next thing?'" Watkins said.  "He kept us motivated and really held us down with love. He could ease tensions and mitigate frustrations and mediate relationships. He very often saved people and saved work with such grace and dignity, and this beautiful fearlessness."
Charles Preston, an activist and writer, wants to honor that fearlessness and grace by incorporating it into his own life, he said.
"Looking at his work, I see what is possible," Preston said. "You can simultaneously have family, show up for your community and make them one.  Malik is a prime example of how to do that beautifully."
Preston first met Alim as a fellow member of the Black Youth Project 100 in 2015, he said. Throughout the years, he said he watched Alim grow as an organizer and as a loving father to his children. 
"Reflecting on him, I think he lived a life worthy of praise, and something that people can be proud of," Preston said. "I definitely look at his trajectory as, if there were multiple men doing what Malik was doing, the world would be a phenomenal place to live."
Preston, Watkins and Perry plan to maintain Alim's legacy by fighting for the issues he believed in — and by being true to themselves.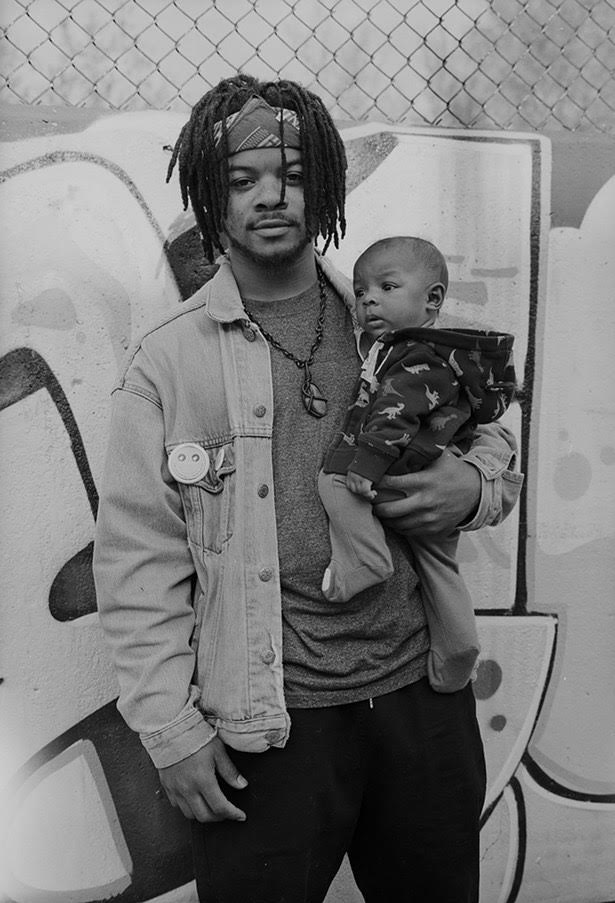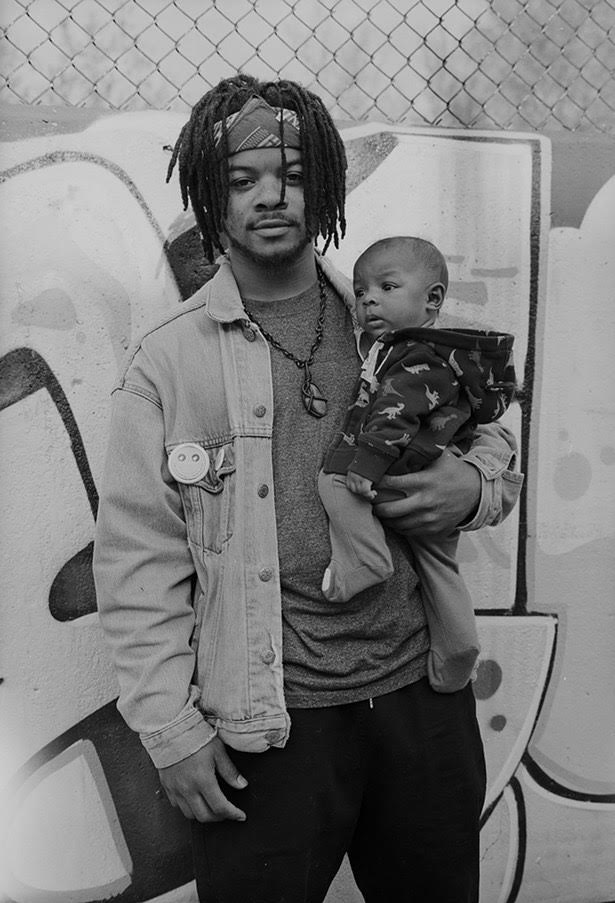 "We have to be the people that we claim to be, and Malik embodied that," Watkins said.
Preston said he hopes others are motivated to step up and get involved following this tragedy.
"I think losing warriors in social justice like Malik can activate people to go harder for their city, and think that, if Malik could do it, I can do it."
Damon Williams, Colón's brother, said he is dedicated to ensuring Alim's children know how much he loved them, Williams said. 
"He was the best father that I knew," Williams said. "He was the greatest example I've seen of loving, nurturing and caring for both a boy and a girl. He made working hard to take care of [his family] look effortless and it will have a lifelong impact." 
Alim was a "passionate" man, Williams said. He had a passion for storytelling, traveling and trying new crafts. He was courageous. 
His passion and courage shined the brightest when he was with his family, Williams said. 
"He was someone I could always turn to when things were the most difficult or when there was a struggle," Williams said. "He was very present and committed and honorable, particularly when things were difficult or uncomfortable. He had such a willingness to show up. 
"Watching the way he took care of his family was something that connected us. And he took great care of Kristiana."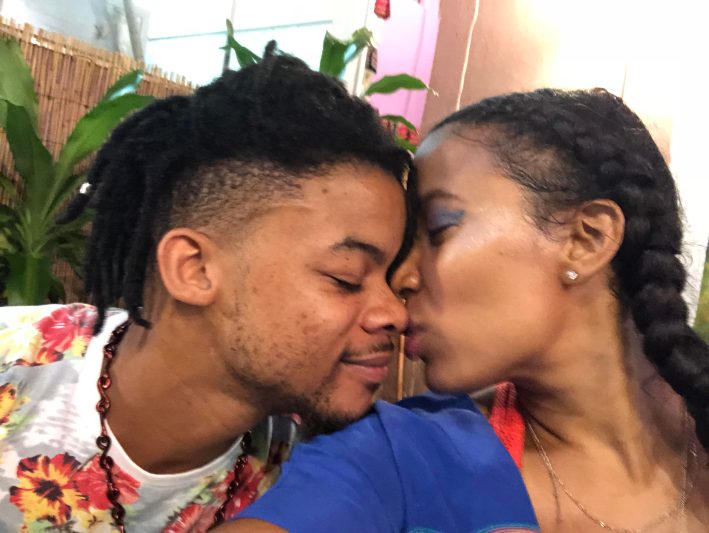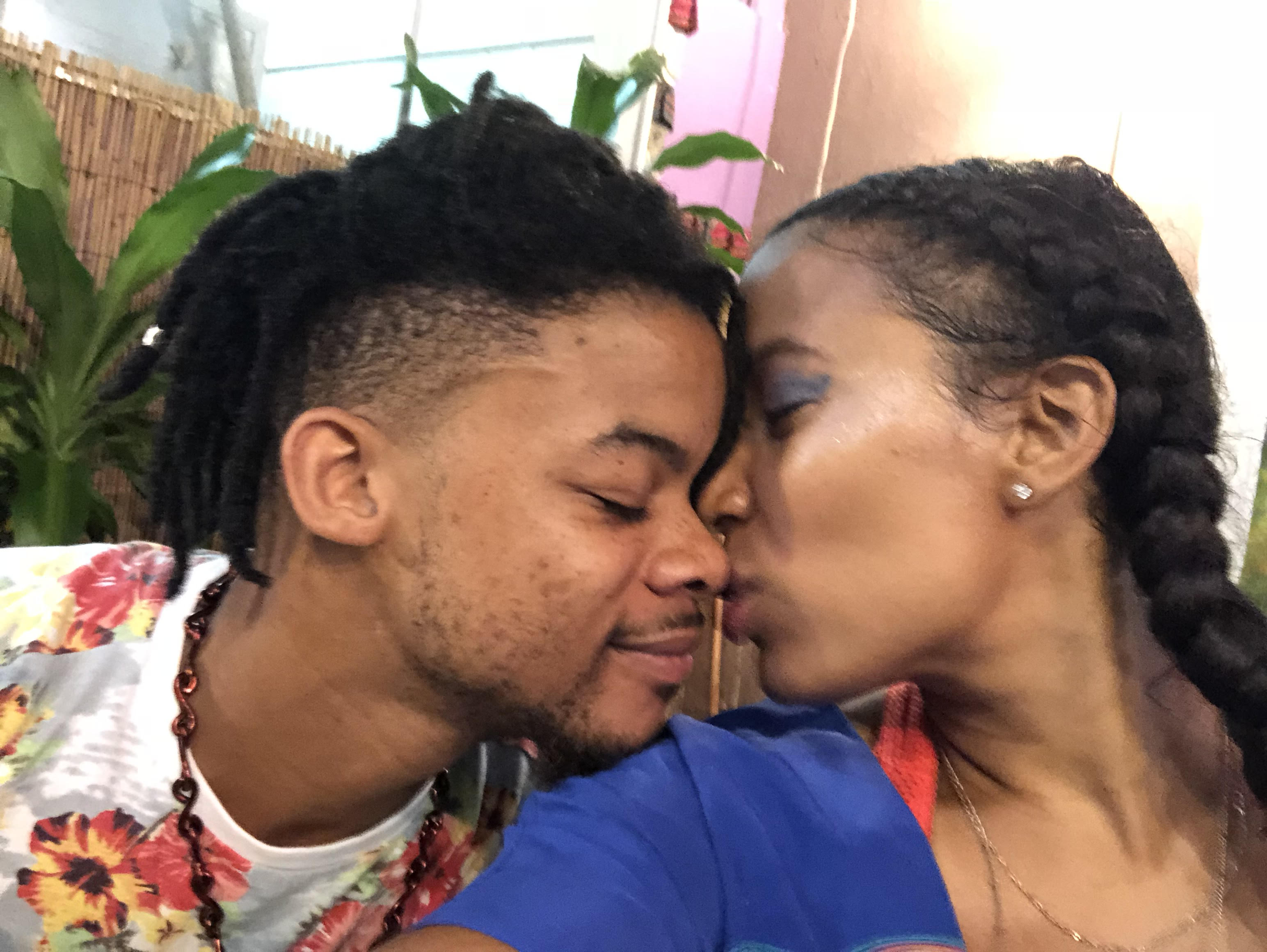 The grieving Colón was not interviewed for this piece, but shared this tribute to Alim with Block Club:
"Malik loved his daughter Jari Sanaa and his son Orí Tarik more than anything. He loved his dog Nima, his siblings, and his parents. 
Malik loved building things, from his son's bed to our family compost bin to strong community relationships and institutions. 
Malik loved riding his bike, cooking meals for his family, writing raps, and wrapping us in his love. 
Malik believed another world is possible: a world where we dismantle militarism, capitalism, and carceral systems. 
Malik believed that the relationship to another person is the smallest unit of organizing, and his intentional connections have weaved a mighty tapestry of family and community across Chicago and the nation. 
Malik loved me and was a partner to me like no other being I've encountered in this lifetime. 
Malik held our hearts tenderly and cared for us with his whole soul. His impact and legacy are immeasurable."
Malik's memorial service will be held 11 a.m. Saturday at the Islamic Foundation of Villa Park,  300 W. Highridge Road. The burial will be at Oak Woods Cemetery, 1035 E. 67th St. The service will take place outdoors, and all attendees are asked to wear a mask. 
Family and friends can donate to the Malik Alim Family Legacy Fund, here.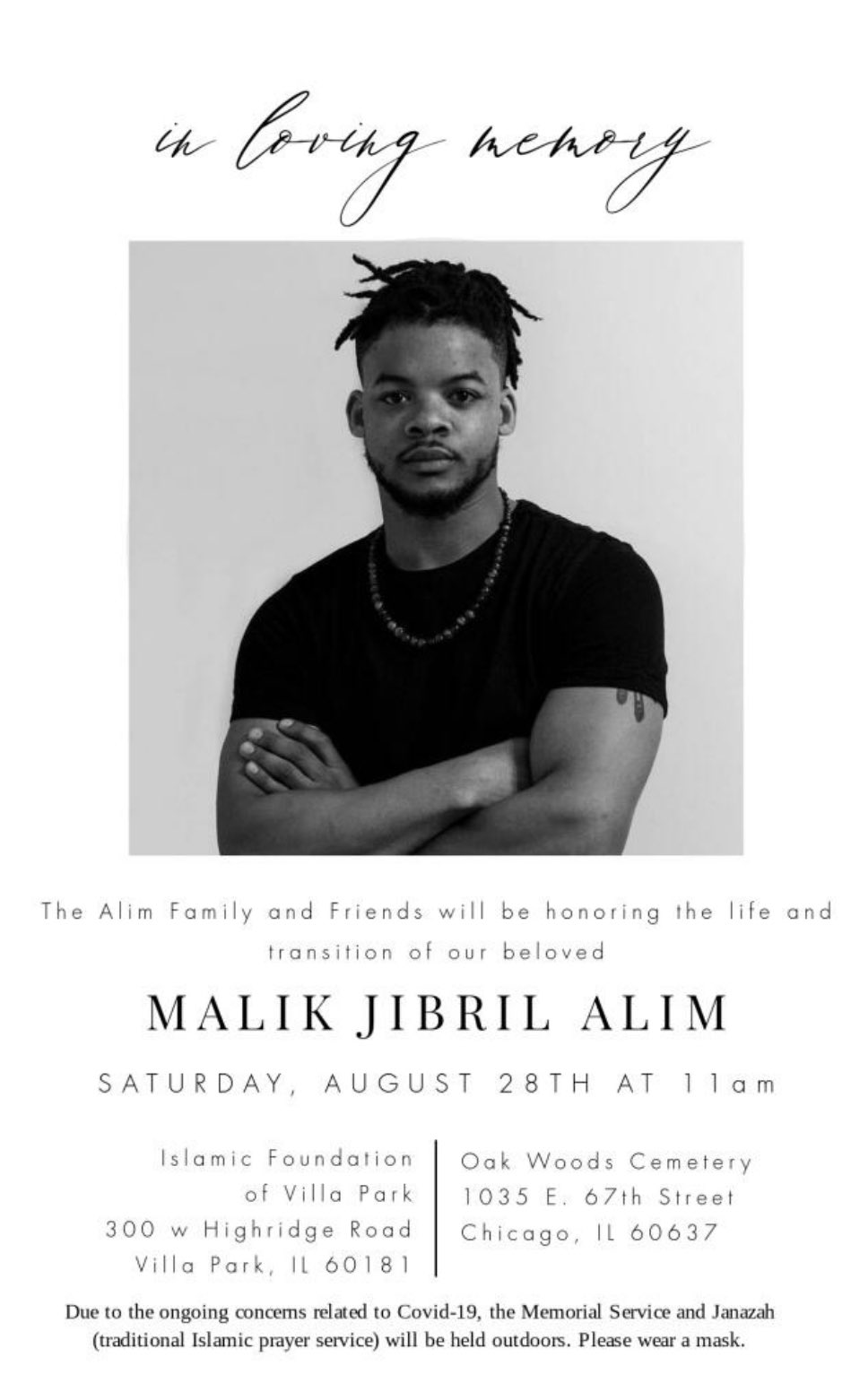 Subscribe to Block Club Chicago. Every dime we make funds reporting from Chicago's neighborhoods.
Already subscribe? Click here to support Block Club with a tax-deductible donation.