PORTAGE PARK — The massive Six Corners Sears development passed a big hurdle Thursday, receiving approval from the city's Plan Commission.
Novak Construction bought the building at 4730 W. Irving Park and plans to redevelop it into a six-story mixed-use development with 207 luxury apartments, down from 209 in previous plans. The units would sit on top of about 50,000 square feet of ground-floor retail with one anchor tenant and periphery tenants.
The development would include a mix of studio, one- and two-bedroom apartments ranging from $2,750 to $3,000 per month, and it will have a pool, dog walk and communal areas.
The building would include 270 parking spaces and 68 bike spaces. The developers submitted a zoning change last month that would allow for residential units. A vote on that change will take place next month.
Only six of the apartments would be earmarked as affordable, according to the developer and the application filed with the city. The developer would meet the rest of its affordability requirement by paying about $2 million into the city's Affordable Housing Opportunity Fund.
Commissioners unanimously approved the project Thursday, despite some concerns from residents about a lack of affordable housing. While members acknowledged that more affordable units are needed for large developments such as the Sears overhaul, the issue wasn't enough to hold up a vote for the project.
A new Affordable Requirements Ordinance overwhelmingly passed earlier this year, which increases the percentage of affordable units that must be offered in major developments from 10 to 20 percent in wealthy and gentrifying neighborhoods.
But this project was submitted before that goes into effect this fall and meets the minimum under the current ordinance with six affordable units onsite.
Jake Paschen, executive vice president of development at Novak, said the company decided on six affordable units because it "makes sense for the development and for us… financially."
Plan Commission members vowed to work harder to hold developers accountable for more affordable housing units once October hits but commended Novak for revitalizing the long-vacant art deco building that was built in 1938.
"We hope that this will successfully set the tone for parcels that are yet to be developed around it," said Maurice D. Cox, commissioner for the Department of Planning and Development. "This is the first of many parcels to be developed. Once this happens, we can push for further integration of affordable housing. The new ordinance will have incentives to have more affordable housing… but the developers, Ald. Jim Gardiner and DPD have been working well [on the project]."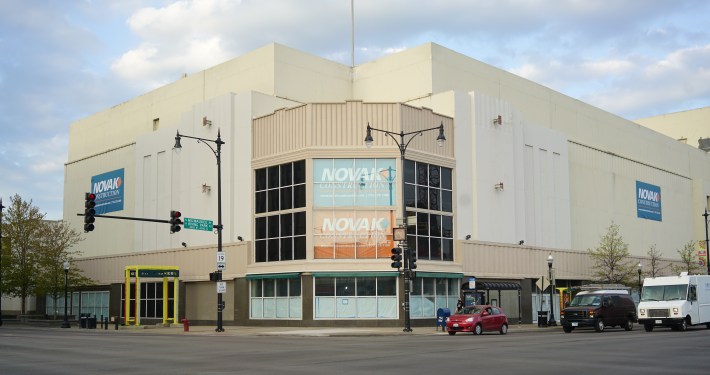 Gardiner (45th) has said the development will spur economic and residential in an area that has struggled in recent years with stalled developments, vacant land and empty storefronts. At the meeting, he said that while the Sears development is not perfect, the community cannot wait for another project proposal.
"We are on the verge of recreating a thriving Six Corners business district," Gardiner said. "This development is vital for the Six Corners housing and retail for the community. Is it perfect? No, but it is progress we so desperately need."
Since 2018, the old Six Corners Sears building has sat vacant, frustrating neighbors and business owners who hoped to see something — anything — open on the prime neighborhood corner.
The development now needs zoning approval and then full City Council approval. If those go through, developers said construction could start in March and last 18 months.
Subscribe to Block Club Chicago. Every dime we make funds reporting from Chicago's neighborhoods.
Already subscribe? Click here to support Block Club with a tax-deductible donation.