ROGERS PARK — Sisters Emilie and Sylvie loved living in their courtyard-style building on Estes Avenue, blocks from Lake Michigan. But that changed a year ago, when they received a notice they had to leave their apartment.
They weren't the only ones in the 80-unit building at 1345-1359 W. Estes Ave. to receive notices to leave. Building owner 36 Management sent the notices to many tenants — in violation of an eviction moratorium, according to residents and tenants' rights groups.
And when the notices failed to get them to leave, tenants said 36 Management let the building fall into disrepair. An elevator was left out of commission and roaches and rats ran amok, according to residents and building inspection records.
"It's mass eviction," Sylvie said. "I loved living here until 36 Managements took over. It's been hell and [a] very traumatizing experience."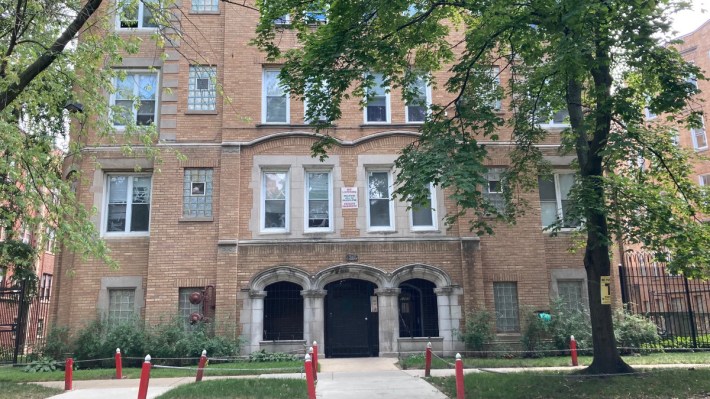 The efforts to force residents out are being done so the building at 1345 W. Estes Ave. can be renovated and rented out at higher costs, residents said. Neighbors organized and sought help from officials.
36 Management has been hit with a stop-work order from the city after building inspectors noticed the company was performing a gut rehab with "no plans or permits on file," according to a written notice. Inspectors also found 44 building violations at the property in July, including the roach and rodent infestation plus other maintenance issues, records show.
With work on the building halted, remaining residents are calling on the city to help their cause and are asking 36 Management to compensate them for the ordeal. Officials, including Ald. Maria Hadden's 49th Ward office, are looking at ways to give tenants more recourse to fight dislocation brought on by a building's redevelopment.
"This is a mission of gentrification," said Elliot Frank, a volunteer organizer with the Chicago Tenants Movement, which has helped the Estes Avenue residents organize. "The plan has been very clear from the beginning."
Representatives for 36 Management did not respond to multiple requests for comment.
The company bought the Estes building in 2018 for $12.3 million and took out a $10 million mortgage on the property this year, according to Cook County property records.
'It's Really Ridiculous'
Residents of the Estes Avenue building and tenants rights groups rallied Monday outside 36 Management's offices in Uptown, decrying the company's treatment of tenants during the pandemic.
The issue started about a year ago, when residents of the building started getting five- and 30-day "notice to terminate tenancy" papers. About half of the building's residents have moved out since the ordeal started, neighbors said.
Residents knew 36 Management was performing renovations, and the company received building permits for minor work inside the building.
But they realized later the company was seeking to reposition the entire building and force out residents in the process.
"For us, it was really surprising," said Sylvie, who along with her sister, Emilie, received a notice they had to leave. The sisters and other residents asked that their last names not be used out of fear of retribution from their landlord. "We always pay our rent. We heard rumors that people were getting kicked out. That's when we realized the extent to what was going on."
Torrence Burton has lived at 1345 W. Estes Ave. for four years and also received a notice out of the blue, he said.
"They're asking us to pay rent and move out at the same time," he said. "Where are we supposed to get that money during a pandemic? It's really ridiculous. It's no way to treat human beings."
As tenants stayed, the building soon became unlivable, residents said.
An elevator in the building was taken out of operation, and 36 Management was cited for the elevator's condition.
Residents complained of noxious fumes, contaminated drinking water and standing sewage in the basement — another issue that ended in a building violation.
At least one person was locked out of their unit — a situation that was rectified after police got involved, said Leslie Perkins, Hadden's chief of staff.
The notices sent to residents were not legally eviction notices, which usually require an official filing and the involvement of law enforcement. But the notices did run afoul of the state and federal government's eviction moratorium, which bars landlords from issuing most notices to vacate unless a tenant is posing a health or safety hazard, said Javier Ruiz, eviction prevention specialist with the Metropolitan Tenants Organization.
"We're seeing it a lot recently," Ruiz said. "Landlords do things to make tenants' life hell. The tenants get annoyed and they self-evict."
The notices worked to clear about half the building. Some residents thought the notices ran afoul of the moratorium on evictions that was instituted during the pandemic.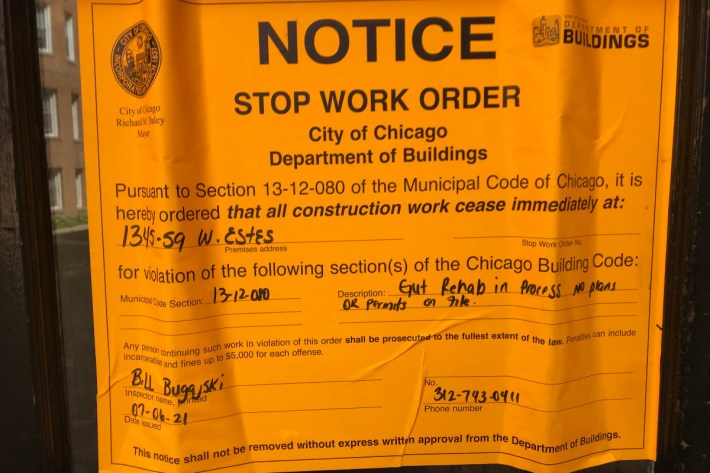 Tenants' rights groups heard of the issue and helped neighbors form the West Estes Tenant Union. Hadden's office reminded 36 Management of the eviction moratorium and helped coordinate a building inspection, Perkins said.
The Estes tenants are seeking $5,000 per unit for relocation fees for people who choose to leave. They also want residents to have the option to get their old units back after renovations with their current rent rates in place.
So far, 36 Management has declined to meet or negotiate with the Estes neighbors, residents said.
Without the outside help, it is possible the landlord's alleged efforts would have worked, despite the eviction moratoriums and other renter protections in place, Ruiz said.
"There's a lack of enforcement" of the eviction moratorium, he said.
The 49th Ward will continue to work with the Law Department to follow up on the building violations, Perkins said. Hadden and her team will also seek to advance stronger tenants rights laws that give renters recourse when a landlord wants to redevelop a property.
One policy idea is the Just Cause bill, which would do away with no-cause evictions and place restrictions around displacement due to development.
"This is unfortunately not unique," Perkins said. "This is a really extreme case, but it happens. How do we address this? [The Just Cause bill] is something we'd love the city to adopt as a starting point."
Subscribe to Block Club Chicago, an independent, 501(c)(3), journalist-run newsroom. Every dime we make funds reporting from Chicago's neighborhoods.
Already subscribe? Click here to support Block Club with a tax-deductible donation. 
Listen to "It's All Good: A Block Club Chicago Podcast" here: