O'HARE — Despite opposition from the area's alderman, a seven-story, 297-unit housing development near the Cumberland Blue Line station scored key approval Thursday from the city's Plan Commission.
The commission voted 10-1 to approve Glenstar's proposal to build the housing complex at 8535 W. Higgins Road in the 41st Ward, introduced in 2016. The project would have 59 affordable housing units and 270 parking spaces.
The plan has faced staunch opposition from Ald. Anthony Napolitano (41st) since it was introduced. He has insisted his constituents overwhelmingly oppose the project and started a petition to stop it that now has 2,500 signatures.
"Our dwelling owners have come out numerous times in opposition [of the project]," Napolitano said at a contentious portion of the meeting. "We want it to stay a business corridor. We should be pushing more towards bringing companies to Chicago."
However, Department of Planning and Development officials endorsed the plan, saying it will bring necessary affordable options to working individuals in the area and add density to a site ripe for transit-oriented developments. The project sits near the Cumberland Blue Line and about ten minutes from O'Hare Airport.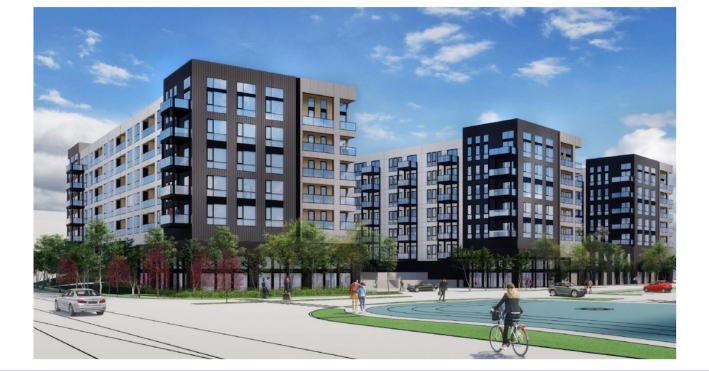 Liz Butler, an attorney for the developer, said the plan has the support of all surrounding property owners.
"We did not receive a single comment or inquiry from any neighbor that opposed the project, and you did not hear a single individual speak against the project during public comment today," Butler said.
During the public comment section of the meeting, several Northwest Side-area residents and advocates for affordable housing spoke in favor of the complex, saying that it would help commuters who work at O'Hare and who have been displaced or priced out of the surrounding neighborhoods.
"Here's an opportunity to get roughly another 60 affordable units in a part of the city that has been denied affordable housing historically," Neighbors for Affordable Housing co-founder Michael Rabbitt told The Daily Line. He also spoke in favor of the development Thursday. "And we know from anecdotal evidence that this is a part of the 41st Ward that has a greater need for affordable housing than more affluent parts of the ward."
Department of Housing Commissioner Marisa Novara said Napolitano's resistance on the basis of 41st Ward residents' opposition is "exactly how over the past 100 years how we created where affordable housing is located, and where it is not."
"When we say every community needs to contribute to the city's rental housing needs and affordable housing needs, we mean every community," Novara said. "That includes this community. There is not a carve-out for the O'Hare community area."
She said there are 400 people in the area on the waitlist for affordable housing.
Napolitano said he was appalled that the commissioner would assert that neighbors may be resisting the plan because of its affordable component. He said the Plan Commission approved a previous version a few years ago with fewer affordable units.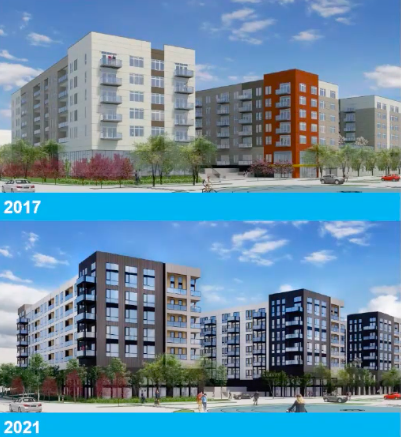 That plan was approved by the commission in 2017, only for the City Council Committee on Zoning, Landmarks and Building Standards to narrowly vote it down at Napolitano's request.
But Glenstar returned in May with a nearly identical version of its original plan — albeit with more affordable units, and some tweaks to its exterior design.
Napolitano is still opposed to the project and said the changes weren't substantial.
"The neighborhood doesn't want it for density purposes," he said, adding that there are an "astronomical" amount of vacancies in nearby apartment complexes and that there is already density in the area.
All but one of the commissioners challenged Napolitano. Ald. Nick Sposato (38th), who is a member of the commission, sided with Napolitano and voted against the development.
"This is all about density, overcrowding our schools," Sposato said. "So let's not bring out the race card. … It's about our ward, and what we think is best for our community."
Maurice D. Cox, commissioner for the Department of Planning and Development, said the goal with approving the development is to increase different housing options in the area.
"Whether you support affordable housing or not, we have to take advantage of transit," Cox said. "Denser housing near transit is a citywide policy… we advocate for higher density."
Glenstar Managing principal Michael Klein dismissed Napolitano's fears on Wednesday and told The Daily Line the alderman has never given a reason for his opposition "that's based on facts."
Standing 90 feet tall with 270 parking spaces, their proposal would cast a smaller shadow and create less car traffic than an office building — which would be permitted under the site's existing zoning, Klein said. He noted that the project site is surrounded not by single-family homeowners, but by mid-rise office buildings and hotels, whose owners have cited a lack of nearby homes where their employees can live.
Napolitano "said the neighbors around really don't want it, but the only neighbors around are commercial" property owners, Klein said. "We've talked to them all, and they're the ones who are pushing for us to do this, and they support it."
The development is also supported by the Chicago Federation of Labor, the Chicagoland Chamber of Commerce, the Chicago Apartment Association and Neighbors for Affordable Housing. The Illinois Department of Transportation also supports the project, and would add a traffic signal to abate congestion.
Neighbors for Affordable Housing celebrated Glenstar's move to bump up the proposal's affordable housing component to 59 apartments, or about 20 percent of the total units. Klein said his firm decided to boost the affordable component to bring the project in line with the next iteration of the city's Affordable Requirements Ordinance, which is set to take effect in October.
Another 59 affordable homes could have a big impact, Rabbitt said, especially for workers at O'Hare Airport.
"This could be a big win for working-class Chicagoans."
The affordable housing group was founded in 2017 to support a controversial 75-unit mixed-income housing complex at 5150 N. Northwest Hwy. in the 45th Ward. Rabbitt noted that more than 700 people have already applied to live in the Northwest Highway building.
The O'Hare project still needs approval from the zoning committee and full City Council before construction can begin.
Subscribe to Block Club Chicago. Every dime we make funds reporting from Chicago's neighborhoods.
Already subscribe? Click here to support Block Club with a tax-deductible donation.