NORTH LAWNDALE — Chaos erupted at this weekend's Lyrical Lemonade Summer Smash Festival in Douglass Park, leading to bartenders walking off and attendees complaining of disorganization.
Multiple bar staffers said their work was hampered by the festival's disorganization Friday — and then they were attacked by festivalgoers Saturday. Some attendees said the festival lacked security and coronavirus safety measures. One worker compared the West Side event to Fyre Festival, a famously failed music festival in the Bahamas in 2017.
RELATED: As Lyrical Lemonade Returns To Douglass Park, Residents Prepare For Hip-Hop — And Headaches
Though bar staffers and attendees reported issues at the festival throughout the weekend, the most chaotic moments came Saturday. Videos show festivalgoers tearing down a chain-link fence that encircled the event's main bar. Bartenders said they had to keep rowdy patrons from attacking them and stealing.
Ellie Pettit, a 22-year-old bartender and UIC student who worked at the event, said there were moments where she feared for her and others' lives. 
"I've never been in a situation in my entire life where there was so much weight on me," she said. "I genuinely thought at one point that I wasn't going to make it out of that festival alive."
The crew of bartenders were independent contractors who work at festivals across Chicago each summer. Liz Melvin, a veteran festival bar manager who worked Summer Smash, said some events are better set up than others.
"I've never felt so set up for failure as a bar manager, and I know that my bartenders feel the same way because it was completely unsafe," Melvin said. "This was hands down the least organized, the least safe [festival]. It was abundantly clear on the first day that there was a lack of security."
Festival organizers defended the event, saying in an emailed statement the "barricade infrastructure" around one of the bars had been "compromised due to crowding of the area" Saturday.
"In response, the festival removed this bar area entirely and reconfigured the layout on Sunday morning before doors opened, which then alleviated said issues with crowding in that area on the final day of the event," a festival spokesman said in the statement. "No festival staff or attendees were injured in this incident, and no funds were lost. If any bar staff chose not to return on Sunday, each still was paid in full for their services for the entire three-day weekend.
"Despite this unfortunate incident on Saturday, we believe the three-day festival overall was a major success, having played host to over 90,000 guests and all acts having taken the festival stages as planned (with the exception of two that canceled day-of due to unforeseen circumstances)."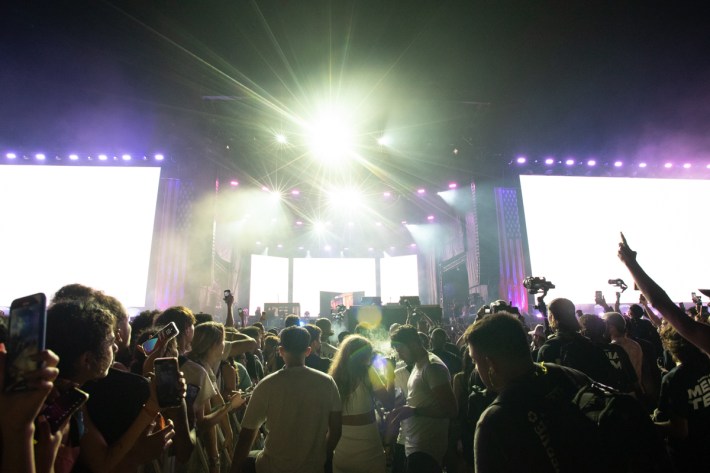 'We Were Calling It Fyre Fest'
The festival kicked off Friday and experienced hiccups from the start, staffers and attendees said.
Multiple bar staffers said some of the bar tents were not set up by the beginning, and bartenders said they had to set up additional fencing and take protective measures, such as using squirt guns, to prevent guests from stealing.
"We were calling it Fyre Fest because that's what it was like from the beginning … it was a sh–t show," said Jimmy Connolly, who has managed a bar at the event with his wife for every year of the festival's existence.
Connolly said booze didn't arrive until hours after the fest began.
The areas for professional photographers, which doubled as VIP sections, were overrun by attendees who hopped the barricades Friday. People threw objects over the crowd.
A video provided by Melvin showed a security guard standing by as dozens of attendees hopped the fence during the festival.
Attendee Jeremy Zelner, 22, said amenities like water stations seemed to be sparse. He said he was alarmed when he got the festival Saturday and didn't see security closely checking COVID-19 vaccine cards.
"There was just some random dude that didn't even look like he was staff checking," Zelner said. "They weren't really even looking at it. To know that they don't care about it pisses you off. …
"I've been going to festivals for a third of my life and I have never seen [a festival] like this before. There's definitely room for improvement across the board."
A festival spokesman said Summer Smash required attendees to prove they were vaccinated against COVID-19 or had a recent negative test, and organizers offered testing in the park in the days before the event. There was a vaccination clinic on site, he said.
The spokesman also said there were several free water stations.
A VIP ticket holder, who wished to remain anonymous, attended all three days and said things were chaotic from the start. After the clash between bartenders Saturday, the VIP section between the stages was removed, she said.
"Their solution was just to take it away, which people paid a lot of money for, instead of actually just … hiring security and having it work the way it was intended," she said.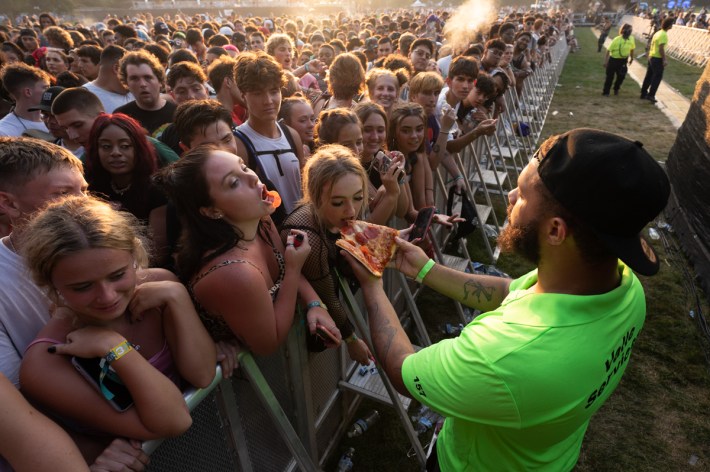 'We Couldn't Get Out'
Pettit said Friday's disorganization was enough to keep about half the bartenders at the main tent from returning Saturday.
"I'd say we went from 40 bartenders in the main tent on Friday to 22 on Saturday," she said.
It's unclear how the chaos at the main bar began Saturday, but attendees tried to bring down the fence around the event's main bar, staffers said.
Members of the crowd were "trying to fight" bar staff and "steal things," Pettit said. At one point, she said, she had to stop two men from throwing a table into the crowd.
When bartenders in the main tent tried to escape the crowd, Pettit said they discovered the emergency exit was "wired shut." 
"We couldn't get out," she said.
The workers at the main bar tried to protect themselves by rearranging the bar tables to act as a barrier between themselves and the cash drawers and patrons, and male staffers tried to fend off people, Melvin said.
Connolly and other bar workers rushed from their tents to the main bar to help the bartenders there. He said he saw people being trampled and an undercover officer wielding a baton.
"It was like a big brawl going on inside this tent," Connolly said.
Security didn't intervene until the clash was over, he added.
"At the end of the night on Saturday, our boss looked at us and said, … 'We are not coming back tomorrow,'" Melvin said. "We've never walked off the job before. This is the first time."
Despite the chaos, festival organizers said in a statement that no one was hurt and they plan to return next year.
"As we did with the previous two editions of Summer Smash, we will continue to improve our plans and elevate the experience for all of those at the event including staff, artists, and attendees. We look forward to returning in 2022."
Subscribe to Block Club Chicago, an independent, 501(c)(3), journalist-run newsroom. Every dime we make funds reporting from Chicago's neighborhoods.
Already subscribe? Click here to support Block Club with a tax-deductible donation. 
Listen to "It's All Good: A Block Club Chicago Podcast" here: