SOUTH SHORE — Nine months after the first Illinoisan received a coronavirus vaccine, Chicago is home to 12 ZIP codes where more than half of residents are unvaccinated.
Ten of those are on the South Side.
Skeptical South Siders say they need more time to sort through the boatload of vaccine information they're bombarded with. Others' minds are made up: They refuse to get their shots.
Their vaccinated neighbors are growing weary of their "excuses" as friends, family and colleagues die from the virus. Health advocates walk the fine line of respecting their neighbors' personal freedoms while trying to protect their communities from further devastation.
Block Club spoke to 15 residents, as well as community leaders and health advocates, about why neighbors remain unvaccinated as the Delta variant surges across Chicago.
Rejection, Hesitation And Frustration
When Tony shows his state ID, the robust face on the card bears little resemblance to his now-thin frame. He attributes his weight loss to catching coronavirus while incarcerated downstate at Lincoln Correctional Center.
"It almost killed me in there," said Tony, who declined to give his last name.
Tony, like three in five South Shore residents, has not received a vaccine dose. He rejects the vaccine entirely, wrongly believing his past infection ensures his protection moving forward. Medical experts have said people do develop natural antibodies after recovering from COVID-19, but vaccinations provide better protection and are recommended even for those previously sick.
"I don't want that stuff shot in me," Tony said. "I'm good."
Though he has been severely impacted by coronavirus, Tony shows little interest in vaccination — like many people in his neighborhood.
South Shore's ZIP code, 60649 — where one in 286 residents has died from coronavirus and which once claimed Chicago's highest COVID death rate — has the second-lowest vaccination rate of any ZIP code entirely within city limits. Nearby, St. Bernard Hospital's intensive care unit is at capacity.
Tony's friend Eric, who is fully vaccinated, has seen Tony's dramatic weight loss. Eric also saw his cousin nearly die from coronavirus after refusing the vaccine, he said.
Eric tells the unvaccinated people around him how getting their doses "can help fight off this plague, this disease," he said alongside Tony Monday on 79th Street. But they often reject him over fears the vaccine was developed too quickly.
Clinical trials and all other "important regulatory and evaluation checkpoints designed to protect patients" were followed, even as the federal government pumped billions into research and "greatly accelerated the timeline" for vaccine development, according to University of Chicago Medicine.
"I let a lot of people know, [but] people say they're not taking the shot," said Eric, who declined to give his last name. "They say, 'I ain't taking no shot because they're using motherf–ers as guinea pigs.' … You can lead a horse to water, but you can't make him drink it."
Like the skeptics in Eric's life, South Shore resident Shawn Gowder isn't interested in the vaccines months after they received federal approval for emergency use. He may reconsider in several years, he said.
"After a couple years of seeing those stellar results that they're hoping for, then I'll be more willing to get it," Gowder said. "Other than that, [he's] going to live and die" by his natural immune system, he said.
Resident Autumn Crowne is also concerned about the speedy vaccine rollout. Crowne said she "just [needs] to understand it better" before getting vaccinated, as she takes in conflicting information about coronavirus from various sources.
Social media simultaneously hypes the dangers of COVID-19 and spreads misinformation about the vaccine.
A trusted, immediate family member of Crowne's is a nurse with horror stories about coronavirus's deadly impact — but that same family member won't get vaccinated.
Crowne sees news reports about the hundreds of thousands of coronavirus deaths in the United States, but she hasn't lost anyone to the virus.
"I don't feel threatened [to the point] that I have to take a vaccine," Crowne said.
But getting vaccinated isn't simply a personal choice; it's a way to protect those around you, said Kevin Morrison, one of countless Chicagoans to experience the pandemic's ultimate tragedy.
Morrison's best friend of six decades, who was unvaccinated, recently died of coronavirus, he said from his porch in South Shore.
Morrison got his shots "as soon as I was eligible to get it," as he lives with his 93-year-old mother. She received an at-home vaccination from the city soon after.
"If you ain't going to get the vaccination, you don't need to be around me. I ain't going to tolerate it," Morrison said. "It's just something simple that needs to be done, and until you get it done, we're still going to have the deaths and everything. That's on them."
Vaccination largely prevents people from catching coronavirus, and it protects from severe illness and death. Boosting South Shore's vaccination rate is also key to limiting the virus's spread, said Beverly, a nurse who's lived in the neighborhood since 1968.
Skeptics "don't see the rationale of it: That I'm saving my grandmother, my auntie, my uncle, my cousin, my sister," said Beverly, who declined to share her last name. "Not until somebody gets sick and dies, then you want to feel the guilt; now you're angry. … You ain't never got to do that, because you can do something today to save your family."
Beverly has had "really good success" in preaching the need for a vaccine to her skeptical colleagues, many of whom are younger and misinformed by social media, she said. She's also pleased older people in neighboring townhomes are vaccinated.
But between the stress of being a frontline worker in a pandemic, a declining availability of nurses and widespread vaccine skepticism, Beverly is ready to retire from the field she's given her life to.
"It's over," Beverly said. "I'm out of there next year. I already told them — that's it."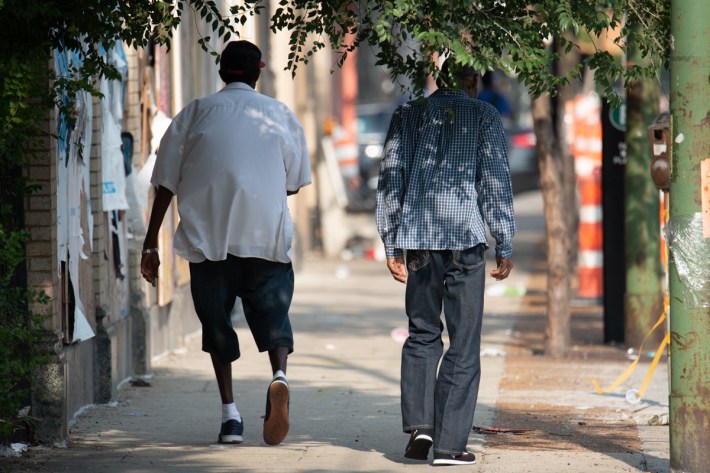 Is Access Still A Valid Concern?
Early in the vaccine rollout, Chicagoans struggled to access vaccine sites, appointment platforms and other resources amid huge demand for doses.
Availability has greatly expanded since then. Any Chicagoan older than 12 can get vaccinated at home for free.
Recent vaccine pop-ups have been held alongside a bike ride through the Far South Side, a back-to-school bash in Austin and a Downtown car show, among many others.
None of the 15 South Shore residents interviewed over the past week, whether vaccinated or unvaccinated, named access as an ongoing barrier to getting shots.
South Shore residents were also some of the first to gain access to the vaccine, as the federal United Center site opened to all residents in 60649 in early March.
At this point in the pandemic, claiming difficulty in finding a way to get vaccinated "is bulls–t," Morrison said at his South Shore home. "That's just another excuse."
With plentiful places to get a vaccine citywide, 60649's first-dose rate of 39.9 percent is 11 percentage points higher than it was in early May. But other communities with low vaccination rates have outpaced South Shore over the past three-plus months.
Englewood's ZIP code, 60621, has a first-dose rate of 37.8 percent. While still the city's lowest, it is still 13 percentage points higher than it was in May.
West Englewood's ZIP code, 60636, gained nearly 17 percentage points over the same period. The community, which had the fifth-lowest vaccination rate in May, now boasts a rate of 45.8 percent — better than 10 other ZIP codes.
Issues of access run deeper than simply opening up more sites to get a vaccine, said Ernesto Gonzalez, marketing manager for My Block, My Hood, My City.
The organization recently completed a program with the Chicago Vaccine Angels to help older people get their shots, and it continues to organize vaccination events.
True accessibility considers residents' work schedules, their need to set appointments for their second doses and the modes by which they learn about vaccine opportunities, Gonzalez said.
"Transportation is such a huge issue, too," he said. "If you ever visit the Southeast Side … sometimes you wait 30 or 45 minutes for a bus, and that's not right."
There's also the issue of distrust in health care and government — driven in part by institutional racism and neglect — which less than a year of vaccine outreach has yet to overcome.
"For years and years and years, outreach to these communities has not been done," Gonzalez said. "We shouldn't be expecting it to be easy."
Some organizers looking to boost South Side vaccination rates who previously pushed for more vaccine sites have since shifted their focus to health education.
It's key to maintain "consistent communication" with residents and remain "non-judgmental" when they're not ready to get vaccinated, said Max Clermont, senior project lead for the Chicagoland Vaccine Partnership.
"There's a lot of urgency around [the pandemic], but we do have to respect people's processes," he said.
Clermont's organization works with local groups to bring vaccine information to where people live, work, play and pray.
The partnership connects the community groups to vaccine providers and experts, outreach workers and other advocates. These collaborations can help build the infrastructure necessary to vaccinate neighborhoods with low rates, Clermont said.
The group's members have "a broad vision of what public health is," he said. They center trusted residents and support existing community programs.
"Vaccine is in our name, but our long-term vision is around engaging partners in a conversation on health equity," Clermont said. "… Just one conversation or one event is not going to be enough to get some folks over the finish line."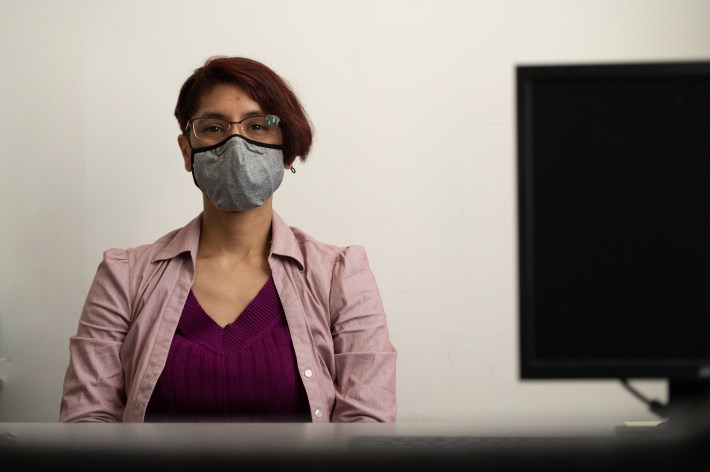 'We Want Our Community To Be Healthy'
Alongside education and communication, incentives can help overcome vaccine "inertia and hesitancy," said Amalia NietoGomez, executive director of Alliance of the Southeast.
Some high-profile examples: The city offered Lollapalooza tickets during a June slate of vaccination events, while the state created a vaccine lottery with millions of dollars in awards and scholarships.
Officials should continue offering rewards targeted to residents of Chicago's least-vaccinated neighborhoods, NietoGomez said.
Two ZIP codes served by Alliance of the Southeast — 60617 and 60633 — remain among the city's least vaccinated. More than half of residents in 60617 are unvaccinated, though its first-dose rate rose 14 percentage points since May, to 46 percent.
City data shows 60633 as the second-lowest rate in Chicago, though that may be skewed. Only city residents count toward the vaccination rate, but they're compared against the ZIP code's entire population, which includes suburban Burnham.
Alliance of the Southeast has organized five vaccine events this summer with the city's support, though it took "a lot of work" from residents to organize the events, NietoGomez said.
Local officials can take a more active role, rather than "depending on the community organizations to coordinate them," NietoGomez said.
Vaccine outreach "can't completely fall on the individual communities … because we have capacity issues," she said.
The Southeast Side has low vaccination rates and a "high-risk" population of people with pre-existing health conditions, older people and kids too young to be vaccinated, NietoGomez said.
Despite the stress of providing doses, community groups like Alliance of the Southeast will continue to do their part to get their neighbors vaccinated, NietoGomez said.
"The bottom line for us is that we want our community to be healthy and safe," she said. "That means making sure that we have access to vaccines, and that folks who are high risk are not continuing to be hospitalized or die from COVID-19."
Block Club Chicago's coronavirus coverage is free for all readers. Block Club is an independent, 501(c)(3), journalist-run newsroom.
Subscribe to Block Club Chicago, an independent, 501(c)(3), journalist-run newsroom. Every dime we make funds reporting from Chicago's neighborhoods.
Already subscribe? Click here to support Block Club with a tax-deductible donation. 
Listen to "It's All Good: A Block Club Chicago Podcast" here: