Editor's note: This story has been updated with statements from the attorney representing the building management company.
LAKEVIEW — When Christopher LeMark opened Coffee, Hip-Hop & Mental Health's cafe, the nonprofit only had a table, a menu and an empty storefront.
With the help of volunteers who believed in the organization's mission to pay for people to go to therapy, LeMark transformed the storefront at 3243 N. Broadway into a bustling coffee shop with murals, a coffee bar and a food pantry.
But now, Coffee, Hip-Hop & Mental Health has to move. LeMark said it is because of a contractual issue but the landlord says the Lakeview pop-up only had a temporary arrangement to be in the space. The cafe's last day will be Sept. 15 and the nonprofit is raising $50,000 to find a new headquarters.
"I'm honestly heartbroken about this because I did everything I could to stay in this space," LeMark said.
LeMark said they have to relocate because another business moving in nearby has a non-compete agreement with the building management company, he said. Because that shop plans to also sell coffee, LeMark's pop-up has to close.
"I respect and appreciate the opportunity that the management company gave us to open our coffee shop, but I am just crushed and heartbroken that we have to move due to this non-compete clause," LeMark said.
Michael Haeberle, an attorney representing the landlord, denied a non-compete clause was at issue and said the cafe always was meant to be a temporary pop-up.

"We were so fortunate to have CHHAMH as a pop-up tenant in our space," company officials said in a statement. "We extended every courtesy, financial assistance and support we were able during their stay. When we arranged for them to use our space, we all knew it was temporary. We wish them the best of luck in their new space and their mission."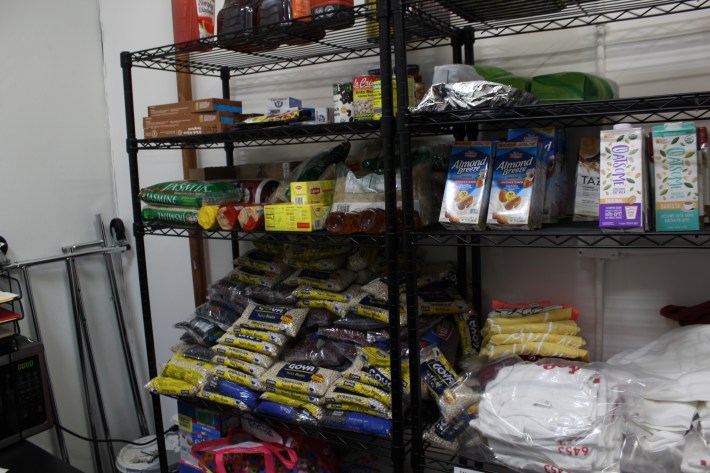 Coffee, Hip-Hop & Mental Health launched in July 2019 with a three-hour event at Bassline in the South Loop, LeMark previously told Block Club. The gathering attracted 20 participants who enjoyed live music and conversations with licensed therapists about mental health.
A month later, the group held its second event at the Promontory in Hyde Park, and 133 people showed up.
"We just kept growing and growing until March 2020, which was our final event because the pandemic hit and large gatherings couldn't happen anymore," LeMark said.
That's when the organization pivoted to running a People's Food Drive, which has fed more than 7,000 families since the pandemic started, LeMark said.
At the coffee shop, LeMark sells T-shirts, sweaters and other merchandise to keep the brand alive, he said. The cafe also sells specialty coffee drinks — named after hip-hop artists like Kanye West, Diddy and Megan Thee Stallion — and pastries supplied by local businesses like Do-Rite Donuts and Chicago Sugar Daddy Patisserie.
Volunteers come into the shop from across Chicago and neighboring states like Indiana, Wisconsin and Michigan to help with designing, packing and shipping merchandise, making deliveries for the food pantry and writing grants, LeMark said.
With the Broadway shop closing, LeMark is searching nearby for a new home for the group's operations. Until then, they have to pause the Normalize Therapy initiative, which pays for Chicagoans to go to therapy.
"It's tough because we have over 70 people that are waiting for us to reach out to them and set them up with therapy services," LeMark said. "Unless there's a miracle, we won't be able to continue paying for the people who are trusting us to help them seek therapy."
The coffee shop is also home to Coffee, Hip-Hop & Mental Health's fundraisers and weekly discussions about mental health and music, which connect people with licensed therapists.
The nonprofit is hoping to raise $50,000 by Sept. 1 to support the coffee shop's move, pay its employees, rebuild the coffee bar and cover additional expenses, LeMark said.
People can donate online or by texting "donate.NTU21" to 77948, LeMark said. People also can support the nonprofit's move by buying coffee or merchandise or simply visiting to wish them good luck, LeMark said.
"We need a miracle, but at the end of the day, we took $3,000 and turned that into $167,000, which we then turned into paying for people's therapy, buying food and giving people jobs," LeMark said. "We can do that again."
The nonprofit is also in the middle of organizing its Christmas in August food drive. Five hundred families on the South Side will receive gift boxes filled with food and other essential items.
"Just know that the work doesn't stop, even if we have to shut our doors," LeMark said.
Jake Wittich is a Report for America corps member covering Lakeview, Lincoln Park and LGBTQ communities across the city for Block Club Chicago.
Subscribe to Block Club Chicago, an independent, 501(c)(3), journalist-run newsroom. Every dime we make funds reporting from Chicago's neighborhoods.
Already subscribe? Click here to support Block Club with a tax-deductible donation. 
Listen to "It's All Good: A Block Club Chicago Podcast" here: