BRONZEVILLE — Chicago icon Etta Moten Barnett's colorful and historical estate is up for sale this weekend in Bronzeville.
Barnett was, by all accounts, a force: The actress, singer and philanthropist counted Franklin Delano Roosevelt and Sidney Poitier among her devoted fans. When she died at 102 in 2004, she'd inspired generations of performers, from Lena Horne to Halle Berry.
During the sale, Chicagoans will be able to shop from the national icon's personal effects. Estate liquidators Lynne and Ty McDaniel, who run Estate Sale Goddess, have been tasked with organizing hundreds of items for sale, including designer suits, books, letters and art.
The estate sale is 9 a.m.-3 p.m. Sept. 18-19. For more information, contact Lynne McDaniel — also known as the Estate Sale Goddess — at 312-450-9821 or follow her on Instagram here.
When Barnett's family contacted the McDaniels two years ago, they weren't quite ready to share her collection with the world. Now they are — and for Lynne McDaniel, being involved is the ultimate honor.
"It's humbling. There are lots of people who know her and lots who don't," McDaniel said. "This is a moment in history."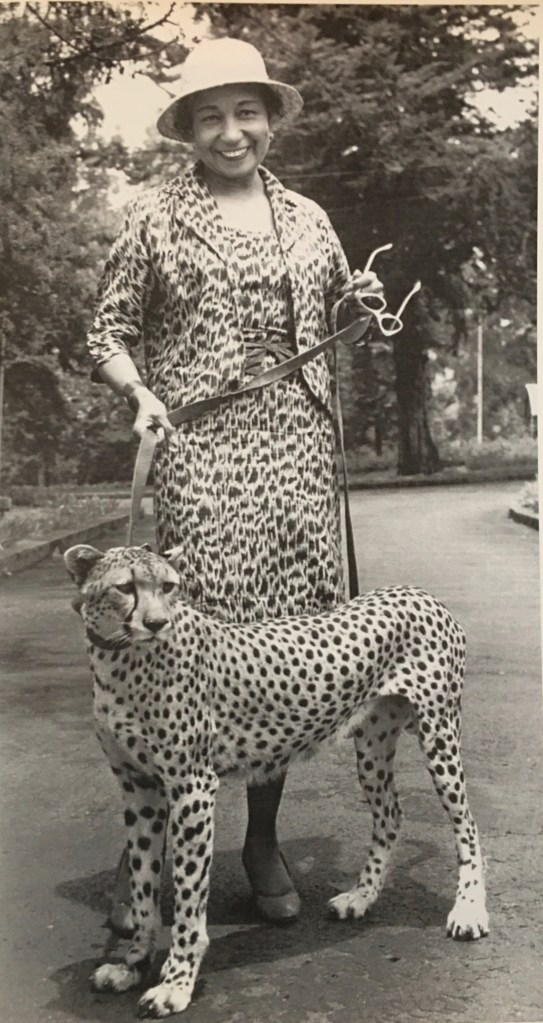 Barnett lived with her husband, Negro Associated Press founder Claude Barnett, at their 12-room South King Drive brownstone. She stayed there until her death.
Several years after Barnett's death, her daughter sold the home to two investors for $1.13 million. It went back on the market a year later, languishing until another owner bought it in 2015.
In poring over Barnett's prized possessions and talking to her family, McDaniel has been able to get a sense of who the star was and what she meant to so many.
"This is a woman who is traveling the world on a diplomatic passport in the '20s and '30s. That speaks volumes about who she was and what she did," McDaniel said. "She was someone who came from humble beginnings and worked hard to get far."
Former Ebony editor Joy Bennett, who interviewed Barnett several times toward the end of her life, remembered the performer as a quick-witted professional wholly invested in her career.
Barnett was 96 when she talked with Bennet — and told her she only recently stopped wearing high heels. She regaled Bennett with stories from Hollywood's golden age; it is believed that composer George Gershwin created the role of Bess in "Porgy and Bess" for Barnett, who damaged her voice singing a song from the musical.
"When she was cast in her first role as a widow — not a maid — the Black press rejoiced and called her 'the new negro woman,"' Bennett said.
The star stuck with Broadway after appearing in two films, "The Gold Diggers" and "Flying Down to Rio," where she played a Brazilian singer. She made history again as the first Black female performer invited to the White House in 1934.
"She'd say, 'The difference between a rut and a grave is the depth, and I don't want to be stuck in either one,'" Bennett said.
After conquering stage and screen, Barnett turned her attention to humanitarian causes, representing the United States overseas as she traveled with a delegation to several African countries. The work was a way of honoring her husband, who died in 1967.
Scores of celebrities turned out for Barnett's 100th birthday celebration at the Hyatt Regency Chicago, including Harry Belafonte, Berry and Poitier — the latter sending her a letter declaring her "the most incredible amazing, voluptuous, dignified and sensual actress to grace the Broadway stage in my lifetime."
Through Barnett was born in Texas in 1901, her marriage brought her to Chicago. She supported the arts and social justice causes here until her death.
"She was a trailblazer. There were no models for what she was doing," Bennett said. "You put it against the framework when she started — lynching was still common, segregation was still common — the progress she made, the impact. She was a predecessor for so many."
Subscribe to Block Club Chicago, an independent, 501(c)(3), journalist-run newsroom. Every dime we make funds reporting from Chicago's neighborhoods.
Already subscribe? Click here to support Block Club with a tax-deductible donation.
Listen to "It's All Good: A Block Club Chicago Podcast" here: