WEST RIDGE — Jowell Young practiced on Wednesday at Warren Park Field House with the basketball he'll use next year as a college player in the Philippines.
It's slicker with a firmer grip, but Young said he's shooting better since the switch. His coach Jo Gotangco let him have it — it's a gift, and an opportunity to get ready for hoops in a basketball-obsessed country.
Gotangco runs Fil-Am Nation Select Chicago, a North-Side-based basketball community of predominantly Filipino-American hoopers who are mostly in high school. While basketball is popular in Filipino culture, players of Asian descent are significantly underrepresented in the sport in the United States.
Gotangco is on a mission to increase opportunities for Filipino-American athletes and counteract the model minority myth within sports. With a series of summer workouts, Fil-Am is providing a platform for Filipino Americans who are often not taken seriously as athletes.
"A lot of Filipinos are [overlooked] because of our height. You don't see a lot of Filipinos playing on varsity," Young said. "The Asian community can play basketball, and a lot of people underestimate us."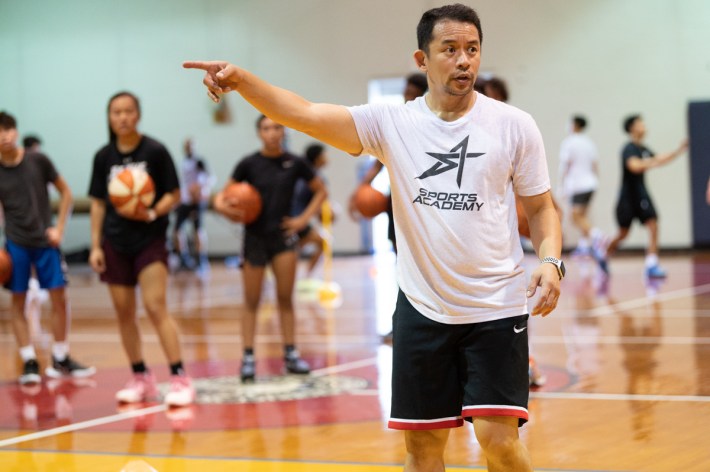 Fil-Am connects Chicago players overlooked in the United States to full-ride basketball scholarships at colleges in the Philippines. Young, who will attend Perpetual Help College of Manila, is one of 11 players Gotangco has sent to the Philippines since he started training Chicago's brightest Fil-Am players in 2008.
Through word-of-mouth and countless hours networking, Gotangco has expanded his basketball community to unsung players from all around the Chicago area.
"The Asian communities have always been left out. We got left out for not being called basketball players, or athletes in general," Gotangco said. "So we just got to build confidence with these athletes — especially the youth — so they know that we can compete at the top stage."
Young described his chance encounter with Gotangco as "meant to be." The speedy point guard was originally planning to enroll at Oakton Community College without a scholarship and with the possibility of leaving basketball behind. Young was still on the junior varsity team as a junior in high school. At one game, Young was left wide open and unguarded by opponents who assumed he couldn't play, he said.
After his senior season, Young casually tagged along with a friend for a workout with Gotangco.
Gotangco knew a coach in the Philippines looking for scrappy, underdog players. He recognized Young's talent when others hadn't.
"I just came to work out. He gave me the opportunity, and I took it," Young said. "I consider Jo as my Yoda. He's my mentor. He teaches me everything. And he has so many connections; it's crazy."
Gotangco said he's been trying to quit for years. He has two young daughters and a full-time job. But his phone keeps dinging with messages from kids looking for help with their games. He got his work done early Wednesday and held a clinic at Warren Park for anyone interested, from youth rec leaguers to future Filipino pros.
"Who am I to turn down these kids?" Gotangco said. "I had dreams of playing at a higher level. And if I can bring a kid to fulfill the dream, that I was trying to dream before, that's the reward. That keeps giving back to you."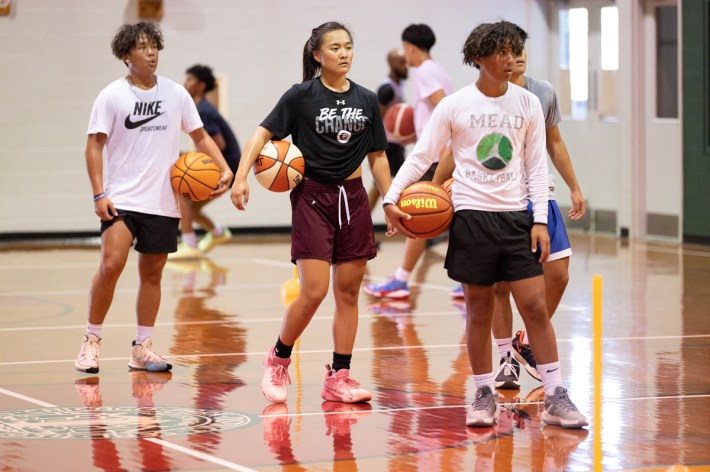 The coach speaks of Julius Pasculado with pride: Pasculado was his first player who went on to be a top selection in the Philippine Basketball Association. The next year, Gotangco doubled his personal capacities, helping two brothers get the chance to play together at the University of the East in Manila.
That was just the start of Gotangco's work.
On Wednesday, about 30 of his players breathed life into the gym, running drills with speed and tenacity, a signature of the Filipino style of play.
Coach David S. Smith, an elementary school teacher and former Division I player, said Gotangco spotted him in the gym one day, walking gingerly after a lingering ACL injury. Gotangco trained Smith through his recovery. He became a pro player and a second coach for Fil-Am.
"Basketball gives you an opportunity to work with people that aren't like you. Basketball gives you an opportunity to share your culture and learn new cultures," Smith said. "This is for Asian Americans, but also it's for the minority basketball player — any player that is overlooked."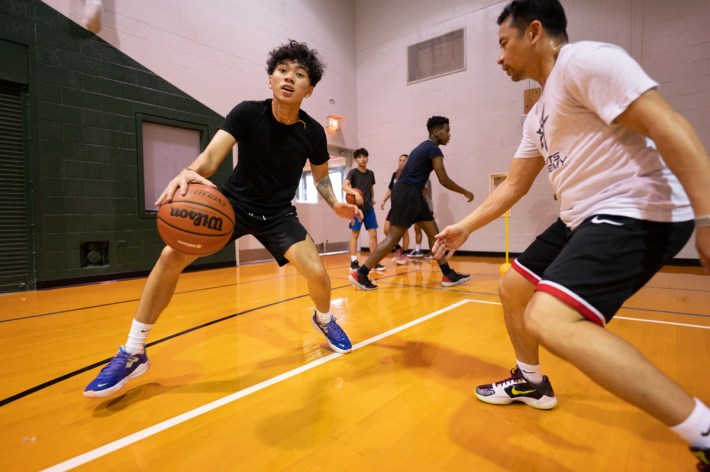 Fawaz Surakat grew up in Nigeria playing soccer. He moved to the United States and attended Sullivan High School, growing to 6-foot-8 by his senior year. Surakat got involved in training with Gotangco that year, committed to learning the fundamentals of a game he hadn't played before.
On Wednesday, Suraket executed a high screen and roll, running to the rim for a thunderous alley-oop. Suraket now has an opportunity to play basketball at a prep school in Texas.
"I was the only Black kid. There were a lot of Filipinos. But I really loved it. They all pushed me; they all wanted me to work hard. We all worked hard together," Suraket said. "It's a cultural thing. This diversity with other people. Especially if you get to meet them. They're really nice people. They just want to work."
With a tight handle, Arielle Dabu darted toward the rim and laid it up with a two-handed finger roll. The recent Loyola Academy grad has a scholarship to Florida Southern College, a top basketball program in Division II.
Dabu once played in an all-star game where a host made a racially insensitive joke. She responded by knocking down her next two shots.
"So I try to just prove myself, every single time," Dabu said. "Don't sleep on us Fil-Am people. We're just as important to the game as anybody else."
Jalen Axibal has been training with Gotangco in hopes of earning a walk-on spot at the University of Illinois. The Loyola Academy graduate is inspired by players like Jalen Green, who last month broke barriers as the first Filipino-American player drafted in the NBA lottery.
"Hoopers are hoopers," Axibal said.
Gotangco hopes Fil-Am can continue to expand its footprint in Chicago. Last month, he attended a coaching camp in Los Angeles with Phil Handy and got to spend time with Jordan Clarkson, the only other Filipino-American player in the NBA.
It won't be possible to quit anytime soon. Gotangco's 8-year-old daughter, Shina, now loves basketball, too.
"My dad trains all these kids, and there's only one of him," Shina said. "It doesn't matter what color you are. It matters if you have game."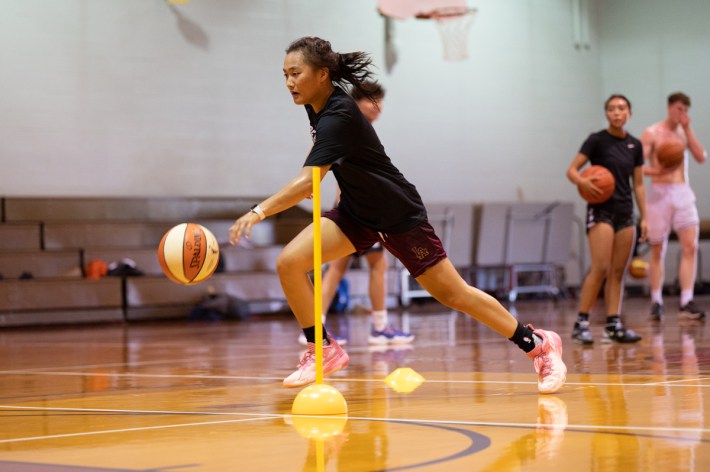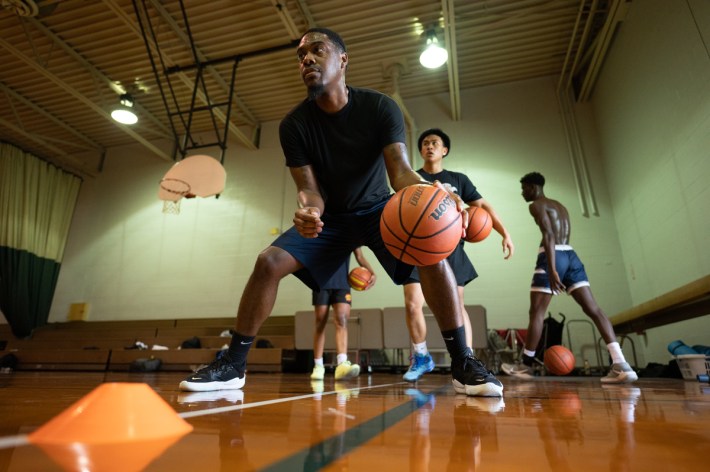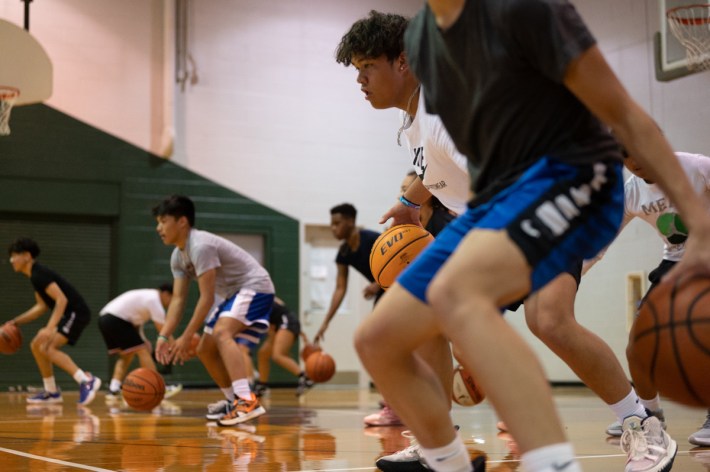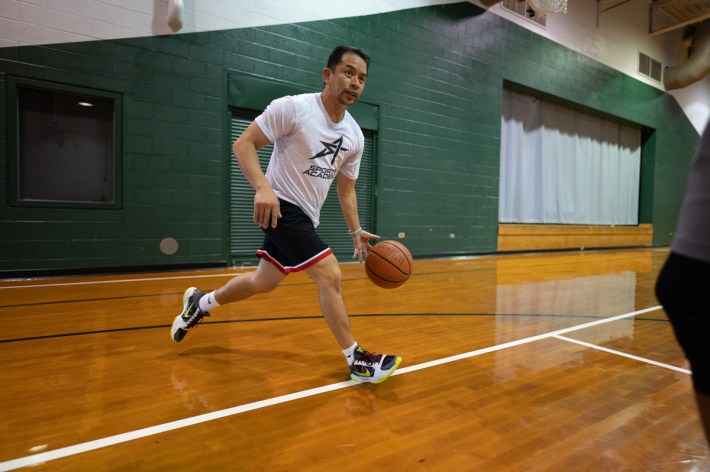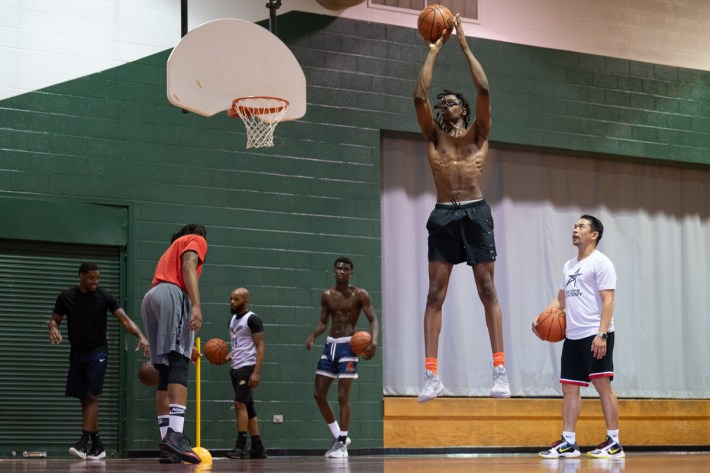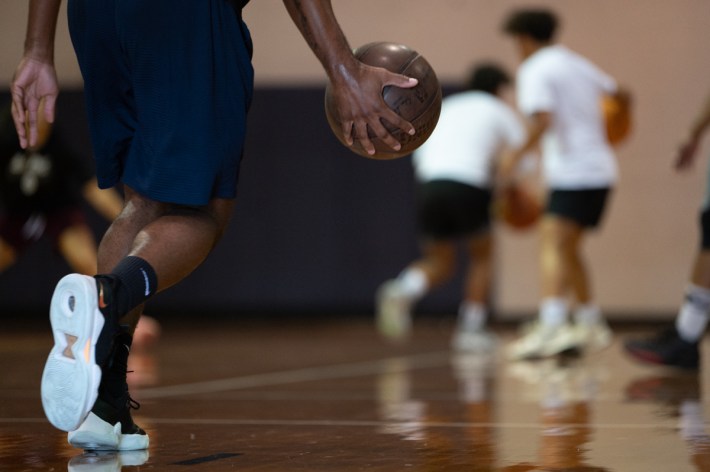 Subscribe to Block Club Chicago, an independent, 501(c)(3), journalist-run newsroom. Every dime we make funds reporting from Chicago's neighborhoods.
Already subscribe? Click here to support Block Club with a tax-deductible donation.
Listen to "It's All Good: A Block Club Chicago Podcast" here: