NORTHALSTED — Human rights activist Myles Brady Davis has always steered clear of Northalsted's gay bars because they don't feel comfortable as a person of transgender experience.
For starters, being asked to present an ID can be traumatic for transgender people, Brady Davis said. Brady Davis, communications director at Equality Illinois, was among three panelists Thursday at the Center on Halsted, 3656 N. Halsted St., who shared their experiences in the neighborhood's gay bars and discussed ways they could be more inclusive.
"Before I got my name changed, I had an ID that listed my dead name, so if I was to go to a bar, it would be a very uncomfortable situation for me," Brady Davis said. "I'm also Black, so it's like on top of being Black, now I'm trans, so this person is really in a situation to bring harm on me."
Bars need to do better at educating their staff about respecting transgender people to make their establishments more inclusive of the community, Brady Davis said.
"When you're trans and change your name, it's $500 and a very long process, so getting your ID changed is not accessible to everyone," Brady Davis said. "Bar owners should take that extra step to train their staff on how they could put a trans person in a very uncomfortable situation if they 'out' them by saying, 'This doesn't match.'"
Brady Davis was joined on the panel by Kim Hunt, executive director of Pride Action Tank and co-host of Outspoken, a monthly storytelling show at Sidetrack; and Milani Varela, a Latinx, gender-nonconforming drag queen and activist.
The Open and Proud panel was organized by Miller Lite and the Equality Federation to develop training materials for the 55,000 bars where Miller Lite is sold. It was the first of many town halls across the country aimed at gathering feedback and insight to create these trainings.
"Our goal today is to hear directly from you to hear about your experiences, challenges and hopes for bars and restaurants — gay and straight — and how they can serve all members of the LGBTQ community," said moderator Jo MaMa, head co-chair of the Chicago Black Drag Council, which organizes the annual Drag March for Change.
From selectively checking for multiple forms of ID at the door or enforcing nonsensical dress codes to banning certain types of music, the panelists shared the many ways they've witnessed discrimination in the Northalsted neighborhood. They also shared solutions to make the bars more inclusive.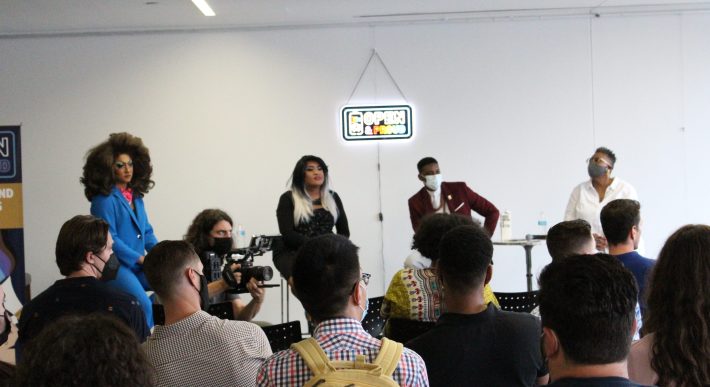 The panelists discussed the neighborhood's "intense racism" problem, which has been highly publicized in events like bars trying to ban rap music and a store selling confederate flag merchandise.
"One thing the LGBTQ community doesn't talk enough about is our community is just a smaller version of the larger community, and there is intense racism," Brady Davis said. "I think the most racism I ever felt — and I lived in Arkansas for five years — was right here in Boystown."
Varela said she's also experienced racism in Northalsted since she started visiting the neighborhood as a kid under 21.
"It has always been a white, cisgender, gay men's world in this community, but that's changing," Varela said. "And that's because of people like us, who talk about these situations with management and bar owners so people can feel included at these establishments."
Key to these efforts is diversifying staff so that all patrons can see themselves reflected in bars' workers and management, the panelists said.
"For example, I work at Hydrate and back when I was 21, I remember seeing a staff picture and it was all white, cis, gay men with one Black person," Varela said. "Now, because I make sure to hook up my friends when there's a job opening, the bar staff is predominantly people of color, and that's what we need to see."
Allies are needed to make these kinds of safe spaces, Hunt said, but they need to educate themselves "outside of the bar" so they can "bring this awareness to all spaces around them."
"Inclusion is not a destination," Hunt said. "It's an ongoing thing that you have to work at constantly."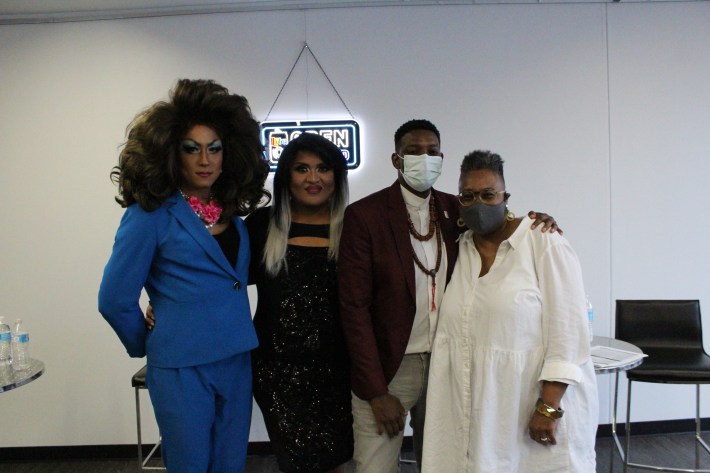 Jake Wittich is a Report for America corps member covering Lakeview, Lincoln Park and LGBTQ communities across the city for Block Club Chicago.
Subscribe to Block Club Chicago, an independent, 501(c)(3), journalist-run newsroom. Every dime we make funds reporting from Chicago's neighborhoods.
Already subscribe? Click here to support Block Club with a tax-deductible donation. 
Listen to "It's All Good: A Block Club Chicago Podcast" here: