AVONDALE — Amazon removed some of its controversial delivery lockers installed atop public sidewalks in city parks Saturday after neighbors and local politicians complained, and the retail giant pledged to review similar installations in parks around the city.
Block Club on Friday afternoon first reported on the furor from the Chicago Park District allowing Amazon to bolt an Amazon Hub delivery locker into a sidewalk in Brands Park, 3259 N. Elston Ave. this week.
Within a day, the locker was gone and Amazon pledged to review other Chicago locations. There are plans in the works to install dozens of the blue lockers around the city. Some lockers have been in place for months, irking fans of those parks.
A similar delivery locker installed in the tiny Forest Glen Playlot, 5073 W. Berwyn Ave., was also removed this weekend after Ald. Samantha Nugent (39th) and others objected to it.
"We value the community's feedback and are taking action to respond to these concerns," Av Zammit, an Amazon spokesperson told Block Club. "We are working with the Chicago Park District to remove this Amazon Hub Locker from its current location as soon as possible. We are also reviewing our other Locker installations in partnership with Chicago Park District to ensure they are all located in appropriate areas that serve both customers and the community."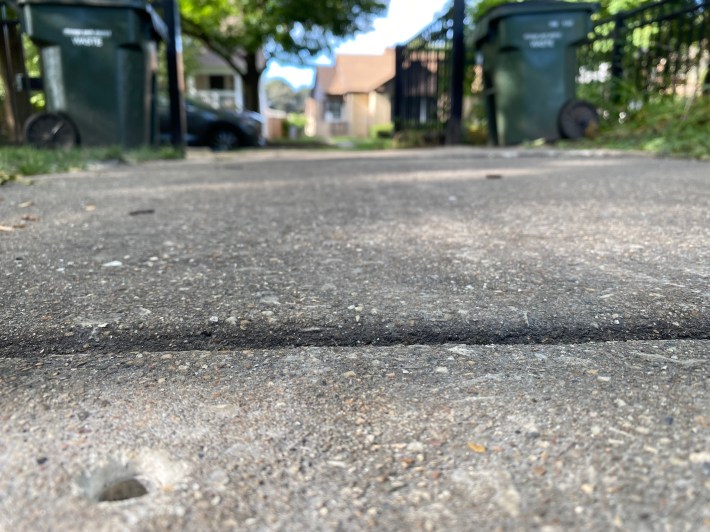 Amazon installed the large Amazon delivery locker in Brands Park Thursday, quickly drawing scorn and bewilderment from park users and Ald. Rosanna Rodriguez (33rd). It was bolted to the sidewalk in a bend in the park, creating a chokepoint because of a nearby fence.
In Facebook comments, locals said the new Amazon "hub" is not only unsightly, but is also a glaringly obvious safety concern because it prevents people with strollers and people in wheelchairs from easily passing through the public park.
"This looks so absurd I can't even believe it's real," one neighbor commented on Facebook.
Another wrote: "who the heck green lighted this massive boondoggle? please report to your alderman if you live in this ward. disgust!"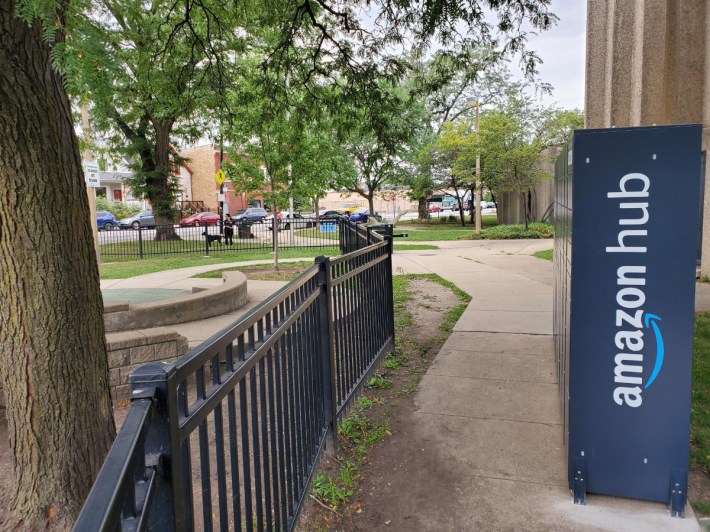 Rodriguez said a Park District supervisor told her the lockers in the park were installed there by mistake. Chicago Park District spokeswoman Irene Tostado wouldn't confirm, saying only, "The locker was installed in the correct park."
Rodriguez on Friday asked the Park District supervisor to move the lockers to a more appropriate location.
Rodriguez said her office fielded numerous complaints from constituents since it was installed in the park. She said she was stunned when a neighbor sent her photos of the lockers, which were stationed on the sidewalk near the playground.
"It just looks crazy," the alderwoman said. "I don't even understand how someone could've thought that was an OK place to put it."
Many have broader concerns about Amazon's presence in public parks. About 100 people have signed an online petition calling on city officials to "keep our parks community spaces free from predatory businesses like Amazon." The company has long been criticized for its poor treatment of its workers and grueling workplace conditions.
"To go to a place that is a public good, a place of recreation, and then see the branding of one of the most anti-worker companies in the world … it's so disturbing," Rodriguez said.
RELATED: Amazon Installs Huge Lockers On A Chicago Park's Sidewalk, Confusing And Frustrating Neighbors
A total of 68 Amazon lockers are being installed at Chicago parks across the city, according to a list provided by the Park District. Some have already been installed, and others are being installed later this month. The full list is below.
Rodriguez said the lockers are a symptom of a larger budgetary issue the city is facing.
"When you have public institutions that are not well-funded, and can't function with the budget they're provided by the government, they need to look for other sources of revenue. This is how we get a company like Amazon to have a presence in our public parks. It's disheartening," the alderwoman said.
Tostado didn't immediately answer a question about how much revenue the partnership will bring the city.
"It is beyond inappropriate for Amazon's business paraphernalia to block public access in park," said Juanita Irizarry, executive director of Friends of the Parks. "But even if it were placed somewhere out of the way, this is not an appropriate use of public property. Chicago's parks should not be for sale."
Here's where the lockers are being installed around Chicago:
Subscribe to Block Club Chicago, an independent, 501(c)(3), journalist-run newsroom. Every dime we make funds reporting from Chicago's neighborhoods.
Already subscribe? Click here to support Block Club with a tax-deductible donation.
Listen to "It's All Good: A Block Club Chicago Podcast" here: