AUBURN GRESHAM — Controversy over an affordable housing development in Auburn Gresham is deepening as some residents push city leaders to focus on reducing gun violence in their neighborhood instead of bringing in new residents.
For months, neighbors have criticized Auburn Gardens, a $20 million affordable housing project slated for a city-owned vacant lot on 79th Street. City leaders say this type of high-density housing will be a boon for the community while some residents say they would rather have things like grocery stores instead.
But some want driving down crime to be first on the list, especially after at least 12 people were shot in separate mass shootings last weekend. For some residents, it's part of a larger trend of city leaders investing in their area in ways that don't always align with their priorities for their own communities.
"The acknowledgment that the community knows best what's best for the community needs to be the overarching driver of what happens in a neighborhood," said Tim Thomas, an Auburn Gresham resident since 1962. "That's not happening right now. The other parties may have their financial investment, but we have our lives invested in this, and that's a lot different."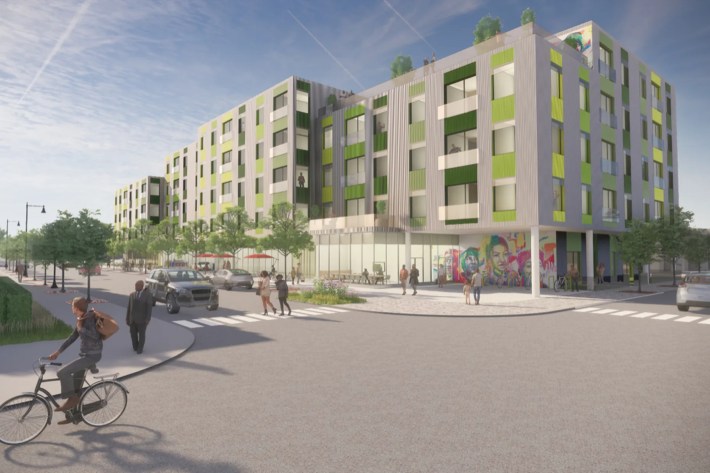 The complex, 838-58 W. 79th St., is part of the INVEST South/West plan, an initiative created by Mayor Lori Lightfoot to bring development to West and South Side neighborhoods. 
Evergreen Imagine JV, a joint venture between the Imagine Group and Evergreen Redevelopment, was the only bidder for the site and got the green light to move forward in March.
Amid pushback, developers said in June residents could be left with no development at all if they didn't support a proposal that includes housing. Originally pitched as a 62-unit complex, developers announced in late July the project will be redesigned and split into one 26-unit building on 79th and Green, and another 24-unit building on 79th and Halsted.
The Park Supper Club, a restaurant, and the Sports Shed, a nonprofit organization that gives athletic equipment to students, are could potentially move into the building's retail spaces.
"INVEST South/West is a commercial corridor revitalization strategy that's partly premised on the proven concept that density, pedestrian activity, retail and housing options, and tactical urbanism can enhance public safety and community cohesion," said Peter Strazzabosco, deputy commissioner of the Chicago Department of Planning and Development.
"By replacing two vacant blocks in the heart of Auburn Gresham with these types of improvements, the 79th and Halsted proposal can help address residents' safety concerns while also supporting the market for other neighborhood needs, like a grocery store, pharmacy, bank and other amenities that all Chicagoans expect and deserve," Strazzabosco said.
But some neighbors are hesitant to accept the new deal and worry about making the neighborhood safer for current and future residents.
"We're doing our job as residents, and we are caught in the crossfire," said Rhea Steele, who's lived in the neighborhood for 60 years. "And then you want to build another high-density housing project, but there's no increase in police protection or a conversation about that. It just doesn't make sense. It's almost like they want to wear you down with absurdity."
Two mass shootings hours apart Sunday left two people dead and at least ten others wounded, according to the Sun-Times.
The first happened around 12:50 a.m. Sunday in the 8300 block of South Halsted Street at the Mini Club. A man opened fire outside of a club when two male security guards wouldn't let him inside, police said. One guard, 40, died at the hospital. Four other people were hurt.
The second shooting happened just after 2 a.m in the 1800 block of West 87th Street. A 24-year-old man fired shots at Lemelle's Luxury Lounge after arguing with a 37-year-old man, police said.
The 37-year-old, later identified as Stephan Roberts, died according to the Sun-Times. Six others, including the shooter, were hurt, according to police. 
"I don't know what the problem is," said Ald. Howard Brookins (21st), who oversees the ward where both shootings occured. "I don't recognize this behavior. When I was growing up, people weren't getting shot for this type of pettiness. People weren't shooting the police because they got pulled over. There is obviously something we're not doing that we need to do. I am at a loss for words."
Ald. David Moore (17th) said he takes a hands-on approach, driving around at night to surveil the neighborhood, working with block club leaders to assess problem areas and giving neighbors his number to call when the police don't respond.
According to Moore, that work has led to less crime in his ward. 
"Is everybody going to be pleased? No," Moore said. "But I will serve everybody and do my best as an alderman to make sure that people are informed and educated."
As for how the 79th Street apartments fit into that, he feels the development can help solve the community's problems, not create more. Despite negative feedback from some neighbors, Moore said there are plenty of other residents who support it. 
"Just because [some residents] scream doesn't mean that they have the right voices in the community," Moore said. "Just because they're the loudest voices does not necessarily mean that they are the right voices. I have to listen to all my residents, not just three or four residents in a six-block radius." 
Community members will meet again with city officials Thursday to discuss the fate of the housing proposal. 
Steele said she hopes the concerns of the community will be at the top of the list following Sunday's shootings. But she's not holding her breath.
"All I know is that, if you go back to the civil unrest [that happened this summer], you can look at that as an example of what this city cares about," Steele said. "When the bridges went up, downtown Chicago was protected, and the rest of us were left out. That was a visual that should've spoken loudly to everyone in the community." 
Subscribe to Block Club Chicago. Every dime we make funds reporting from Chicago's neighborhoods.
Already subscribe? Click here to support Block Club with a tax-deductible donation.