PORTAGE PARK — No matter the time or day, business is constant at Hagen's Fish Market.
Open 10 a.m. to 8 p.m seven days a week, the longtime family-run fish shop at 5635 W. Montrose Ave. is a community staple that has served the Far Northwest Side since 1946 — and many of those at the helm have been women.
"It started with my grandpa, who started it with my grandmother and his brother but it was [passed] through my mom and now to [my sister] and I," said Tammy Jesse, a third-generation Hagen and the current co-owner of the shop.
"So I think it's kinda cool that it's a pretty strong company with female leads."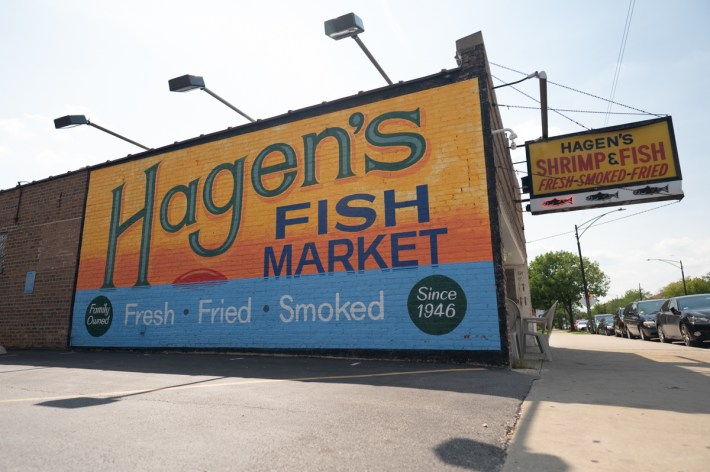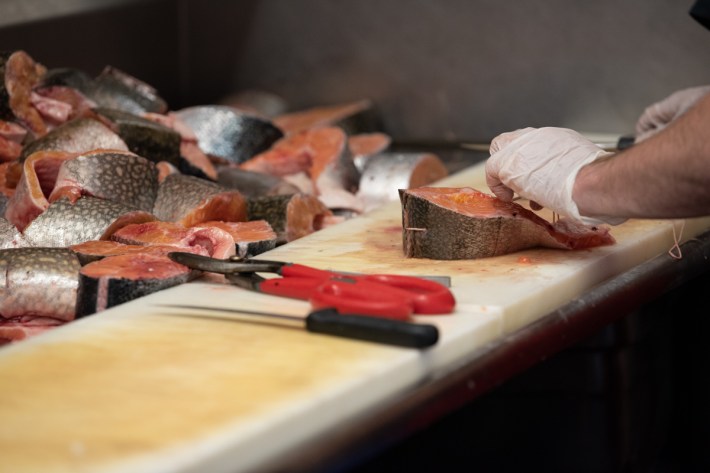 This summer, the beloved shop celebrates its 75th anniversary and is thriving, despite a pandemic and the woes of the fish industry affected, in part, by climate change and the decreasing supply chain.
And that's thanks to the loyal customers who regularly fill the small but quaint shop that carries a plethora of fresh fish, snacks and sauces, and has one of the last surviving natural hardwood smokehouses in Chicago.
Jesse said the smokehouse was grandfathered in and it's one of two left in the city. The other is at Calumet Fisheries in South Chicago.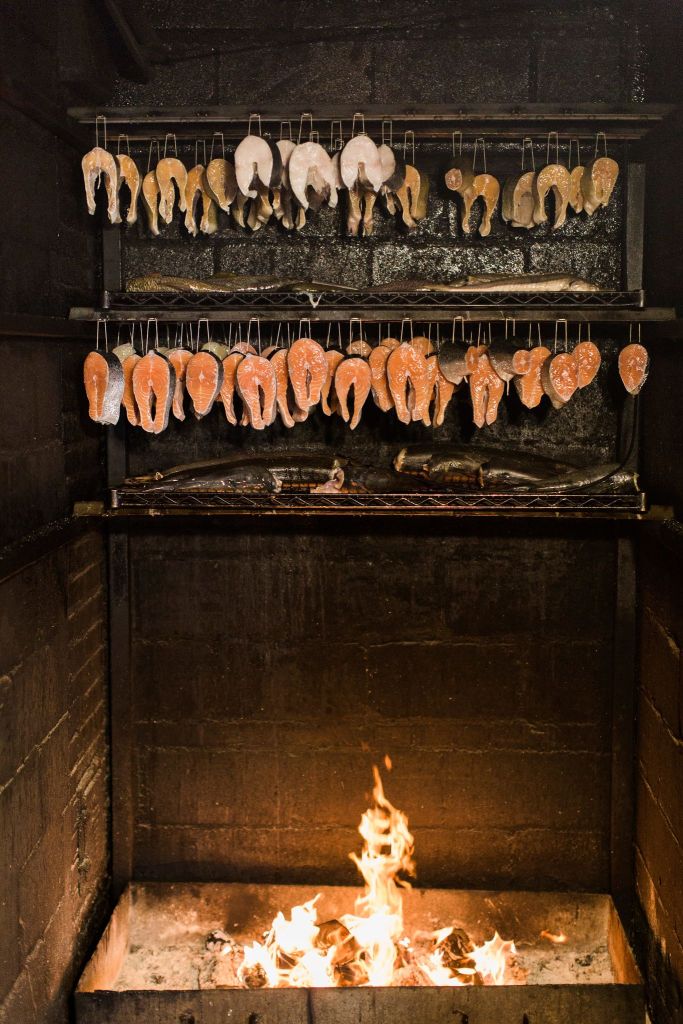 This signature, hand-made smokehouse makes Hagen's the place to go if people want their own fish smoked. Jesse said customers often come in after long fishing trips from Canada and the Midwest for the shop's smoking service.
The fresh wild fried shrimp on the menu — that still uses the longtime family recipe started by the original Hagens — is another popular draw, she said, as well as candied salmon fillets that have a sweet and savory taste.
The business started in 1946 when the Far Northwest Side was still farmland. The two Hagen brothers, Don and Bennett, who hailed from Washington Island, Wisconsin, came from a Norwegian fishing background. Their father mortgaged the family home so they could spread their wings and start their own business with their wives.
They picked the area that is now Portage Park — but back then, there was nothing around, Jesse said.
"People thought [my grandfather] was crazy because there was no one living up here," she said. "The neighborhood grew up around us and we love it because it's a great neighborhood, a great area to be."
The Hagen family not only bought the land that the shop sits on but also the building next to it that has also been passed down through the generations. Eight years ago, after having grown up in and around the shop and then moving away to the suburbs for a few years, Jesse returned to her stomping grounds and bought the property from her parents.
Now, she lives next to the shop and her sister lives across the street.
"We are like a little compound," she said. "It's so nice to be able to run back and forth."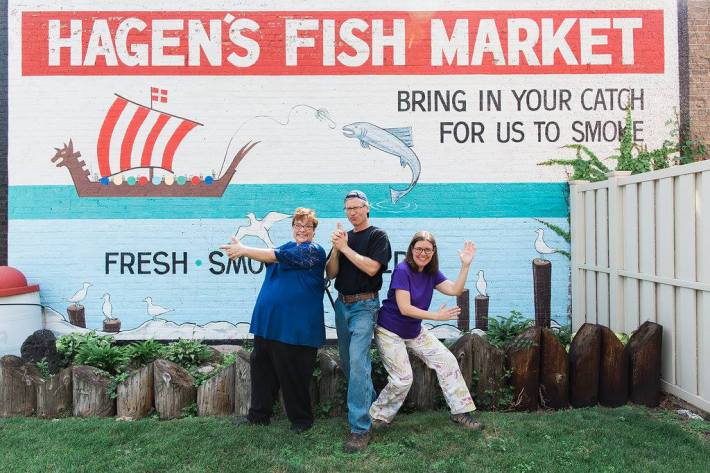 Jesse, her sister Julie Johnson and her husband Scott have owned the shop for the last 20 years or so, always leading with a family atmosphere that has kept longtime employees and customers coming back.
Northwest Side Sen. Rob Martwick, who lives a block away from Hagen's, grew up going to the shop with his parents when he lived at Belmont and Cumberland avenues. On Fridays, his family would order smoked fish and fried shrimp from the shop.
"We would also fish a lot out on Lake Michigan and catch salmon," Martwick said. "On the way back, we would park our boat on Belmont Harbor and drive to Hagen's to get our fish smoked."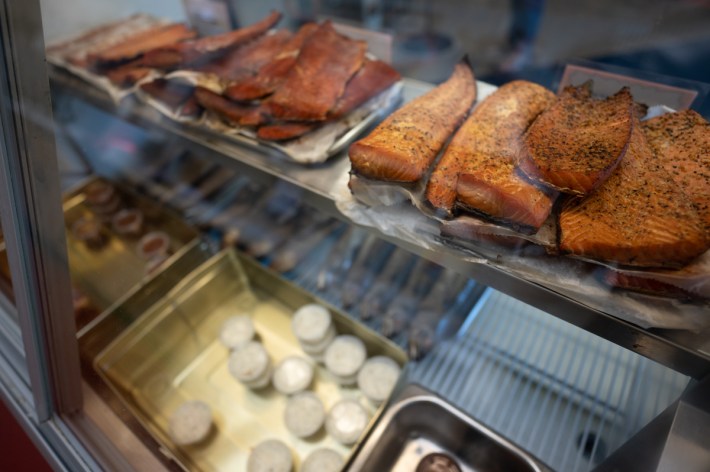 Now, he takes his own kids there. When the pandemic hit, its significance grew because of its history and memories in the neighborhood that resembled normalcy when it felt far away.
In 2020, Hagen's transitioned to selling fish outside of its back window when much was still unknown about COVID. Jesse said lines were out onto the sidewalk for fresh fish, especially during the holidays, which is a busy time for the business.
"People were freezing waiting outdoors — it shows you what that place means to people in the neighborhood," Martwick said.
Hagen's also helped Martwick's health. After a heart attack in 2016, he changed his diet and began eating more fish from the shop. With few healthy options in Springfield, he often brings fish salads with avocados and keeps them in his work fridge.
After sharing the fish with his colleagues at the capital, he said they were hooked.
"Colleagues from all over the state come to Hagen's to pick up smoked fish," Martwick said.
To celebrate the shop's anniversary, Martwick and Northwest Side Rep. Lindsey LaPointe delivered certificates to the owners to thank the business for its service to the community and commemorate the milestone.
The owners hope to host a big celebration sometime next year for the 76th year because of the pandemic.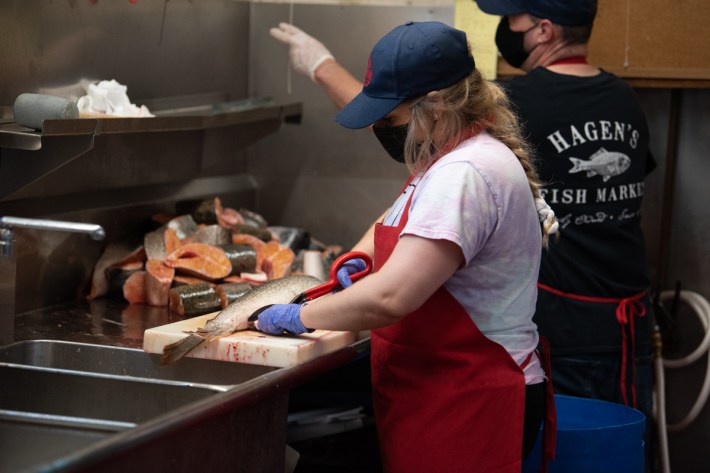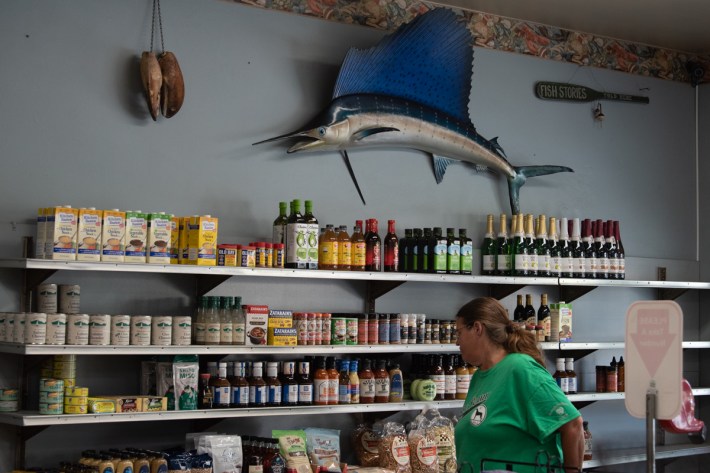 It's a running joke that the exact date of when Hagen's opened is unknown, but Jesse said her grandfather would always say, "sometime in the summer."
Jesse's grandfather Bennett died in 2009 and her great-uncle Don died in the 1960s, according to the Chicago Tribune. But apart from a few necessary changes to the shop — red floors, new countertops, updated exterior murals — the look and feel of Hagen's is the same as it was 75 years ago.
She is hopeful that at least one of her two children will follow in the family tradition and keep Hagen's going for many years to come. But for now, she's content running the shop with her family which means a lot to the community.
"It's a weird little business, I'll tell ya," she said.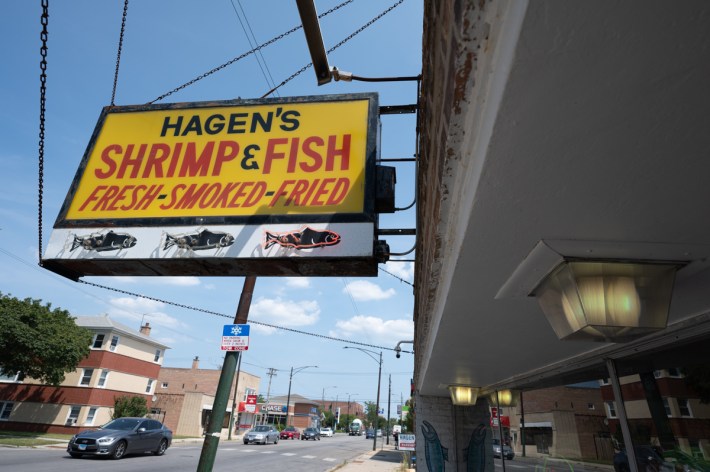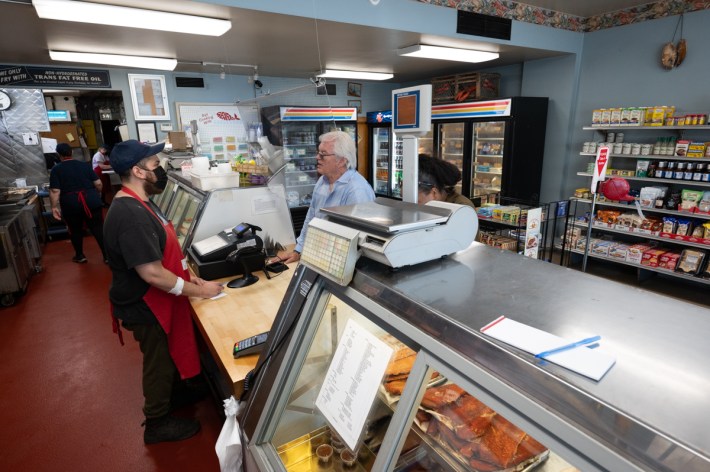 Subscribe to Block Club Chicago. Every dime we make funds reporting from Chicago's neighborhoods.
Already subscribe? Click here to support Block Club with a tax-deductible donation.
Listen to "It's All Good: A Block Club Chicago Podcast" here: