KENWOOD — Tenants at a Kenwood affordable housing building with dozens of code violations want a Cook County judge to appoint someone to oversee the property, saying the owner and manager aren't moving fast enough to fix the litany of problems.
Residents at Ellis Lakeview Apartments, 4624 S. Ellis Ave., have pressured building owner Apex to resolve a broken elevator, plumbing issues and other complaints for nearly a year.
In two years under Apex's watch, the building has failed 23 city inspections and racked up 151 code violations, which are being litigated in a municipal court case and an administrative hearings case.
At a Tuesday hearing, city inspectors detailed ongoing issues with smoke detectors, plumbing and fire systems. Apex also is facing a September deadline to fix leaky toilets, standpipe valves and faulty smoke detectors.
Apex also has not complied with U.S. Housing and Urban Development demands to replace Ellis' property manager, Integra Affordable Management.
Residents say it's time for a receivership, which would bring in a court-appointed, independent property manager to coordinate repairs and charge the bill to Apex. Several elected officials are backing the demands for court intervention of the building.
"How many chances are we supposed to give this owner?" Ellis Tenants Association chair Tonnett Hammond said. "The irresponsibility is in your face … this building needs to go into receivership."
Apex bought Ellis Lakeview for $10.75 million in August 2019, according to Chicago Cityscape.
In a Dec. 2020 story, Block Club detailed how residents of the 105-unit building complained to HUD officials for months about piled up trash, mice and roaches, water damage and dirty, running water.
RELATED: Mice-Infested, Trash-Ridden Kenwood Apartment Building Is Falling Apart, Residents Say As They Beg Feds For Help
City and federal officials have intervened in recent months.
Federal housing officials cited Apex and Integra earlier this year for failing to provide "decent, safe and sanitary housing." They also cited Integra for mismanaging finances and tenant files. A review of 11 files "reflected such widespread error in compliance" that investigators required a review of every resident's file for the 105-unit building.
HUD directed Apex to cancel Integra's contract and bring on another property manager in March. It's not clear why that didn't occur.
U.S. Rep. Bobby Rush (D-1st), state Sen. Robert Peters (D-13th) and Ald. Sophia King (4th) are among the elected officials who have supported tenants' calls for receivership. King has been "very solid" with her support, and tenants appreciate Peters for coming "to the 'hood and inside our apartments" to see living conditions for himself in June, Hammond said.
Receivership "will ensure responsible rehabilitation and maintenance of the building, which has clearly been lacking," Rush's spokesperson Naomi Savin said.
"There have been serious, well-documented, and repeated problems with the living conditions at the Ellis Lakeview Apartments, which have negatively impacted tenants' health, safety, and quality of life," Savin said.
State Rep. Curtis Tarver (D-25th) declined to weigh in on a court-appointed receiver. He joined other elected officials in drafting a letter of support for improved living conditions and is willing to "highlight this issue for [tenants] publicly, but I can't get involved in an active court case," he said.
"I think the unfortunate reality is that would be leveraging the office for something that's outside of the state's business," Tarver said.
However, the municipal court case must be resolved as quickly as possible, he said — and "obviously, things are not moving quickly enough if individuals are living in squalor." The city filed its housing complaint against Apex on March 26.
"I would like to see a fair process, but a process that's not able to be dragged out because an entity can hire savvy attorneys," Tarver said.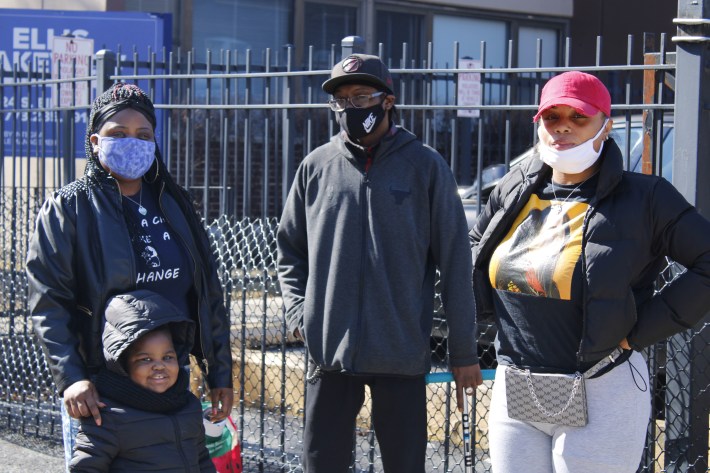 Representatives for Peters' and King's offices attended Tuesday's court hearing. The municipal court case aims to address "building code violations and [ensure] the owner is getting this building to where it needs to be," Cook County Circuit Court Judge Lisa Ann Marino said.
Attorney Stephanie Jones said months ago "the added challenge of the COVID-19 pandemic" — alongside "the age of the property and the conditions when it was acquired" — meant the companies' attempts to provide good living conditions were "a work in progress."
The building will undergo a fire pump test Aug. 25 and another building inspection Sept. 15.
The next hearing regarding code violations is Sept. 28. Apex must remedy the toilets, valves and smoke detectors before then. Attorney Shomshon Moskowitz, who represents Apex and Integra, tentatively agreed to a timeline for the repairs over the coming weeks.
"The court is I'm sure aware of supplies being low these days everywhere," Moskowitz said.
An administrative hearings case about the building's faulty elevators also is ongoing.
The east elevator's motor overheated and stopped working during a recent city inspection. Apex wants to buy air conditioners to keep the motor cool, but that's a temporary fix "in lieu of doing the right thing and replacing the actual elevator motors," fire inspector Robert Steffens said.
Tenants have detailed for months how they've been inconvenienced by the unreliable elevators. But they're a public safety issue, as well, Steffens said, as functioning elevators are essential to a quick fire response.
"That saves my firefighters from carrying 250 pounds of gear up 60 feet," Steffens said.
Subscribe to Block Club Chicago, an independent, 501(c)(3), journalist-run newsroom. Every dime we make funds reporting from Chicago's neighborhoods.
Already subscribe? Click here to support Block Club with a tax-deductible donation.