GARFIELD PARK — Children's baseball has turned into a way to promote peace on the West Side.
Local violence prevention group The BASE Chicago and Garfield Park Little League recently held what they described as a "weekend for peace" at the baseball fields near South Independence and West Jackson boulevards. They brought together kids to play — and to demonstrate against violence as shootings and murders have risen during the pandemic.
The weekend started July 30: Youth members of The BASE, also a non-profit travel sports program, led more than 200 people in a protest for peace. Protesters held signs that called to "stop the violence" and created a community art project that honors victims.
Then Saturday, BASE partnered with Garfield Park Little League, MLB and the Park District for a Sandlot Day where kids peacefully played baseball in Garfield Park.
"Whenever you talk about something bad, or try to steer away from something bad, I feel like doing something positive after that is essential," said James Solis, 18, a member of BASE Chicago. "So here we are with our youth, giving them the game of baseball, one of the greatest games ever."
Youth organizers, many of them local high school baseball and softball players, were at the forefront of both events. They wanted the weekend to show what a safe haven in West Garfield Park can look like: older kids being empowered as leaders, and younger kids having a place to play in peace. 
Monique Jones, 19, is on The BASE's dance team and will attend Jackson State University in the fall. At Saturday's part of the event, she ushered kids to their stations: infield practice, home-run derby, softball toss.
"We got everything that kids can do here instead of sitting at home in a bad environment," Jones said. "Some of them probably think they don't have anybody, but they have us."
Uniting parents, community members and kids of all ages around baseball can build a neighborhood support system from the "cradle to the grave," said Jerry Mack, president of the Garfield Park Little League.
That's just in line with what the other groups involved in the event want, as Garfield Park Little League and The BASE Chicago are trying to create a pipeline that will keep kids on track from the time they're playing tee-ball to when they graduate high school.
The BASE Chicago offers competitive travel baseball and softball programs for high schoolers, and it assists Garfield Park Little League with academic support, after-school programs and the fundamentals of the game. It's had success: The BASE will send six members to college in the fall, and many of them started playing ball in the Garfield Park Little League. 
Mack and Frank Brim restarted Garfield Park Little League about 15 years ago. Brim, now the director of Baseball Operations at The BASE, works alongside Mack to connect kids from Garfield Little League to high school travel baseball. 
As Brim readies older kids for the chance to play at the college level, Mack helps the younger ones get started.
"At this age, I just want the kids to fall in love with the game. Coming here on a hot day, playing out in the sun — they got to love to do this," Mack said. "Because there's so many distractions. If I can get them to fall in love with being out in this field, everything else is gravy." 
Mack wears his full uniform even to practices, a sign of respect for the game, while parents, volunteers and The BASE players assist in creating a community safe haven.
Coach Charles Dean pontificated in front of a group of elementary school-aged players, reminding them when to throw to each base. Nobody seemed to mind when Kamau "Lil Runner" Williams, 4, took a quick break, entertaining himself by throwing his glove against a fence.
Mo Hanks and Natoya Johnson of 900 ENT. Smokey Moe'Z BBQ fired up jerk chicken for the little leaguers. When it was time for lunch, De'Angelo Dean, 9, decided to keep playing away. 
"I've been here for years," Dean said. "You'll start on the tee, you move up, you hit farther, you hit higher, you hit harder, you throw faster, harder, and then they teach you all the positions."
Lil Runner and his other friends picked grass and practiced their cartwheels near the diamond. Just on the other side of the trees in Garfield Park, Mothers Against Community Gun Violence and Mayor Lori Lightfoot rallied in honor of Mieya Sims, a young woman shot and killed last year in West Garfield Park. 
Nadine Bass, interim president for Garfield Park Little League, said the kids are not immune to the realities of gun violence in their neighborhood. There have been practices where gunfights can be seen and heard from the field, Bass said. Kids are taught to drop on the sand, pack their things and prepare to go home.
"It's first nature. It's become to the point where it's first nature now," Bass said. "This is what they are being fed, morning, noon and night. That's why we want to build a safe haven for them."
Eric Davis, executive director for The BASE, said he often hears from players who are too afraid to leave their homes for practice. He and Brim initiated a conversation with youth members of The BASE about two weeks ago, raising the question: "What's the leading cause of violence?"
The dialogue led to last weekend's solution: a youth-organized protest for peace the evening before Sandlot Day. 
"It got the message out. That young voices are tired of the violence," Davis said. "When you start a program, it'd be very easy if all we had to do was roll out balls and go to games. But we have to adapt and address the issues that are facing the community."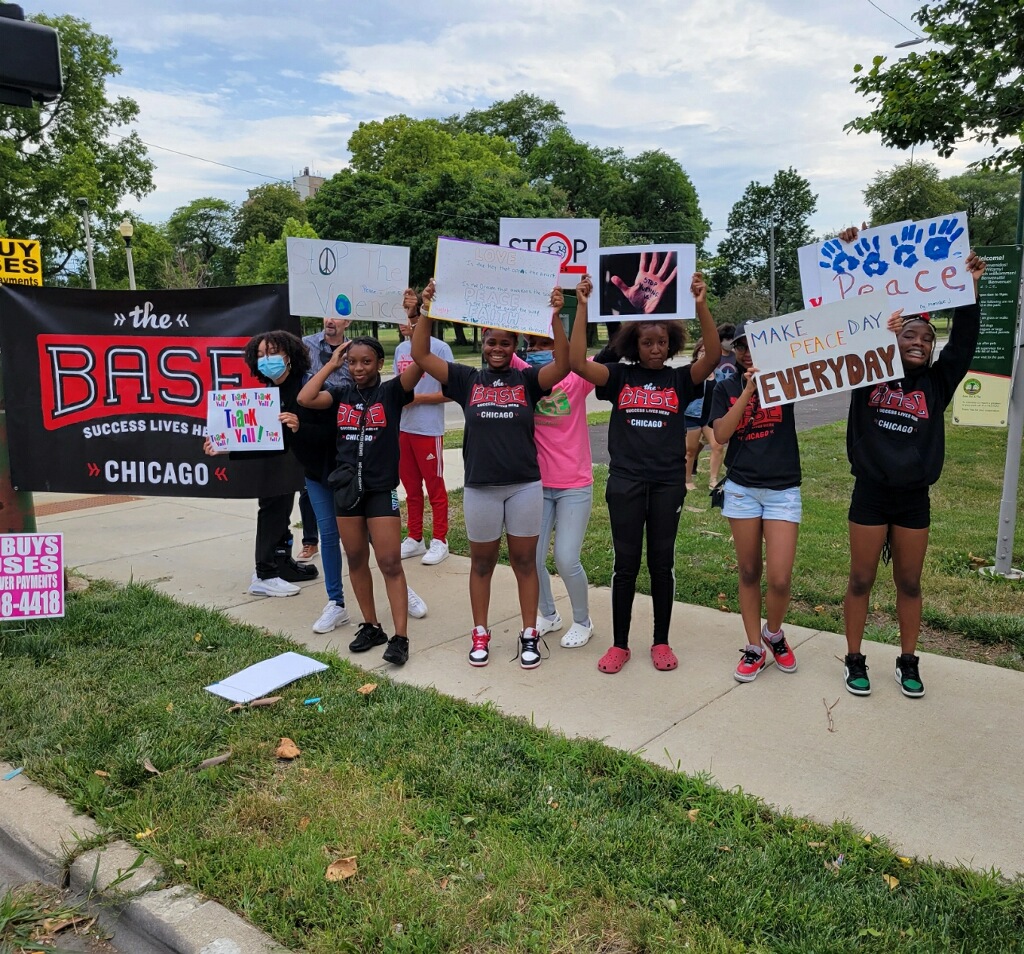 The BASE and Garfield Park Little League have established small scholarship funds to support former players in need of books or groceries at college. Taliya Harris and Ashley Gaston, scholarship alumnae in attendance on Saturday, consider themselves Garfield Park little leaguers for life. They hope other young adults will join them in growing the league, paying it forward to their community that is not regularly highlighted for its positivity. 
"This is a family. It's another family," Gaston said. "You want all your kids on the West Side to make it out of the ordinary." 
Bass chatted it up with Rep. Lakesia Collins, who represents part of Chicago and who stopped by to show support. Bass takes pride in keeping the fields pristine, and he reminded Collins again and again that Garfield Park Little League has yet to receive the funds to fix flooding issues on Diamond No. 5.
Bass' wife, Nadine Bass, said neighborhood perceptions change when people join the baseball community around Garfield Park.
"We got baseball.  We are here," Bass said. "And our children aren't running amok and shooting at each other. They're tooted and booted to play ball. And they're playing. They're in their element as being children. That's a positive."
De'Angelo Dean eventually put his glove away and helped himself to free lunch. Davis hopes to see Dean play for The BASE one day. But for now, he was just glad to see the  kids gathered around plates of jerk chicken. 
"We want to win," Davis said. "But winning looks different on the West Side."
Subscribe to Block Club Chicago, an independent, 501(c)(3), journalist-run newsroom. Every dime we make funds reporting from Chicago's neighborhoods.
Already subscribe? Click here to support Block Club with a tax-deductible donation. 
Listen to "It's All Good: A Block Club Chicago Podcast" here: