SOX PARK — Last fall, podcaster Jake Mintz made a bold and ultimately dead-wrong declaration about the White Sox hiring Tony La Russa.
The Sox would never, ever rehire the retired, 76-year-old manager, Mintz insisted on his popular "Cespedes Family BBQ" podcast.
And if they did, he would walk from his home in New York City to Chicago.
The Sox, of course, did hire La Russa. And the Hall of Famer has them atop the American League Central and eyeing a deep playoff run.
And Mintz this week made good on his promise — sort of. He biked the trip instead of "walking it with my f—— legs" as he initially pledged.
But he made it.
"Biking across the country because you said something stupid on a podcast is frankly a stupid thing to do," Mintz said. "But it feels very fulfilling. I have no regrets." 
Mintz felt sweet victory as he pulled up to Guaranteed Rate Field on Wednesday after biking for 14 days. 
It ended in a final leisurely ride — the last mile of over 1,200 — toward the stadium gates, where Mintz was greeted by about 15 supporters and fans of his baseball podcast.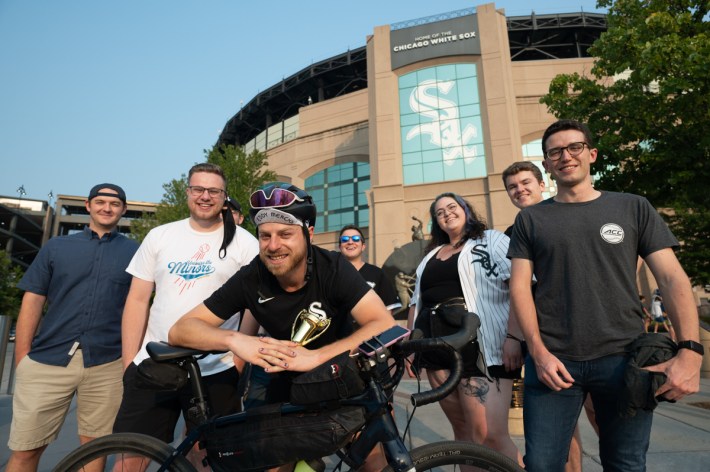 The trip wasn't just for exercise or punishment. His voyage, titled Jake's Bonkers Bike Trip, was sponsored by supporters. He raised more than $28,000 in donations for Lost Boyz Inc., a South Shore non-profit that creates baseball experiences for local youth. 
La Russa got a kick out of it, excited to hear the ride benefited charity. He sent an autographed baseball to Mintz's seat during Wednesday night's game with a scribbled message: "Keep pedaling." 
For Mintz, the trip was a miraculous calling to get back out into the world after the COVID-19 lockdown. It was also a chance to accomplish something so ridiculous it would be impossible to forget. 
Mintz, a former Division III baseball player turned professional podcaster, stopped to watch a game at 12 of his 14 stops. He even threw out first pitches for the Williamsport Crosscutters, Lehigh Valley IronPigs and South Bend Cubs. 
Outside Guaranteed Rate Field on Wednesday, there was less fanfare but much more relief. Most of the 22,000 who came out to see the White Sox lose to the Kansas City Royals, 9-1, didn't notice one man took the long route there.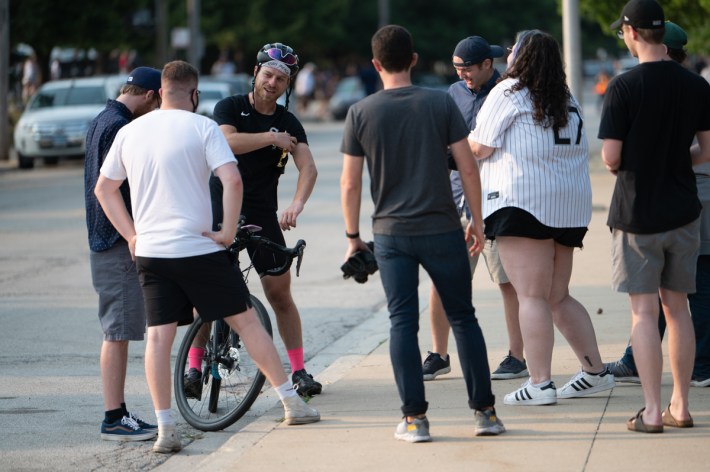 Jordan Shusterman, the other half of "Cespedes Family BBQ," handed Mintz a plastic trophy from Party City with a Sharpie-written proclamation of "Biked to Chicago." Jimmy Manganese, a 26-year-old Wicker Park resident, was among a handful of fans who congratulated Mintz. Manganese was worried about his favorite podcaster, and he still finds it hard to believe all of it really happened — successfully. 
"It's just amazing he stuck to his guts. He made this crazy decision and went through with it. Just dropped everything he was doing, picked himself up and came here," Manganese said. "I hope this draws more attention to our awesome team and Chicago in general. You can make something great out of a crazy situation."
The weather held up perfectly over the extent of Mintz's trip, and the biking was easier than expected. His body got more acclimated to the miles with each passing day. But there were still touch-and-go moments. Mintz sustained several flat tires, took necessary "micro-naps" at ballparks and contemplated giving up the night of Day 6, fearing the notoriously hilly terrain of rural Pennsylvania en route to Pittsburgh. 
Mintz had his nails freshly painted purple by his girlfriend's little cousin the day before the trip. Fourteen days later, his nails were chipped, but his soul was still intact.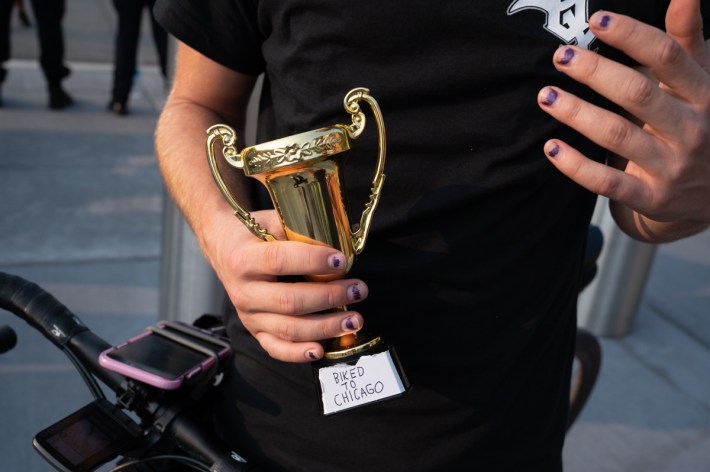 "It's an adventure I'll never forget. It was really beautiful to be moving. It was freeing to be moving," Mintz said. "There was really something peaceful about being alone out there for so long." 
Mintz got emotional when his bike finally peeled along DuSable Lake Shore Drive and he caught his first glimpse of the Chicago skyline. Before the White Sox game, he stopped to absorb it all at the tip of Promontory Point near 57th Street Beach.
Prepared to cruise the rest of the way, Mintz put on a Luis Robert White Sox shirt that he bought at a Dick's Sporting Goods in Schererville, Indiana. It was the only White Sox option available on the shelf. 
"I really owe a debt of gratitude to Jerry Reinsdorf for hiring Tony La Russa. I got to have an amazing experience, and it wouldn't have happened if he hadn't made a bizarre coaching hire," Mintz said. "I'm excited to sit down and have multiple beers — not just one — knowing that tomorrow I don't have to bike 85 miles." 
The next day, Mintz and Shusterman, who accompanied his friend by car at each hotel spot, met up with LaVonté Stewart, executive director of Lost Boyz. The three brainstormed ways to spend the donations still pouring in — far past the original goal of $15,000. The latest big idea will bring Jake's Bonkers Bike Tour full-circle: A group of kids from Lost Boyz will travel to New York City in 2022 to play a friendly match against the Harlem Hellfighters, a team Mintz volunteers for back at home. 
In similar spirit to a recent trip Lost Boyz took to the Negro Leagues Baseball Museum in Kansas City, Stewart hopes to give kids a firsthand education in the "Black excellence" of the Harlem Renaissance and the Black ballplayers enshrined at the Baseball Hall of Fame in Cooperstown, New York. Stewart, who was recently reunited with his long-lost college football championship ring after 26 years, said Mintz's bike tour is the latest, weirdest happenstance in a series of blessings that are "almost Biblical in nature."
"Jake actually did it and put his foot in his mouth," Stewart said. "It's a message of love. Because to do something like that, that's such self-sacrifice, that is nothing but love. Somebody that rides on a bike 1,200 miles for a bunch of strangers, that's nothing but love."
Mintz has opted to drive home.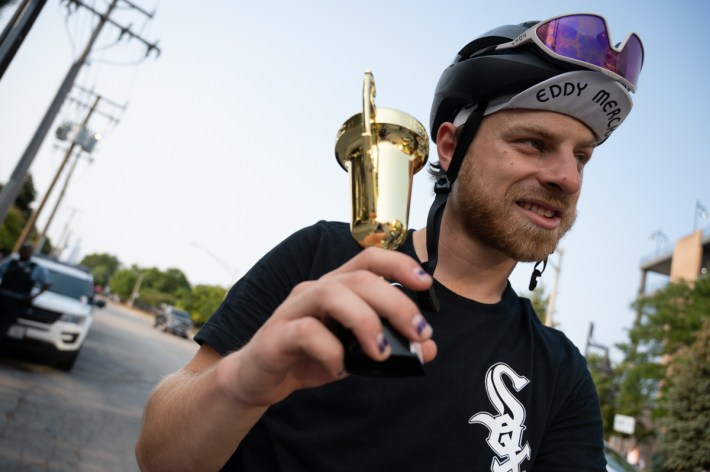 Subscribe to Block Club Chicago, an independent, 501(c)(3), journalist-run newsroom. Every dime we make funds reporting from Chicago's neighborhoods.
Already subscribe? Click here to support Block Club with a tax-deductible donation. 
Listen to "It's All Good: A Block Club Chicago Podcast" here: