SOUTH SHORE — Two South Shore festivals will bring more than a dozen musicians to the neighborhood's blocks, homes and parking lots Saturday, continuing a decades-old tradition of live outdoor jazz on the South Side.
The Back Alley Jazz Fest takes place noon-7:45 p.m. Saturday at ten locations around South Shore. For a full schedule, click here.
Universal Alley Jazz Jam, a "direct descendant" of Jazz in the Alley, will be held 3-7 p.m. Saturday at the Black United Fund of Illinois parking lot, 1809 E. 71st St.
This weekend's events allow South Shore residents to "wake up on a Saturday, get out of your house and there's live music on your block," said Jeannine Sharpe, one of the original hosts of Back Alley Jazz along with her sister, Jonita, and neighbors Gail Mangrum and Zenja Vaughn.
The Back Alley celebration will honor Jimmy Ellis, one of the original founders of the Jazz in the Alley sessions from the mid-20th century. Ellis, a saxophonist who at 85 years young released his first record in 2016, served as the festival's grand marshal in 2019. He died in July.
The event is "a combination of residential sites … as well as current cultural sites like The Quarry and spaces that have history but maybe aren't currently active, like the Avalon Regal Theater," project manager Olivia Junell said.
The Sharpe sisters will host Audley Reid for a 2 p.m. performance in the 7300 block of Paxton Avenue. It will be something of a homecoming for Reid, who grew up at 72nd Street and Ridgeland Avenue and went to school with the Sharpe sisters at Bryn Mawr Elementary and South Shore High School.
"It's not like I'm going into some place where it's strange and I don't know the people," Reid said. "I know a lot of the folks that are still there, and I've got a very special relationship with the people on the 7300 block of Paxton. It's almost like being home."
The back-alley setting is familiar for Reid, too. As he began his professional career, he'd spend summers rehearsing in garages and alleys with bands featuring more than a dozen members. Neighbors would bring their chairs, roll out their barbecue pits and take in the tunes, he said.
As Reid's career has advanced, he's taken to the bigger stages of the city's "vibrant" summer festival scene, from the Hyde Park Jazz Fest — which organizes Back Alley Jazz and returns Sept. 25-26 — to the Taste of Chicago.
This weekend offers an opportunity to return to his roots, Reid said. He'll play a set featuring jazz standards, with one or two R&B tunes from Stevie Wonder or Marvin Gaye mixed in.
"The jazz in South Shore is just something I'm elated about," Reid said. "I don't get a chance to play in the backyard too often."
Attendees are encouraged to wear masks; bring their own chairs, umbrellas and water; and walk, bike or take public transportation around the neighborhood between performances.
"South Shore is community oriented," Jonita Sharpe said. "We have a lot of block clubs, a lot of blocks have parties and functions. I think [the festivals are] kind of an extension of that neighborhood camaraderie that I'd like for all the blocks to experience."
At Jazz Jam, organizers are catering to "younger people so they can come listen to some music that they aren't necessarily familiar with," lead organizer Karma Webber said. Singer Sydney Jackson, 20, will headline, and there will be a family-friendly open mic session allowing audience members to perform.
Karma Webber's father, C. Siddha Webber, started the jazz jam in the 1990s behind 47th Street restaurants before moving to the Black United Fund.
"Jazz can have the propensity to die or fade away if we only cater to an older population," Webber said.
Vocalist and bandleader Maggie Brown, a Greater Grand Crossing resident, is featured on the Back Alley Jazz and Universal Alley Jazz Jam rosters.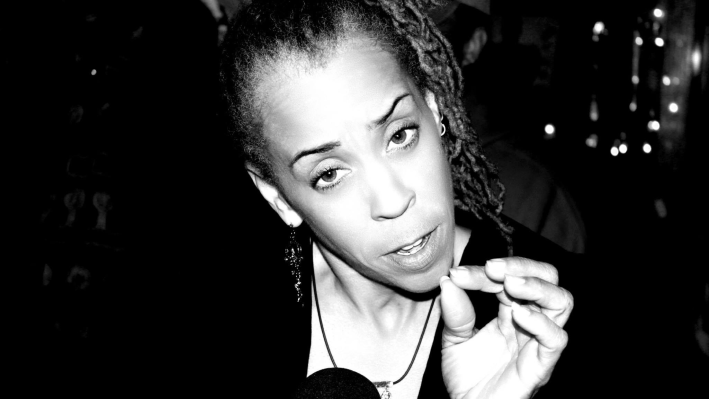 She'll perform with Miguel de la Cerna 1-1:45 p.m. in the St. Philip Neri parking lot, 2132 E. 72nd St., before heading over to the Black United Fund for a 3:30 p.m. show.
"Fallen comrades" will be front of Brown's mind as she experiences the two festivals, she said, which will advance the legacies of Ellis, C. Siddha Webber, James Wagner and others who shared their love of jazz and music across the city and beyond — including her father, Oscar Brown Jr.
"Thank goodness for their perseverance — they put their hearts into educating the younger musicians, and we're seeing the fruits of the seeds they planted now," Brown said. "We're giving thanks and hoping … we'll be able to pass the baton, so [the next generation will] feel empowered to take over their communities and build on what's been done."
Subscribe to Block Club Chicago, an independent, 501(c)(3), journalist-run newsroom. Every dime we make funds reporting from Chicago's neighborhoods.
Already subscribe? Click here to support Block Club with a tax-deductible donation. 
Listen to "It's All Good: A Block Club Chicago Podcast" here: