JEFFERSON PARK — As residents prepare to move into a Jefferson Park affordable apartment building next month, a local church has launched a video series to welcome them and move past the controversy surrounding the development.
The series, called "Won't You Be My Neighbor?," comes from nonprofit Friendship Community Place, the parent organization of Friendship Presbyterian Church.
Friendship Rev. Shawna Bowman created the series based on the children's TV show "Mister Rogers' Neighborhood." They host candid conversations with community leaders about issues prevalent in the neighborhood, including affordable housing, homelessness, racial and policing.
A major impetus for the project was the racially charged debate surrounding the Jefferson Park affordable housing complex at 5150 N. Northwest Highway. Bowman said they hope the series will help the building's residents feel at home and move past the years-long opposition that created a "culture of fear."
Friendship Community Place is moving into the building's first-floor commercial space.
"One of the dynamics in the neighborhood is we are divided around a number of issues and there is fear around talking about what we do care about," Bowman said. "One of the functions I hope this does is it models that we can have really positive, life-giving conversations about our hopes and dreams for the neighborhood and we can tackle hard things and we can do it in relation to one another."
The first episode features Josh Wilmoth, CEO of Full Circle Communities, the nonprofit behind the affordable housing complex. Wilmoth, who lives in the neighborhood, talks about how the development has helped shift people's view of affordable housing, the importance of trust in building relationships with incoming residents and celebrating the connections, resources and positive change the area and the company has seen in recent years.
Full Circle was founded in 1999 and operates 1,000 units in three states, with another 250 approved or under construction. The nonprofit manages several mixed-use apartment buildings in the city and plans to start construction next month on another Jefferson Park affordable housing development at 6001 W. Lawrence Ave.
"I celebrate the ongoing lesson in success that Full Circle is having, owed 100 percent to my staff. If any of it is dedicated to me, it giving them space to be them," Wilmoth said in the video.
Wilmoth also talked about the massive need for affordable housing throughout the city — one that he hopes companies like his can make a dent in.
"The need is so staggering across all housing types and all communities that I don't spend a time of time thinking about it in terms of the volume, because we could build 100,000 units and still not meet the need for affordable housing in Chicago," he said.
RELATED: Sarah's Circle Unveils New Uptown Apartments For Women, Begins Work On 3rd Facility: 'We Need The Housing'
In Jefferson Park, the need is clear: More than 700 people applied for 75 units in the 5150 complex, including people who were initially skeptical of affordable housing coming to the Far Northwest Side. The building is targeted toward veterans or people who have disabilities.
"People fear that which they don't know, that which is new to them or that which they can't really imagine," he previously told Block Club. "When the community writ large sees that [the building] is not dissimilar from any other apartment building in the community in terms of professional management, amenities and access to opportunity, there's a shifting perspective."
After long construction delays, work on the development began in January 2020. Developers are planning for a mid-September move-in date, he said.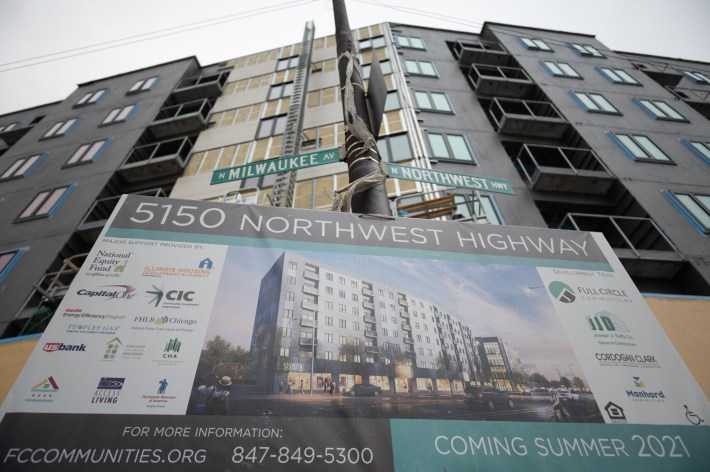 Jason and Sara Gronkiewicz-Doran, co-founders of Neighbors for Affordable Housing, are featured in the second episode of the video series. Their grassroots group of Northwest Side neighbors advocating for affordable and accessible housing formed in response to the controversy of the 5150 development.
In the episode, the duo talk about the history of the group, which they started six years ago, and their ongoing work with new and longtime residents of the Northwest Side on issues of police brutality, social justice, accessible housing and homelessness.
They also talk about what they are looking forward to about the development and the changing attitudes around policing in the neighborhood in the aftermath of social justice protests last summer.
Years ago, when the two moved to the neighborhood, they were among the only people protesting police violence at a pro-police rally, they said. But last summer, Black Lives Matter demonstrations in the neighborhood drew hundreds of people.
"That is so huge to me and such a sea change. We have so much work to do still, but it's been a tremendous change," Sara Gronkiewicz-Doran says in the video.
Bowman said they hope to release more episodes for the series in the coming weeks and plan to highlight at least five more neighbors.
Upcoming guests include Rep. Lindsey LaPoint; Brian Solem, who collaborates on Mutual Aid in Portage Park; John Gawlik, the managing director at The Gift Theatre; and Maggie Daly Skogsbakken, president of neighborhood group Jefferson Park Forward, who also serves on the coordinating committee for the Working Group on Homelessness.  
"Our hope is that as we at Friendship Community Place and church begin to build a vision for how to invite our neighbors and community into this space," Bowman said of the upcoming move to the 5150 building. "We do this [by] having conversations with our neighbors so that we deepen our understanding of who are our neighbors are in the Northwest Side, particularly in Jefferson Park, how we understand some of the needs and some of the things we want to celebrate." 
Subscribe to Block Club Chicago, an independent, 501(c)(3), journalist-run newsroom. Every dime we make funds reporting from Chicago's neighborhoods.
Already subscribe? Click here to support Block Club with a tax-deductible donation. 
Listen to "It's All Good: A Block Club Chicago Podcast" here: