AUBURN GRESHAM — An Auburn Gresham cafe was burglarized this week, but its owners say the incident isn't changing their resolve to being the trusty local coffee shop for its South Side community.
Someone broke a glass window at Afro Joe's Coffee & Tea, 8344 S. Halsted Avenue, early Wednesday morning, owner Kendall Griffin said. That person then climbed through the broken glass and stole the coffee shop's cash drawer, which only contained "some change and singles," Griffin said.
"They basically trashed the place trying to get the cash out," Griffin said. "We'll be fine, but we are regrouping. Right now, we're in a state of flux."
The break-in kept the shop closed for a few hours but Griffin re-opened for business Wednesday afternoon while the broken window was being fixed. 
Kendall and Aisha Griffin opened Afro Joe's in October 2020. Since their first cup of coffee, Griffin said he planned to create a community-driven, safe space where neighbors could enjoy a different kind of cuisine. One unfortunate act wasn't going to stop that vision.
"We're not going to let a bad apple ruin what we're creating," Griffin said. "During the day, there's not a place where you can meet your neighbors and relax. That's the place that we're creating and will continue to create." 
On Instagram, the couple posted: "We are not going anywhere."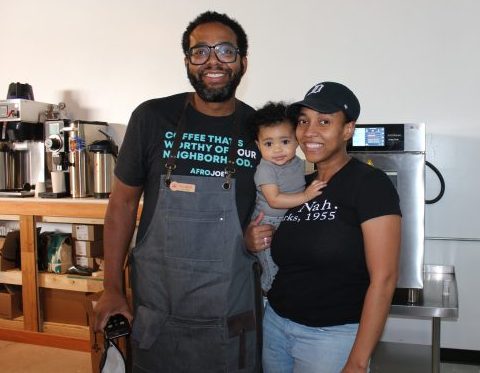 The outpouring of love and support from community members also showed why the coffee shop is a necessity in the community, Griffin said. 
One neighbor started a GoFundMe — which Griffin asked to be removed — after hearing about the burglary. Others sent cards and stopped by to ask how they could help. The support, Griffin said, brought tears to his eyes. 
"We have customers saying we are the beacon of the community," Griffin said. "It's amazing that people look at our business as a community space." 
With repairs complete, Afro Joe's will continue to operate during normal business hours. The coffee shop will only accept exact change or payment by card until further notice. 
Griffin said he's searching for a way to make the establishment safer without changing the appearance of the shop. So far, additional security cameras are on the list.
"I don't want our coffee shop to look like a prison with bars," Griffin said. "I want it to look inviting. Keep the look, but keep it safer."
In the meantime, Griffin says he hopes Afro Joe's continues to serve the community and locals in need of a good cup of joe.
"I wasn't my normal chipper self [on Wednesday] because I kind of felt violated," Griffin said. "But the support from the community was great. It reinforced everything I believed in when I decided to do open."
Subscribe to Block Club Chicago. Every dime we make funds reporting from Chicago's neighborhoods.
Already subscribe? Click here to support Block Club with a tax-deductible donation.