WASHINGTON PARK — The annual High Noon Ride, a family reunion of Chicago's cowboys and a showcase of their storied culture, returned this year after a pandemic hiatus.
Hundreds showed up for the ride Saturday, which has been organized by the Broken Arrow Riding Club since 1989.
Starting in Washington Park, riders took their horses east to Promontory Point and north along the Lakefront to 31st Street before returning for an afternoon of music, grilled foods and rides.
"People in the city don't see this all the time," said "Cowboy Ben," a south suburban resident. That much was evident from the smiles and puzzled faces from onlookers, who watched horses use the 55th Street bike lanes and drink from the fountain at Promontory Point.
Since the High Noon ride's cancellation last year, Chicago's cowboys have had a few opportunities to connect, from a Juneteenth ride through Bronzeville in 2020 to a South Shore rodeo this June.
Still, Ben appreciated High Noon's return and the chance to join "all my 'migos, all my friends" as they rode along the Lakefront Trail.
"We haven't done this in a while because of the pandemic," Ben said. "It's a beautiful thing this year."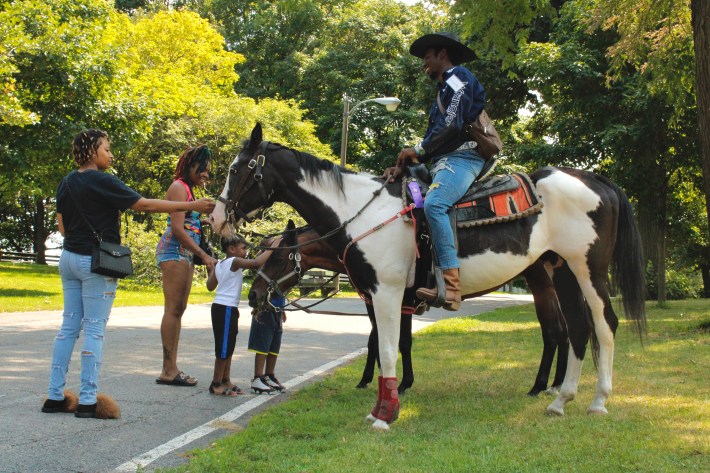 Chicagoan Curtis Avery's horse is named Cochise, but it's no "Cooley High" reference — he's named after John Wayne's stallion, Zip Cochise, in "El Dorado."
Avery keeps Cochise at a friend's stables in suburban Crete, though Chicagoland riders brought their horses from Hazel Crest, Harvey, Markham and "all over" the region, he said.
Avery attended the High Noon ride with his 5-year-old grandson, Kaden Moore, who enjoys riding Cochise. Kaden said he is excited to one day ride a horse all by himself.
"The other thing I like about our horse is I like to brush him, and I like to clean him and I give him a bath," Moore said.
One of the main purposes of the High Noon ride is to get kids like Kaden familiar with horses, Avery said.
He credited Broken Arrow founder Murdock, The Man With No First Name, for his efforts in organizing the ride over three decades and pushing the city to build a stable in Washington Park.
"We're trying to keep this a generational thing [and] get these little kids out," Avery said. "They're involved with horses, so maybe … when we get older and we are not able to do it, they can take over and do it for us."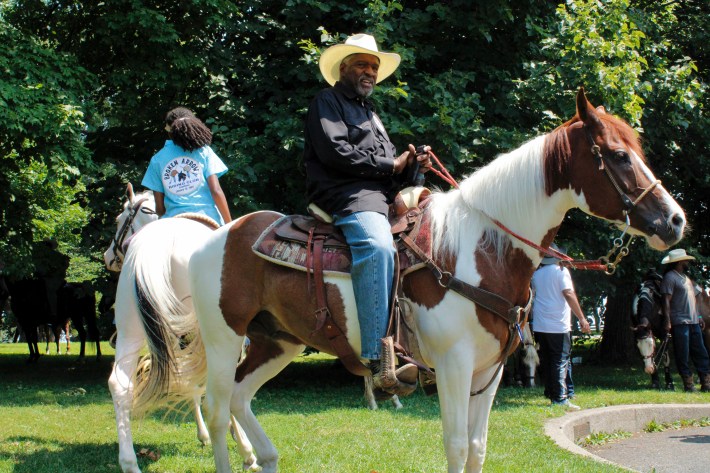 The Washington Park gathering featured photos, activities and a Michael Jackson impersonator for the kids, but elders like Murdock are mainstays at the annual ride.
Brothers Tyrone and Danny Adams, who each poked fun at the other for being "old," were joined by Tyrone's 18-year-old horse, Kemosabe, in the park.
"It's just a relaxing day — plus we get to barbecue and have a good time, and bring the family and friends out," said Danny Adams, an Englewood resident.
Tyrone Adams, who lives outside Chicago but works in the city, doesn't take Kemosabe out on the High Noon ride anymore. It's "too much work" to coordinate a successful ride with so many other cowboys along the city streets.
But he stills take three or four night rides a month through Jackson Park and elsewhere along the lakefront, and Danny Adams rides Cochise from time to time, as well. In doing so, they keep alive a family tradition that goes back generations, they said.
"People are shocked when you tell them that you're from Chicago and you've got a horse, you know how to ride, woo woo woo," Tyrone Adams said. "But this is a family thing. My father had a horse. Some families go fishing, some families go camping; if you're an Adams, you better know how to ride."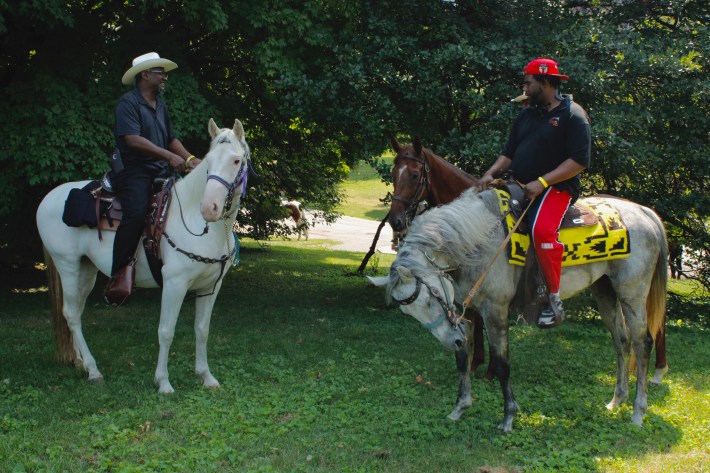 Subscribe to Block Club Chicago, an independent, 501(c)(3), journalist-run newsroom. Every dime we make funds reporting from Chicago's neighborhoods.
Already subscribe? Click here to support Block Club with a tax-deductible donation. 
Listen to "It's All Good: A Block Club Chicago Podcast" here: