HYDE PARK — This year's Physical Theater Festival is a festival of firsts, as the international showcase of performance art will make its inaugural trip outdoors and to the South Side this weekend.
The free event is 2-8 p.m. Saturday at Nichols Park, 1355 E. 53rd St. To view the festival map and schedule, click here.
The festival, founded in 2014 by Alice da Cunha and Marc Frost, returns in person after last year's edition was held entirely online.
"We missed live performance so much this past year," da Cunha said. "I feel by going to the park and doing it outdoors, we really wanted to give the audience [something] thought-provoking, but also [with] some magic, some wonder and some respite after all that we've gone through."
Chicago-based The Era Footwork Crew and New York-based 3AM Theatre will headline a day of footwork, juggling, storytelling and more.
Four pop-up acts from puppeteers Jerrell Henderson and Stephanie Diaz, circus performer Jean Claudio and theater artist Laura Crotte round out the live performances.
The Era Footwork Crew will present "She Pick the Speed," an exploration of gender equality and reciprocity in music and dance. That starts 4 p.m. on the main stage.
The crew members are "superstars," Frost said. They've taken footwork — a high-speed dance originated by Black youth in Chicago — to an international audience with performances in London, Kuwait and across Latin America.
"They have plans to get back up and touring this fall," Frost said. "We've been following the Era for a number of years, and we're excited about what's happening with their trajectory right now."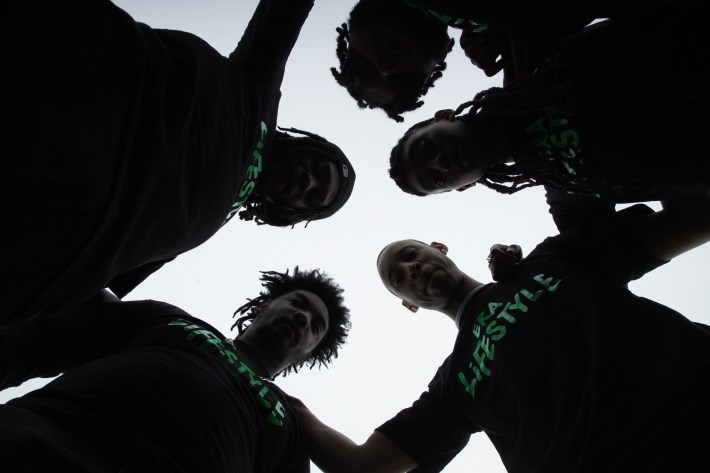 "Mindful Manipulations," 3AM Theatre's closing show, will encourage audience members to develop their "openness and imagination" by incorporating everyday objects into a circus performance, co-founder Kyle Driggs said. The surrealist show begins 6 p.m.
"Imagination is universal, and beauty, sharing and interacting is good for the mind, body and soul," Driggs said. "That's really what we're trying to show our audience, and we're so excited to be bringing it into Chicago."
Driggs founded 3AM Theatre with Andrea Murillo, a classically trained dancer with a background in ballet and modernist dance. They'll be joined by acrobat and contortionist Kira Dipietrantonio for Saturday's performance.
The company is named after the "magical" late-night hour where "nothing looks or feels or seems like it does the other 90 percent of our life," Driggs said. The performers' avant-garde shows put a new spin on traditional circus acts like juggling and hand-balancing.
"Andrea is a … uniquely trained and cultivated dancer who then brings those styles and techniques to circus art," Driggs said. "Myself as a juggler, I'm more of a storyteller and less of a traditional juggler. I can throw a lot of objects in the air and wow an audience, but I'm much more interested in how my objects can tell stories."
The company travels with a pyramid-like, free-standing aerial rig that can be "built anywhere that has level ground" — like Nichols Park, Driggs said. The contraption allows people to fly through the air without relying on a permanent stage.
Driggs will also DJ on stage, with the performers interacting with the music in real time.
The festival, part of the city's Night Out in the Parks series, is well-suited for Nichols Park. The play areas complement the performances' family-friendly nature, and its hill imitates sloped theater seating without the need for bleachers, organizers said.
Now that they've put together their first South Side event, da Cunha and Frost want to maintain connections "in this part of the city and in this neighborhood going forward," Frost said.
There also will be virtual elements of the festival this year.
An international panel will meet 10 a.m. Sunday to chat about the state of performing arts. To register for the livestreamed discussion, click here.
"Pangea," an "immersive audio story" produced by Limbik Theatre in the United Kingdom, will be available for download beginning Friday. A discussion of the piece will be held 2:30 p.m. Sunday on Instagram Live.
Though performance artists have struggled with income loss through the pandemic, Saturday's shows will reflect their perseverance, adaptation and efforts to improve access to their craft, organizers said.
The festival "is just the start" of a wave of new ideas and approaches to physical theater, Driggs said.
"The silver lining of the situation is that art, creativity and the beauty that we carry inside of us that we want to transmit and share with an audience — that can never go away," Driggs said.
To donate to the Physical Theater Festival, click here.
Subscribe to Block Club Chicago, an independent, 501(c)(3), journalist-run newsroom. Every dime we make funds reporting from Chicago's neighborhoods.
Already subscribe? Click here to support Block Club with a tax-deductible donation. 
Listen to "It's All Good: A Block Club Chicago Podcast" here: