DOWNTOWN — In the great wars between hot dogs and poppyseed buns, there has been just one victor: Chicagoans.
Hot dog lovers have long bemoaned the fact that wieners are typically sold in packs of six or 10, while buns come in packs of eight — inevitably leading to people having too many of one or the other. Heinz even launched a petition this month calling on "Big Bun and Big Wiener" to match up their packaging.
But that hasn't been an issue in Chicago for a long time.
In 2005, the city's hot dog kings — Vienna Beef and beloved bun purveyor S. Rosen — hatched a plan: They'd end the packaging battle by each offering their products in packs of eight.
They called it the Piece Treaty.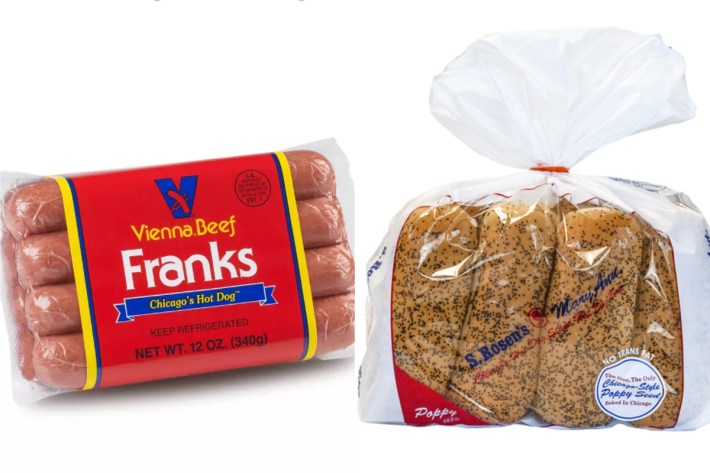 'We Fixed The Problem'
It was spring 2005, and Vienna Beef and S. Rosen were "looking for a way to celebrate" hot-dog eating (naturally), said Tom McGlade, a senior vice president at Vienna.
At the time, Alpha Baking Company — makers of S. Rosen buns — was making plans to come out with new retail packs of buns, said Mark Marcucci, president of the baking company. They got to talking with Vienna Beef about the age-old issue of mismatched buns and dogs.
The companies came up with an idea: They'd partner for a playful, PR-friendly event where they'd publicly agree to sell their respective wieners and buns in matching packs of eight.
The pact promised "that we would now and forevermore in the grocery stores carry hot dogs and buns to match — which was kind of a tongue-in-cheek storyline across the country," McGlade said.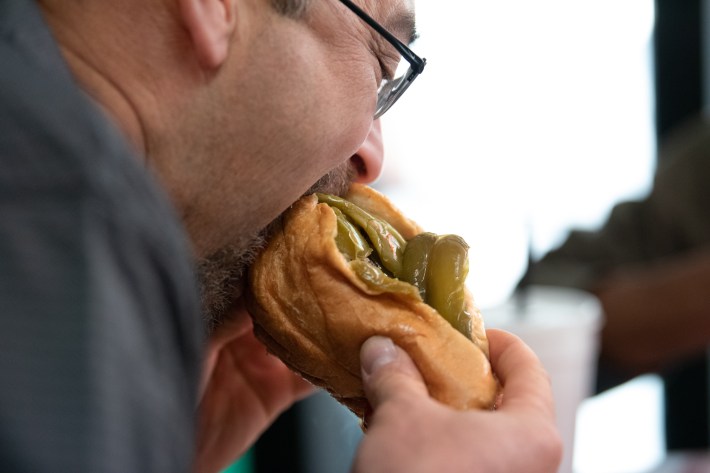 The Piece Treaty name was a play on how the companies were agreeing to sell their products in the same number of "pieces," Marcucci said.
"We think it's the perfect opportunity to right a 100-year wrong," Howard Eirinberg, then the president of Vienna Beef, told the Sun-Times at the time. "When I say I'm in the hot dog business, the first thing people say is, 'How come buns and dogs come in different amounts?' I was tired of answering the question, so we fixed the problem."
To seal the deal, the companies held an event on May 17, 2005, in Downtown's Daley Plaza — with hot dogs, of course.
And as with any opportunity where Chicagoans can get free hot dogs, things … kind of exploded. Large crowds showed up, eager to join the fun and jostling with reporters who were on hand to cover the treaty.
Customers cheered the change, saying they'd long wondered what to do with the extra buns left over after a good, old-fashioned day of hot-dog eating.
The response was "tremendous," Marcucci said. "It must have been a slow news day."
There was singing, marching employees, speeches — even a mock signing of the treaty, according to the Sun-Times.
"I think people just enjoyed the banter and the fact that the two big companies in Chicago that represent the majority of the share of the market were aligned in lockstep," McGlade said.
The pact was so popular, representatives of the companies went to New York City that same night to appear on several TV shows. They were even asked to talk about the treaty on David Letterman's late-night show — but, at the last minute, the originally scheduled act showed up and the hot dog crew got canned, Marcucci said.
"It blossomed real fast," Marcucci said. For a day, the hot dog world was "on fire. … It just took off. It got wheels and ran."
'Just A Natural Fit'
There's no doubt Chicagoans love hot dogs. The wieners have been a staple in the 1880s, with the Chicago-style dog being created in the '30s. There are more than 1,000 Vienna Beef stands in the Chicago area — meaning there are more hot dog locations than there are McDonald's, Burger Kinds and Wendy's combined, McGlade said.
"It's got a good taste. It's the character of Chicago," Marcucci said. "It's got spice. It's got sweet. It's just a great on-the-go meal."
And Vienna Beef and S. Rosen are often considered the gold standard for a Chicago-style hot dog. As such, the companies have a strong relationship — which is why they were able to come together for the treaty, Marcucci said.
McGlade said he's not sure if other cities have seen similar partnerships to end a mismatch of buns and wieners.
Heinz's petition, which has racked up more than 35,000 signatures, suggests it's an ongoing issue for sausage lovers outside of Chicago.
The question — "Why are there typically 10 hot dogs per pack and eight buns per bag?" — is so pressing it's even at the top of the FAQ for the National Hot Dog and Sausage Council.
The council says there are several reasons for the discrepancy — and notes customers can simply buy five bags of eight-count hot dogs and four 10-bun packages to match up. After all, who wouldn't want 40 hot dogs?
Marcucci said the Piece Treaty was fun for marketing purposes — but Alpha and Vienna Beef do hope they've made Chicagoans' lives a little easier with their partnership.
"There will always be discrepancies: A hot dog falls of the grill, a bun gets used for peanut butter and jelly or something like that," Marcucci said. "I would hope, at the end of the day, this certainly did make things more convenient for the end customer."
After all, a fluffy — and, preferably, poppyseed — bun is just as key to a Chicago dog as the frank, mustard, relish, onions, tomatoes, sport peppers, pickle and celery salt.
"It makes the sandwich. A hot dog bun, if you're gonna have a hot dog, it's not the same if you're having it on a piece of white bread," Marcucci said. "And especially if you're from the Midwest and you're used to a Chicago-style hot dog, this is the Chicago-style hot dog bun, and Vienna is the Chicago-style hot dog.
"It's just a natural fit — hand in glove, shall we say."
Block Club is celebrating National Hot Dog Month. Tell us about your favorite hot dog memories by emailing Newsroom@BlockClubChi.org, and read more stories here.
Subscribe to Block Club Chicago, an independent, 501(c)(3), journalist-run newsroom. Every dime we make funds reporting from Chicago's neighborhoods.
Already subscribe? Click here to support Block Club with a tax-deductible donation. 
Listen to "It's All Good: A Block Club Chicago Podcast" here: