CHATHAM — Robiar Smith never imagined she would be an exterminator. 
Born and raised in Bronzeville and Hyde Park, Smith said taking care of any pests was a job for her father, Michael Benton — the neighborhood exterminator. Her goals were to go to college, "grab every degree she could" and climb the corporate ladder. 
Today, Smith is a rarity in the pest control world: a Black woman who owns and operates a pest solution company, R.B. Pest Solutions. Recently, her company received a multi-year contract to operate at the Discover Customer Care Center in Chatham. 
As Smith blasts away pests like termites and cockroaches, her goal is to continue her father's legacy while shifting the narrative of what Black people, especially women, can do.
"I didn't set out to be an exterminator — it was only for my dad and his legacy," Smith said. "But as I'm moving forward, I see how I can encourage other girls. My goal is to shed light on the fact that Black women are enough, and we can be represented in so many fields that we're usually not."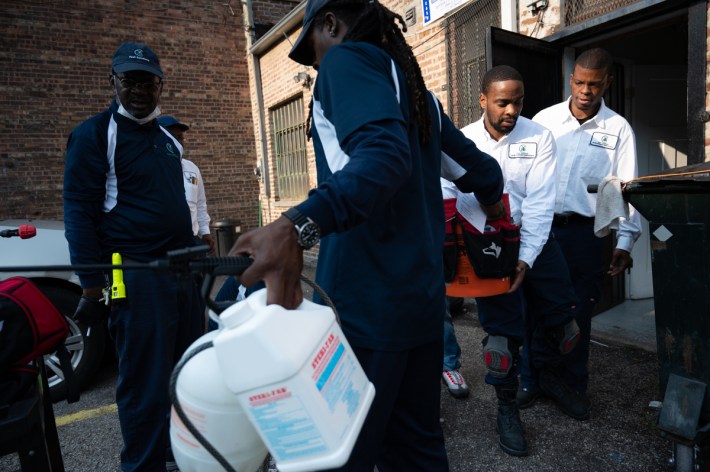 'I Had A Lightbulb Moment' 
Smith said one of her earliest memories is watching her father leave their South Side home with his pest control spray tank. He was a "one-man business," she said. 
"He didn't have a company that he worked for, and he didn't do any marketing," Smith said. "All his customers called him. That's how amazing his work was as an exterminator. When he showed up, you had no doubt that whatever pest you had, they were going to be gone by the time Michael left." 
But instead of following in her father's footsteps, Smith was pushed by her family to get an education, she said. Not attending college was out of the question. Smith eventually got degrees from Roosevelt University and DeVry University and started working in IT, doing business consulting and teaching. 
But as she taught her students the importance of business management and believing in your trade, Smith said she realized she wasn't taking her own advice. 
"As I was pouring into my students, I had a lightbulb moment during a lecture," Smith said. "I realized that all the skills and knowledge that I had, I could bet on myself and believe in a trade that's near and dear to my heart. You know how the love of your life can be around you all your life and you're looking everywhere else? That's what extermination was for me."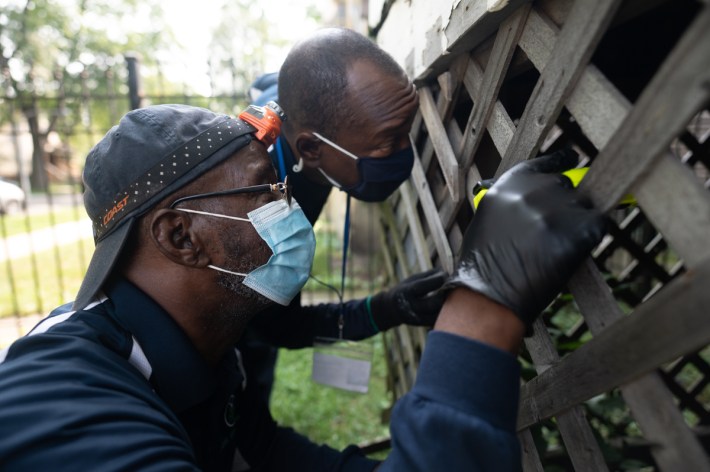 Her father, still a local exterminator, encouraged her to give it a try, Smith said. 
She took a test from the Illinois Department of Public Health to receive a license in structural pest control. She failed. 
She took the test twice more and still failed.
"It got personal at that point," Smith said. "My dad doesn't have sons; it's just me and my sister. He kept saying that pest maintenance was a field that, if you really tapped into it, could be amazing. After failing that test over and over again, I said, 'This is personal now because this could be a legacy in the making.'" 
Finally, in August 2016, Smith took the test a fourth time and passed. 
She quit her corporate job, built a website, printed business cards and designed flyers with a logo for a new family-owned pest control business. She took a few more tests and earned "every certificate the city offered," too. 
"Sometimes people will put parameters in front of you to say what you can't do," Smith said. "I made sure that I got every certificate that the city acknowledged so that when I do walk into a room, I can say, 'I'm enough.' We have everything we need. We're professional. We have staff. I wanted to make sure I had all my ducks in order so we could succeed as a company." 
'This Is About Legacy'
R.B. Pest Solutions — created using the first letter of Smith's first name and the first letter of her father's last name — opened its first location in August 2017.
Using an "old-meets-new-school approach," Smith used her business skills and her father's legacy in the neighborhood to grow the business. 
"When you say 'Michael' and 'extermination,' you know exactly who everyone's talking about," Smith said. "He is such a legend and a pillar here in the community. He's a damn good exterminator."
At first, Smith and her father would travel to nearby homes to help residents with their pest problems. Now, R.B. Pest Solutions has six trucks and a crew of workers helping neighbors around the city.  
"We're a young generation of exterminators, and we get a chance to give pest control a facelift," Smith said. "We're not an older guy coming up to your home trying to get rid of your bugs. We're freshly dressed, and we love what we do."
And although Smith's company grew bigger than she ever expected, she said she's still out in the field with her father and employees, continuing the family tradition. Her husband and children have joined the family business, too.
"I've learned the best way to be an amazing leader is to start from the ground up," Smith said. "I'll get rid of your bed bugs, your ants, in a minute. But most importantly, I want to make sure that the guys understand that this business is my baby. This is my dad; this is about his legacy."
Outside of her family, Smith said she hopes her work encourages more Black youth to consider work in pest control. 
"When you say 'pest control' and 'extermination,' people are immediately like, 'Ew,'" Smith said. "And of course I get dirty, but I still love to put on my heels, purse and pink lip at the end of the day. I can do that and be an exterminator, as well. It's about showing people the different sides of the coin. 
"Yes, you can be that amazing, show-stopping person — but then you can also be part of an essential business trade that is changing lives and provides jobs in the community." 
Subscribe to Block Club Chicago, an independent, 501(c)(3), journalist-run newsroom. Every dime we make funds reporting from Chicago's neighborhoods.
Already subscribe? Click here to support Block Club with a tax-deductible donation. 
Listen to "It's All Good: A Block Club Chicago Podcast" here: