ROGERS PARK — As a neighborhood greenway, Glenwood Avenue is supposed to serve as a low-stress route for bicyclists and pedestrians.
But part of the road in Rogers Park badly needs a redesign, neighbors and local officials say.
Neighbors and Ald. Maria Hadden (49th) met Monday to discuss safety concerns on Glenwood between Devon Avenue and Pratt Boulevard. That portion is popular among cyclists, drivers and walkers looking to stay off busy streets. But because so many people are using it, it's leading to too many crashes and near-misses, neighbors said.
Hadden, city transit officials and neighbors walked along the street to brainstorm how to make it safer. One idea had the group's support: turn Glenwood north of Devon into a one-way street.
"It's a super crowded street," Hadden said. "I [hear] concerns about bike safety, pedestrian safety, parking car traffic. … I want to use some of these suggestions to think about what would be the appropriate thing here."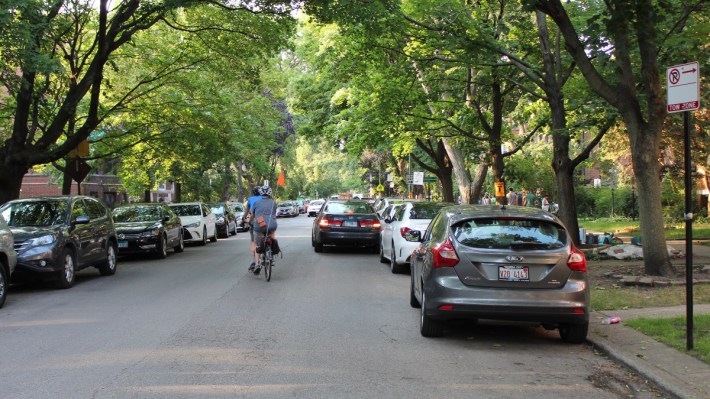 Neighborhood greenways are bike routes along residential streets that include street designs to accommodate cyclists.
The Glenwood greenway was installed in 2017 in Edgewater and Rogers Park. Glenwood was improved with roundabouts, speed bumps, a contraflow bike lane, signs and curb cut-outs that jut the sidewalk into the street at intersections.
But many of the nicer parts with more bike-friendly infrastructure are in the Edgewater portion of the greenway. Glenwood is one-way with a contraflow bike lane between Foster and Ridge avenues. Because of the Red Line tracks, the greenway moves to Greenview Avenue north of Pratt Boulevard, which is a one-way street with bike lanes in each direction.
The street doesn't have all those features north of Devon Avenue. The end result is a hazardous mix of cyclists, drivers and joggers sharing the road. The problem has been made worse by the increase in delivery truck traffic in recent years, neighbors said.
Glenwood residents have woken up to the sounds of crashes and have found bike parts on their lawn the next morning, they said Monday. One Loyola professor said his car has been sideswiped five times while parked on Glenwood since he moved there in 2015.
A handful of bicyclists recounted close calls while biking this stretch.
"Drivers get aggro and they race you to the stop signs," said Jonathan, a Rogers Park resident. "Anything that will slow down and calm the streets" is welcomed.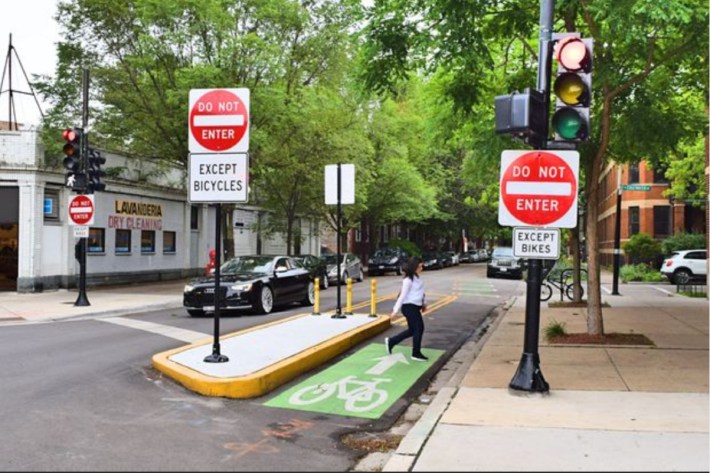 Turning the northern stretch of Glenwood into a one-way street is not a new suggestion. It was previously rejected because emergency responders use the route to navigate Rogers Park, neighbors said. But the increase in traffic and safety issues could make the idea more palatable to city officials, they said.
"It's great cyclists have a place to ride," said neighbor Judith Cooper. "The problem is Glenwood is too narrow for two-way traffic. We'd have a much safer place for everybody, and we've been asking about it for years."
The one-way section between Ridge and Foster avenues with a "contraflow" bike lane is the more favored area of the greenway for cyclists.
Some of the other ideas for calming traffic on Glenwood — including roundabouts and speed bumps — might also be ruled out by the city because of the street's use by emergency vehicles. Many of the neighboring streets are already one-way.
Other suggestions for the street include removing street parking or installing a permanent shared street similar to the one on Leland Avenue in Uptown and Lincoln Square, which has traffic barriers forcing drivers to slow down and discouraging cut-throughs.
Even if the street is made less convenient for local drivers, resident said the safety improvements merit the tradeoff.
"It would inconvenience me slightly," Rogers Park resident and driver Kat Jercich said. "It would be mildly annoying. Pedestrian safety, cyclist safety is worth it for some annoyance."
Subscribe to Block Club Chicago, an independent, 501(c)(3), journalist-run newsroom. Every dime we make funds reporting from Chicago's neighborhoods.
Already subscribe? Click here to support Block Club with a tax-deductible donation. 
Listen to "It's All Good: A Block Club Chicago Podcast" here: