LINCOLN PARK — New Lincoln Park restaurant Dinner and a Movie had only been open for a day when police started showing up, owner Rashad Bailey said.
"That same day we opened [April 30] is when the police started coming," Bailey said. "They were there the first day we opened, second day, third day and the fourth day. Then the next thing you know I've got [Business Affairs and Consumer Protection] showing up."
Neighbors have complained about loud noise, litter and unruly customers, worrying that the restaurant has been operating as a nightclub rather than a restaurant. But Bailey says he's being "harassed" by phony 911 calls because his business attracts a lot of Black customers to a predominantly white neighborhood.
Dinner and a Movie, 2500 N. Ashland Ave., has frustrated its Lincoln Park neighbors since it opened in late April, but a fight last month that escalated into someone shooting at the building was the final straw for many of them, prompting city officials to intervene and order the business to close temporarily. Bailey, however, says neighbors never gave the Black-owned business a chance.
"For the neighbors, I feel like it's too many Black people, but you can't just say there's too many Black people so you have to say that something illegal is going on," Bailey said. "So they make claims that we're not an actual restaurant and we're a tavern that's not actually cooking food."
"The neighbors will call the police and say there's battery, property damage, noise or some type of abuse, but they're made-up 911 calls because up until the one shooting, nothing has happened; otherwise those 911 calls would have found something."
On July 3, police were responding to one of those calls — a report of criminal trespassing at Dinner and a Movie — and entered the restaurant only to find no one inside, police said.
Footage of six officers entering the restaurant was shared in a now-viral Instagram post by Chicago Media Takeout, captioned "Black business under attack."
"So maybe they got a call and thought somebody was in there, or a neighbor called it in thinking they were going to catch me in there with people drinking when we were supposed to be closed," Bailey said. "It's disheartening because I've never been in this type of situation or experienced racism. I was naive and had no idea things were like this."
The city's Department of Business Affairs and Consumer Protection hosted a meeting late last week with neighbors, Ald. Scott Waguespack (32nd) and Bailey to address the concerns about noise, violence and other issues surrounding the business.
Business department spokesman Isaac Reichman said the agency has received 12 complaints about Dinner and a Movie in the three months the restaurant has been open.
The business department blocked reporters from attending the meeting, even though it was supposed to be open to the public. It has also done that for other community meetings about problematic businesses.
Police shut down Dinner and a Movie for about a week after a June 27 melee inside the business spilled outside and a man got out of a gray Chrysler 300 and fired 17 shots toward the building, officials said. No one was hit.
The gunfire occurred after weeks of complaints from neighbors, who said the customers were too loud, causing fights and illegally parking in the neighborhood. Residents also have said the business appeared to be operating as a nightclub rather than a restaurant as advertised, according to an email Waguespack sent to his constituents. Bailey vehemently denies this claim.
Dinner and a Movie reopened July 8.
Throughout Friday's meeting, residents and city officials suggested Bailey could ease concerns by ensuring security is visible inside and outside the restaurant, reminding patrons to leave in a respectful manner, maintaining incident and cleaning logs, posting "no loitering" signs and linking security cameras to the city's emergency system, Reichman said.
Bailey said many of these precautions — such as having security, reminding patrons to be respectful when leaving and having "no loitering" signs — have already been put in place. He said he sometimes has trouble getting customers to disperse after leaving the restaurant, but "everyone is pretty much gone within 10 minutes of us closing" at midnight.
Bailey also said he's asked for police to send a squad car to the restaurant around 11:30 p.m. daily to help disperse crowds when people are leaving the restaurant, but the department hasn't sent any.
The night of the shooting, Bailey said he called police about 30 minutes before the fight happened to see if they could help with the crowd outside, but no officers showed up until the situation turned violent.
"I told them, 'People aren't dispersing,' and asked them to send me just one car," Bailey said. "But instead they showed up after the shooting with 20 cars and a lot of excuses."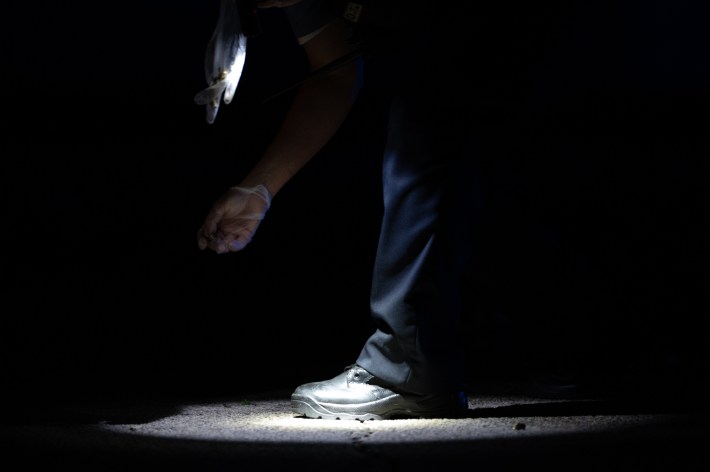 Bailey also denied the business is operating as a nightclub, and he said he believes neighbors are making up accusations about the place to build a case against it.
"We're selling food all night, and I'm the one running food through the place with plates in my hand and everything," Bailey said. "So to say we're not actually serving food when I'm in the kitchen kicking out 75 to 100 orders a day is disingenuous."
Bailey said he believes he's being unfairly blamed for how customers behave once they leave the restaurant.
Chuck Satterlee, who lives down the street, said he was an early supporter of the business until the shooting, which "crossed the line" and changed his mind about its presence in the neighborhood.
"I want to be very clear that I realize fully — as maybe some of my neighbors don't — that I live in the city," Satterlee said. "So while I hope there's a degree of effort [to respond to people's complaints], I don't expect it to be perfect. It's going to be a little loud sometimes."
In the beginning, some neighbors might have gone "ballistic" with calling the police every time something minor happened, Satterlee said.
"It could be like someone laughs too loud, and they were calling the police in the beginning, and you know what that does? It exacerbates the situation," Satterlee said. "Maybe people were a little loud and laughing and all of a sudden 'Karen Karenovich' is calling the cops. We aren't exactly free of that in this country."
But the shooting posed a real threat of danger to the community, which is what changed Satterlee's mind about the business.
"If I was that business owner, I'd make more of an effort given the severity of what's happening," Satterlee said. "I would tell my patrons to calm down and leave my establishment in a decent manner, or else either this business or you will go away."
Several other neighbors who attended the meeting and Waguespack did not return requests for comment.
As for Bailey, he's discouraged — but not giving up yet.
"It's disheartening because nobody is doing anything at my restaurant. I feel like neighbors go to their windows, see people walking down the street and just call the police," Bailey said. "We're supposed to be a neighborhood restaurant, but the neighborhood doesn't support us so we're just a restaurant."
Jake Wittich is a Report for America corps member covering Lakeview, Lincoln Park and LGBTQ communities across the city for Block Club Chicago.
Subscribe to Block Club Chicago, an independent, 501(c)(3), journalist-run newsroom. Every dime we make funds reporting from Chicago's neighborhoods.
Already subscribe? Click here to support Block Club with a tax-deductible donation. 
Listen to "It's All Good: A Block Club Chicago Podcast" here: