ROGERS PARK — The gyms at Loyola Park don't have air conditioning, but Los Angeles Lakers guard Talen Horton-Tucker doesn't mind.
"Summertime Chi, that's where we learn to get our grit from," Horton-Tucker said. "If it's hot, gotta get busy."
Raised in Uptown, Horton-Tucker used to practice at Loyola Park until the lights turned off. Last week, the 20-year-old — the youngest American-born player to win an NBA championship — returned to the place where it all started, running a basketball camp for local kids.
Following the example of Chicago pros before him, Horton-Tucker and his mom, Shirley Horton, hosted the free event as part homecoming celebration. It was a chance for their family to express their gratitude to the community that raised a North Side star.
"This is my home," Horton-Tucker said. "I never really thought I could bring everyone together through basketball."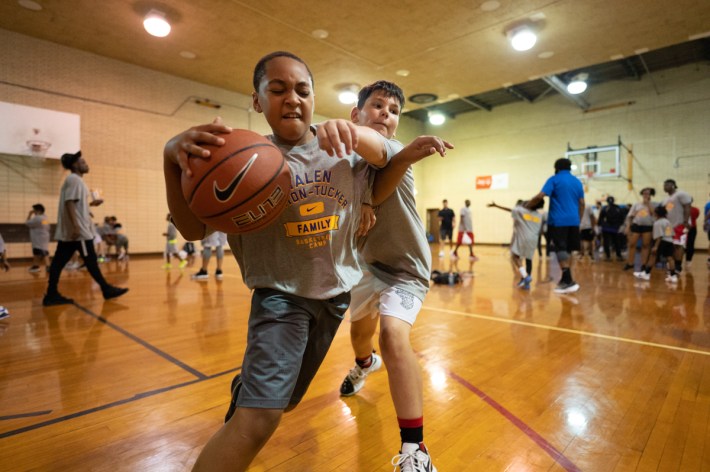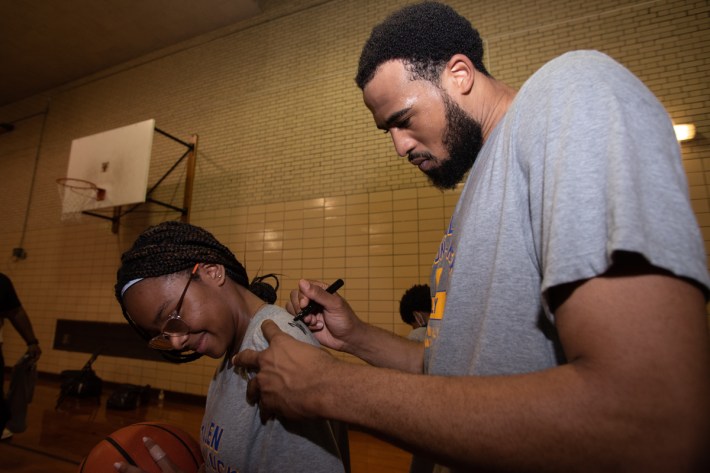 'Come Back And Pass The Torch'
Horton-Tucker is one part of Loyola Park's long basketball tradition.
The Chicago Bulls held secret practices at the gyms in summer 1997, when they were en route to their sixth NBA championship. And overseas player Michael "Juice" Thompson turned late nights at Loyola Park into a successful career, showing what's achievable for younger players.
Tasha LaBoy has been a rec organizer, coach and referee at Loyola Park for more than 15 years. Every year, a new group of kids cycles in to hold down the court, defending it against outside challengers.
She remembers Horton-Tucker being the youngest member of one such crew.
"Talen would literally be the last one out of the gym," LaBoy said. "We would have to tell him, 'Yo, you gotta go.' And he'd always say, 'But I'm waiting for my mom to pick me up!' We knew his mom was already outside, but we'd let him get some more shots up anyway."
Before Horton-Tucker became a star at St. Matthias, Simeon Career Academy and Iowa State — and an up-and-comer with the Lakers — he was the quiet, tall kid from the North Side pickup scene, the one who carefully laid down his violin on the sidelines right before he dropped 40 or 50 points in the P.L.A.Y. Basketball League.
"He just keeps getting longer, too," said Mike Rand, a Loyola Park employee. "His shorts used to be big … ."
Coach Chuck Neely is the guy NBA players call when they want to host a camp in Chicago. In more than 20 years of service, he's organized camps for the likes of Tim Hardaway, Antoine Walker, Shawn Marion and Dwyane Wade.
Horton-Tucker is one of Neely's first Chicago campers to become a camp host.
"It's his generation's turn to come back and pass the torch, to keep it going," Neely said. "Chicago kids need role models. They need men in their lives. They need young men to see them, to guide them, to teach them things they were taught. You have to pass the knowledge back. You have to."
Horton-Tucker also wanted to give back to the community that raised him.
"This is where I grew to love the game at, where I learned how to play," Horton-Tucker said. "So I feel like, why not come back and do the camp here?"
Last week, as 250 kids streamed into the gym, 1230 W. Greenleaf Ave., Horton-Tucker gave them all high fives. He said he recognized almost all of them.
Loyola Park staple "Mike Jones" greeted Horton-Tucker with a friendly bout of shadow boxing. Nobody knows the local legend's real name, but most know the pain of him catching fire from the 3-point line.
"If you leave him open, he'll take your money," Rand said.
More volunteers came than needed: fellow Simeon grads, former coaches, old rec league friends, cousins, second cousins, God-siblings and two other Chicago NBA players, Jabari Parker and Kendrick Nunn.
Ramar Evans, who plays at University of Wisconsin-Parkside, also showed up to help. He grew up with Horton-Tucker around the Loyola Park basketball community.
"We used to have some good battles in here. It's crazy how this has come full-circle," Evans said. "Everything that went on outside was outside, and you come in this gym, and it's strictly basketball."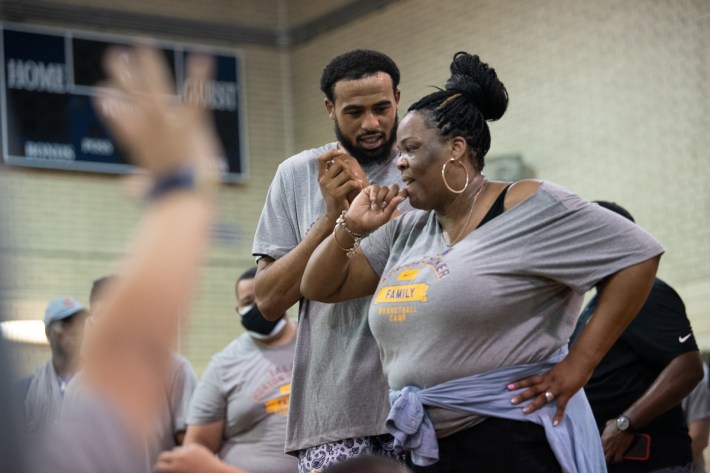 At camp, Shirley Horton was at the helm.
"I'm not trying to boss y'all, but I am a little bossy. You know how mommas are," Horton said, addressing volunteers before kids came flooding through the door. "This is my wheelhouse."
A former day care owner and CPS elementary teacher, Horton was constantly in motion. She knew when to refill the waters, when to dish out the granola bars, when to shepherd each kid for a photo with her son. She sent Evans to buy more ice.
Her son guided one boy into the hallway to get a souvenir "Horton-Tucker Family Basketball Camp" T-shirt. The situation sent Horton on a mad dash for an extra small.
"It's all about remembering who you are. Giving back is very important," Horton said. "Because that's how you keep communities going."
Rob Smith, head coach at Simeon, watched his former star give pointers to campers, some just five years younger than him.
"He's just gonna stay humble. For a guy who's 20 with a ring, he's interacting with the kids like he's their age," Smith said. "Our city is crying out for help right now, and these are the young men that can come back and help us."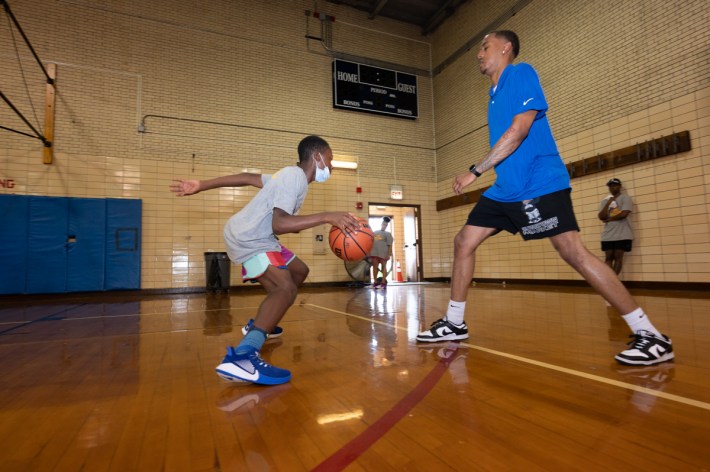 Horton-Tucker watched as top campers challenged each other to games of one-on-one. "Mike Jones" made a celebrity cameo and knocked down a signature 3-pointer. Kids piled around him in celebration.
Amari Anderson, 6, asked Horton-Tucker if he could go back to Los Angeles with him.
"My goal was to just be perfect," Anderson said. "It was really great."
Shina Gotangco, 8, gushed about the experience after Horton-Tucker signed her basketball.
"It was amazing," Shina said. "Because he's, like, on TV."
Horton-Tucker and his mom made sure questions were answered, shirts were autographed and all kids were acknowledged on their way out the door.
Shirley Horton is already planning next year's event.
"When you get to the top, you can go down. So you have to remember to give back as much as possible," Horton said. "We gotta get some air conditioning in here."
Subscribe to Block Club Chicago, an independent, 501(c)(3), journalist-run newsroom. Every dime we make funds reporting from Chicago's neighborhoods.
Already subscribe? Click here to support Block Club with a tax-deductible donation. 
Listen to "It's All Good: A Block Club Chicago Podcast" here: