EDGEBROOK — Known for his dry sense of humor and willingness to help neighbors and friends, Chicago filmmaker and producer Jeff Marpé was all about bettering his community.
The longtime Edgebrook resident and local film icon died unexpectedly July 14 at his home from heart disease, said Rose Marpé, his ex-wife.
Marpé was in his 60s. His family declined to make his age public because "he wouldn't want people to know," his ex-wife said.
Neighbors on the Far Northwest Side and the film community were shocked by Marpé's sudden death, and he will be greatly missed, Rose Marpé said. She wants people to remember his love for Edgebrook and his family.
"He was a great father and great provider," Rose Marpé said. "He loved his kids more than anything. His legacy is that he always put his kids above anything else."
The couple were married for 15 years. They settled in Edgebrook in the late '90s to raise their two children, Kali, 20, and Breydon, 23.
"When Jeff passed, all of my neighbors were with me and my kids," Rose Marpé said. "The biggest support that we have received in this tragedy has been from our friends and neighbors in Edgebrook. … Living in Edgebrook was probably one of the best decisions that him and I made together because the people have always been nice to us."
In turn, Marpé constantly helped his aging neighbors by shoveling their sidewalks during snowstorms, cutting their trees and carrying their groceries, Rose Marpé said. Neighbors looked to him like a son and knew they could count on him.
"More than anything, he was very friendly and always approachable," she said. "People loved talking to him when he was walking his dog."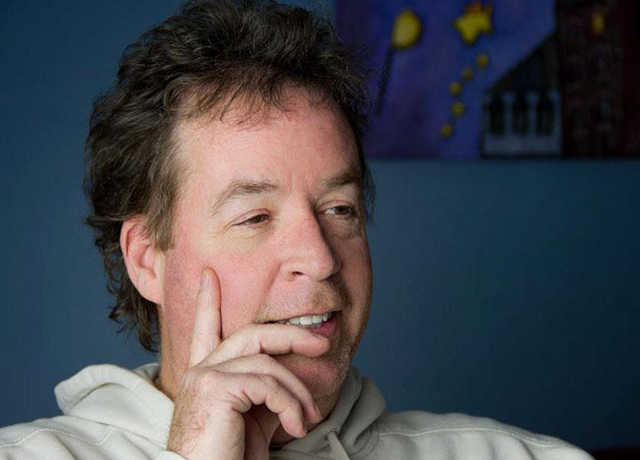 Marpé was the founder and producer of Line 9 Productions, a film production company he started in the early '90s after working for a local ad agency. He worked in the local film scene for more than 30 years, his ex-wife said.
Marpé was known for his imaginative, creative storytelling. He produced and directed hundreds of spots and directed a short film, "Hunter's Moon," written by David Lee, according to Reel Chicago. He was also a screenwriter and had plans to direct his first feature-length film, "Paint."
In 2018, he helped spearhead a documentary project about the Exoneree band, a group of five men who spent years in prison after wrongful convictions and went on to make music about their experiences.
"People should know about [wrongful incarceration], and perhaps we can combat the stereotype of who these people are, and if we meet them maybe something can change," Marpé told Block Club in 2018. "Maybe we can tell a good story and people go, 'That shouldn't be happening anymore. And how can we address this issue and perhaps make some changes?'"
Originally from New York, Marpé grew up in Texas and went to college in Ohio at Dayton University. He moved to Chicago and immersed himself in the film scene. He loved to mentor the next generation of artists and share his skills, Rose Marpé said.
"He was a true artist and always nurtured everyone," she said. "People did not always love his advice, but he was brutally honest and always told the truth. I think he helped a lot of people."
'He Came In Like A Comet And Burned Bright'
In recent months, Marpé was working on a promotional video with the neighborhood organization Everyday Edgebrook to help local businesses bounce back from the pandemic. He was often seen in the neighborhood filming and talking to business owners with help from intern Megann Lawlor.
"It was nice to have each other to do the videography and talk to all the small businesses" together, said Lawlor, of Jefferson Park.
Lawlor remembers a phrase Marpé repeated when they worked: "It doesn't matter where you went to college. It's about the experience."
"He was trying to give me that experience of working with him. It was fun," she said. "We really connected and had a lot of heart-to-hearts about random things."
Lawlor said she picked up more than just tips about the film industry from her mentor. Marpé taught her to appreciate the little things in life: the importance of family and appreciating creativity and collaboration.
Marpé also brought his puppy, Blue, to one of the video shoots. The dog was an important new companion in his life, and an Edgebrook business owner and friend helped find Blue a new home after Marpé's death, Rose Marpé said.
Lawlor only knew Jeff Marpé for about two months, but she said that his love for helping business owners was memorable.
"He was always so appreciative, and he was always there and ready to help and be of use, and it wasn't in any way of trying to gain anything," she said.
Justin Ochonicki, the president of Everyday Edgebrook, called the filmmaker's enthusiasm infectious. His commitment to bettering his community with his video project — for free — was a welcome surprise for the volunteer-run organization.
"He was someone that really cared about our local businesses," Ochonicki said. "People have great ideas, but not everyone has the time to execute them. But he dove in headfirst."
Ochonicki plans to share Marpé's video clips on social media in the coming weeks and hopes his final video can be completed. Lawlor wants to finish the project if she can get the files from the filmmaker's computer.
"As much as he cared about the businesses, he also cared about giving [Megann] an opportunity to learn," Ochonicki said. "Whatever we do, we will do in Jeff's honor. He came in like a comet and burned bright and really touched everybody on our little strip of Devon and Central that he met."
The Marpé family invites people who would like to share memories and stories of the late filmmaker to a memorial 1-5 p.m. Saturday at Emerald Isle, 6686 N. Northwest Highway in Edison Park. His ex-wife said the event will be a celebration of life and help her kids process their grief.
"If people want to stop by and have a drink with us, we would love that," Rose Marpé said. "It will be good for the family [to see] how loved and well-liked Jeff was."
Subscribe to Block Club Chicago. Every dime we make funds reporting from Chicago's neighborhoods.
Already subscribe? Click here to support Block Club with a tax-deductible donation.