WOODLAWN — Whether they were locals, newcomers or visitors to Chicago, everyone at the Jackson Park lakefront Wednesday was puzzled by a mysterious beached sailboat from the opposite side of the lake.
The Dawn Treader was washed ashore near 67th Street and La Rabida Children's Hospital for several days, bystanders said.
"I'm tripping out, because all of a sudden, everybody just started coming by taking pictures," said Gerald Stanley, who was visiting from Georgia. "They were telling me, 'This ain't normal. Boats don't supposed to be here.'"
The sailboat is registered in Michigan, Park District spokesperson Michele Lemons said Wednesday. The local marine safety unit of the U.S. Coast Guard will attempt to contact the owner, who must pay for its removal, spokesperson Phillip Gurtler said.
The Park District and Coast Guard did not immediately say how long the Dawn Treader had been stuck or when it would be removed. Lakefront visitors said the boat had been ashore since at least Monday.
"I slipped and fell [on the rocks Monday] and this boat watched me," said Michael "Chef Mike" Brooks, who recently moved to Chicago from Washington, D.C.
The boat was removed Thursday morning.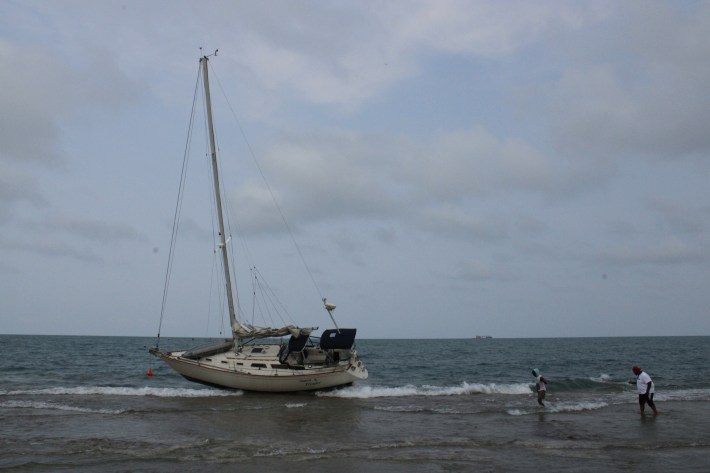 Longer-term residents were just as confused about the situation.
"I have never seen anything like this," said Amy Johnson, a Calumet Heights resident who stopped biking along the Lakefront Trail to check out the wreck. "You really don't see [boats] coming closer [to the shore] than The Point."
A traffic cone swung from a rope at the bow, and caution tape was placed at the stern, but that didn't stop people from wading in the water for a closer look.
A couple bystanders even hopped aboard the Dawn Treader for selfies and to sound its horn.
"At first, [the boat] was moving with the waves on the water," but it's since rotated and come to a stop along the bedrock, Marentae Burden said. Burden has made several trips with Brooks to the sailboat since Monday.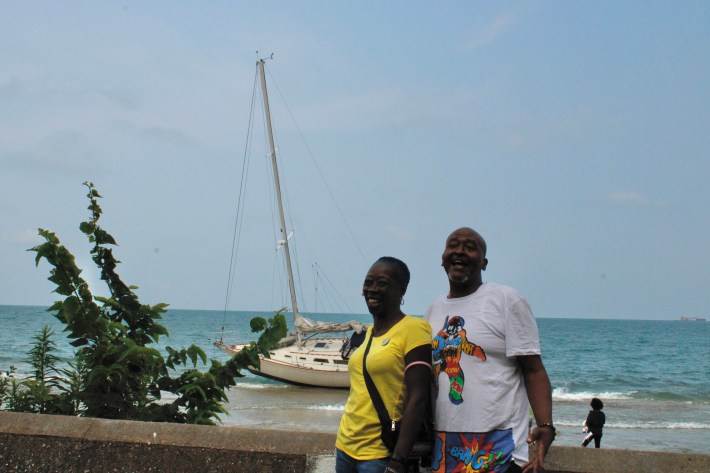 People checking out the boat said they were confused why city agencies and the Coast Guard hadn't yet towed it from the shore or at least better secured it.
"Why the hell y'all keep letting these little kids come down here … to get on this boat?" Stanley said.
"After a couple of days, you should've been trying to get somebody" to tow it, said Debra Harris, who lives in Chicago and was with Stanley on Wednesday.
The owner doesn't seem to care much for the boat — which isn't necessarily a problem, neighbor Chyvette Valentine said.
"If they don't want it, I'll gladly take it," Valentine said.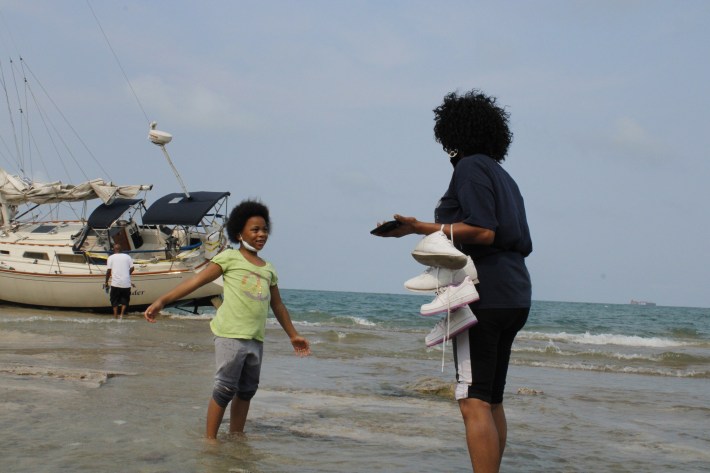 Subscribe to Block Club Chicago. Every dime we make funds reporting from Chicago's neighborhoods.
Already subscribe? Click here to support Block Club with a tax-deductible donation.