LAKEVIEW — Miray Kurtulus, one of the three women who own Lakeview plant and flower shop B Collective, said "local love" is what got the store through the worst of the pandemic.
"For example, one of my regulars told me, 'I just want to support you,' and ordered four flower arrangements for her house just because," Kurtulus said. "We felt so loved, and it was that local support that kept the business running."
B Collective — a merger of creative consulting firm Estudio N and Kurtulus' flower business, Blossoms Anytime — is fully reopened in its new storefront at 3350 N. Paulina St. But now it and other local plant shops are facing competition from The Sill, a popular, New York-based store that opened its first Chicago location at 1351 W. Roscoe St.
Owners worry The Sill could dominate the digital advertising space and push smaller stores out of business. They said the same "local love" that got them through the pandemic now is needed to prevent a bigger operation from elbowing them out.
The three women behind B Collective said their businesses are self-funded and can't compete with The Sill's larger budget.
"It's not great. Obviously, we understand that venture-capitalist-run companies have to grow and expand, but it's a little challenging for us small businesses because now all the marketing funds they have — we don't have access to," said B Collective co-owner Nancy George, who runs Estudio N with Vanessa Betance.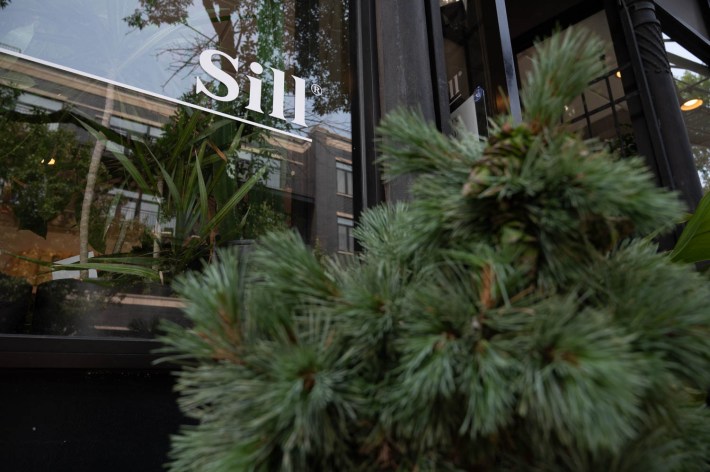 The Sill opened in June just off the Southport Corridor, following stores in Los Angeles, San Francisco and New York City.
CEO Eliza Blank founded the company out of her New York apartment in 2012 with $32,000, and she fundraised to support the business' growth, turning it into a multimillion-dollar enterprise, according a 2020 interview with The Helm. Blank said she bootstrapped the business until her first round of funding in 2017.
Throughout the pandemic, with people stuck in their homes, Blank and The Sill routinely popped up in national guides on where to buy plants online.
Even before The Sill opened in Chicago, local store owners said they could feel the effects of the multi-city business, which has shipped to Chicago since 2015.
Andy Robledo, owner of houseplant delivery service Plants Delivered Chicago, said his web traffic has been down 50 percent started since The Sill started advertising in Chicago.
Robledo started Plants Delivered Chicago with his own money, initially running the business as a side hustle around his day job until it grew to become self-sustaining. But he said his business is already strained by The Sill's presence.
"Traffic just disappeared as soon as The Sill announced they were coming here," Robledo said. "Word of mouth and social media are great and people know about us, but we still have to acquire new customers, which isn't easy to do when you're up against a company that has millions in revenue and financial backing."
Robledo said he might have to close if online traffic doesn't pick back up within a month.
George said B Collective "didn't even bother" sponsoring its posts advertising the store's floral arrangement workshops or "sip and pot" classes this week. Since The Sill showed up, their social media reach has been down.
"No matter how much of our dollars we put toward marketing, it won't be seen at all compared to The Sill," Kurtulus said. "I was targeted by their ads nonstop before they even moved to Chicago."
The Sill is also a three-minute walk from Primrose, a 30-year-old plant and flower shop formerly known as That's Amore. Erik Thallemer and his wife, Leah, bought the business with money from their savings in 2019 and rebranded it during the pandemic.
They also say they are mostly concerned with The Sill's source of capital, Thallemer said.
"They have venture capital funding and are in that fast-growth startup phase," Thallemer said. "I worry about a situation like we had with Uber where they can come into the city with venture capital to basically just subsidize [them] and have ridiculously low prices, which none of us can compete with, and drive us out."
Asked about the criticism, Blank told Block Club in an emailed statement "there's so much demand to go around and customers love different types of experiences."
"As for the proximity, it's always been our experience that a rising tide lifts all ships," Blank said. "I learned this in New York City when I opened our first store — within the first year, multiple shops started selling plants on our block and around the neighborhood, and it brought a lot more plant people to the area."
She also said the houseplant market is dominated by Home Depot and Lowe's, but the industry continues to grow annually.
"I can't discuss the amount raised, but I believe the most important part of our venture journey is representation," said Blank, who is Asian American and Jewish. "Only 2 percent of venture dollars go to women, and even less to minorities."
Not every Chicago-area plant business see's The Sill's presence in the local market as a bad thing.
Tony Abruscato, founder of the Get Growing Foundation, a nonprofit that aims to bring greenery and horticultural job skills to underserved parts of Chicago, said he sees opportunity for The Sill to bring more customers into the plant industry.
"They have the money to pique people's interest and get them to maybe try a houseplant for the first time where they weren't going to do that before, and if it's successful, they'll look to buy more plants," Abruscato said.
He said the foundation's pop-up plant shop program, Plant Truck Chicago, has even found new volunteers who got their first plant from The Sill and saw it as an entryway into the industry.
"So I think there's opportunity with The Sill to educate people and reach new people via their very skilled social and digital media that small businesses in the past might not have been able to reach," Abruscato said. "And then it's an opportunity for small businesses to capitalize on that."
But Robledo said the issue is "bigger than just the plant scene." He's started organizing with other small plant shops across Chicago to brainstorm ways for their businesses to continue thriving. Right now, they are urging people to shop local when buying house plants.
"This is about all small businesses along the Southport Corridor and areas throughout the city where we've got big corporate retailers moving into small-business communities," Robledo said. "We're trying to collaborate and make it known that Chicago wants to keep its plant shops small and locally owned, and send a message to the big, venture-backed firms that Chicago is not a viable market to come and dominate or take over."
Jake Wittich is a Report for America corps member covering Lakeview, Lincoln Park and LGBTQ communities across the city for Block Club Chicago.
Subscribe to Block Club Chicago, an independent, 501(c)(3), journalist-run newsroom. Every dime we make funds reporting from Chicago's neighborhoods.
Already subscribe? Click here to support Block Club with a tax-deductible donation. 
Listen to "It's All Good: A Block Club Chicago Podcast" here: